Markets:
Forex, Commodities, Stocks, Indices
Accepts US Clients:
No
Min. Deposit:
$200
Payouts%:
350
Overall Rating:
4.7

/ 5
(Based on

10

User Reviews)
Stockpair Video Review:
Stockpair.com is new breed of internet based brokers who are offering investors a way of investing in stocks. With stock pair trading, investors can now trade stocks in a way that is along the same line currency pair trading. Although, it does sound complicated, in essence, all the investor needs to know is background information about the stocks that are being paired up. And like in Forex, investors just need to bet on the stock he or she thinks will be the winner.
The Trading Platform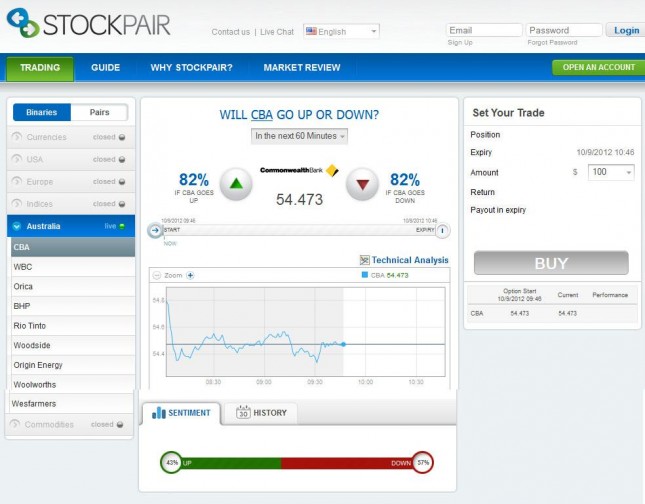 Established in Ireland in 2010, the trading platform Stockpair.com is proprietary platform that managed by by Nextrade Worldwide Ltd. in Cyprus. The trading platform thrives on simplicity and avoids all the complicated financial jargons which we normally find brokers uses. In addition, the trading platform is web based allowing investors the flexibility to trade from anywhere around the globe.
Fixed and Floating Pairs
There are two types of pair options which investors can trade in:
With fixed pair options, the way how the stocks' performance is determined is from their relative performance from the time of purchase to the expiration time.
As for floating pair options, the stocks' performance is judged from their relative performance during a predefined period during which the trade took place. This can be a day, a week or even a month. In contrast to fixed pair options, the relative performance of the floating pair stocks are measured from the start of this predefined period and not from the start of the trade like fixed pair options.
Types of trading accounts offered
Stockpair.com recognizes that each trader has his or her own trading style. As such, they offer their clients four (4) different account plans:
Silver Account
Gold Account
Platinum Account
VIP Account
Each type of account has its own minimum deposit requirement and benefits conferred with VIP trading accounts having the most benefits and highest minimum deposit requirement. One good thing about the account plans is the fact that you will automatically get upgraded once you reached the minimum deposit requirements.
The Payout
The payout for the trades depends on the type of options that the investor is buying. With fixed pair options, the payout is as higher as 86%. As for floating pair options, the payout is even higher, with the possibility of reaching 350%.
Asset Index
Stockpair.com offers their clients trading in Forex, equities, indices and commodities. There is a range of around 150 types of underlying assets to choose from. 
Currency Pairs   
Commodities   
Indices
Stocks

AUD/USD
EUR/GBP
EUUR/JPY
EUR/USD
GBP/JPY
GBP/USD
USD/CAD
USD/CHF
USD/JPY

GAS
GOLD
OIL
SILVER

AEX Index
CAC40 Index
DAX Index
DOWJS
FTSE Index
NASDAQ Index
S&P Index
TADAWUL Index   

Apple Inc.
Aegon NV
Koninklijke Ahold NV
AIR France-KLM
Amcor Ltd
Amazon.com Inc.
Abercrombie & Fitch Co.
AOL Inc.
Aviva Plc
The Boeing Company
Barclays
BHP Billiton Ltd
Baidu
Bayerische Motoren Werke AG
BNP Paribas SA
BP (LSE)
BP (NYSE)
British Telecom Group
Caterpillar Inc.
Commonwealth Bank Of Australia
Costco Wholesale Corporation
Cisco Systems Inc.
Daimler AG
Deutsche Bank AG
Deere & Company
DELL Inc.
Electronic Arts Inc.
eBay Inc.
Reed Elsevier NV
Ford Motor Company
Facebook Inc.
FedEx Corporation
France Telecom SA
General Dynamics Corporation
General Motors Corporation
Google Inc.
The GAP Inc.
GlaxoSmithKline Plc
Hasbro Inc
Halwani Brothers Company
Heineken N.V.
Hewlett-Packard Company
HSBC Holding Plc
International Business Machines Corp.   
ING Groep NV
Juniper Networks Inc.
Kimberly-Clark Corporation
The Coca-Cola Company
Deutsche Lufthansa AG
Mastercard Inc.
Mattel Inc.
McDonald's Corporation
Marks and Spencer Group Plc
Merck & Co. Inc.
Microsoft Corporation
Next Plc
Origin Energy Ltd
Orica Ltd
Pepsico Inc.
Pfizer Inc.
The Procter & Gamble Company
Prudential Financial Inc.
Royal Bank of Scotland Group Plc
Royal Dutch Shell Plc
Renault SA
Rio Tinto Ltd
Saudi Arabia Refineries Co.
Sanofi Aventis SA
J Sainsbury Plc
Starbucks Corporation
Saudi Industrial Export Co.
Société Générale
Sahara Petrochemicals Co.
AT&T Inc
Telefonica SA
Tesco Plc
PSA Peugeot Citroen SA
Unilever NV
United Parcel Service Inc
Visa Inc
Vivendi
Vodafone Group (LSE)
Vodafone Group (NASDAQ)
Verizon Communications
Westpac Banking Corp
Wesfarmers Ltd
Wal-Mart Stores Inc.
Woolworths Ltd
Woodside Petroleum Ltd
Exxon Mobil Corporation
YAHOO!
Zynga Inc
Customer Service:
Customer Support is available through live chat, email and telephone. The email addresses provided include:
The telephone support numbers are:
Australia: +61 261710710
Bahrain: +973 16199853
Canada: +1(416)8001693
Cyprus: +35 725025062
France: +33 975180570
Hong Kong: +85 236931492
Italy: +39 0699367406
South Africa: +27 105003980
Spain: +34 911230437
UK: +44 2030269430
USA: +1(917)3832217
Worldwide: +44 2030269430
In addition, for the convenience of their clients, Stockpair.com's website supports the following major languages:
Arabic
Dutch
English
French
Spanish
Deposit Options & Reliability
For the deposits of trading funds, there are several options available for stockpair.com's clients. They can do this through major credit cards like VISA or MasterCard or through other payment processors like Moneybookers and cashU. Wire transfer is also available. Deposits can be done with British Pound, Euros or US dollars.
As for withdrawal of funds, this normally done through the same way that the funds are deposited. Processing of withdrawals is said to take 2 business days although it can be faster. Funds are expected to be credited into the client's account within 3 to 7 business days. The actual time will depend on the payment processor used by the client.
Pros
High returns of up to 350%
Wide range of underlying assets for trading
Different types of trading accounts to suit different trading styles
Simple and user friendly trading platform
Market Review section provide good Daily View about the market
Trade Simulator for training
Cons
Minimum Balance of 200 Euros/Pounds/US Dollar required in order to be eligible for a plan
No refund for out-of the-money trades
No trading when the markets are closed
Conclusion
To recap, Stockpair.com offers a totally new exciting way to profit from the equity market. Not only is trading simplified by their innovative trading platform, the percentage returns of up to 350% offered by Stokpair.com is unheard of in the online trading world. As a broker who has been around for while, this recent market innovation of theirs is certainly worth checking out.