This is a typical case when people simply hear the bad fundamentals about Euro zone and immediately wanting to short the EUR and Long the USD. Even if you are right 5 months down the road, it is still not a prudent move. As mentioned in the article, EURUSD has met its support at 1.2436 areas, and it is not expected of the trader to long it or short it. Ignoring it is like ignoring the tactical advantage that is presented to you.
Important Lesson 1: Not being in a position is as good as taking up a position.
The graph supplied above is just a few hours after the writing of that article. Look how berserk price reacted as highlighted in the blue rectangle even when no major economic news. Can we say price reacted to the support level? I don't know as I don't hold a crystal ball. If you were to short it at that point you could face a 150 pips movement against you as highlighted.
Important Lesson 2: Clues in price provides the best news not news from other sources.
If you were to visit some news site and look at the asset price, they are more than happy to tell you what had happened. But, "What had happened" is no longer useful to you, price has already dropped or went up. In fact, in the chart selected below when price ranged from 0310- 1010 time frame, there are 3 news releases all stating the past when the sudden spike in price is not mentioned in their 3 reports. You can be sure, there will be a news right after this strange big moment in EUR/USD , again price and not news from other sources is the best news to you. Give this article a read: The Frequent Misconception of Price That Disillusioned Investors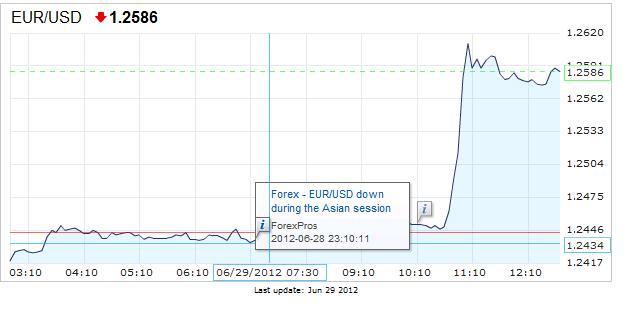 A chart from the courtesy of Forexpros.com
Important Lesson 3: Technical and Fundamental Analysis is not a crystal ball
Even when you have identified a support level as per mentioned in the previous article, they only provides you with higher probability, not a sure thing. No one predicted this big spike just perhaps minor correction. The future is as uncertain as whether there are Aliens around us. Even with crying reports of high unemployment in the Europe and everyone is negative about its outlook and tells you that Euro is heading down to 1.150, you should listen to it with caution and apply Lesson 4.
Important Lesson 4: Technical and Fundamental Analysis is just a tool that can be used at your own risks
It enhances your educated guess but don't buy you reality. Always be confident in your trading system by measuring their success rate, loss rate and profitability if you plan to include these beautiful concepts that make you seems like an analyst.  Whatever systems you have come out, use them at your own risks.
Important Lesson 5: Position sizing is the key to reducing risks and preserving your capital
It is important to know how Forex fits into your portfolio. If this is your only investment (hopefully not!) then there is no way to hedge another assets that you possibly own and thus you are taking up the additional risks rather than diversifying the risks that comes along with your money when it is invested in the market by cherry picking on a specific currency to go the direction you guessed. The only way to reduce the impact of uncertainty is by reducing your trade size. This will minimize your possible losses/winnings that will preserve your capital.
Important Lesson 6: Why is capital preservation so important in investment?
Case A is a scenario of chasing small returns through betting small with 1.66% return per year. Case B is a scenario of chasing big returns through aggressive bet size with 20% return per year.
As you can see, a particular system may give you high positive and negative returns are not good for your capital as it failed to preserve it. Some people double their bet size after a loss and this is really not recommended. A loss will require a higher % return than the % loss to breakeven as you can see from Case B.
 
Case A
Case B   
Starting Capital
$5000
$5000

Returns
-1st Year
-2nd Year
-3rd Year

 
15%
-30%
20%


70%
-80%
70%

Average Return/Yr:
1.66%/Yr   
20%/Yr
1st Yr Hypothetical Capital
$5750
$8500
2nd Yr Hypothetical Capital   
$4025
$1700
3rd Yr Hypothetical Capital
$4830
$2890
Important Lesson 7: Forex is highly volatile, risky and unpredictable but you can minimize its negative impact.
By adopting Lesson 5! We have seen in the above case of EUR/USD big spike which a retail trader cannot explain but to only face the fact that it did increase. We can minimize the impact of cherry picking a currency by betting small and enjoy Case A (a lower average return yet a winner to Case B).
Happy Trading!