Regulation:
CySec, MiFID, FSA
Accepts US Clients:
No
Min. Deposit:
$100
Leverage:
200:1
Platforms:
MetaTrader4, Market Trader, Market Web Trader, Market Java Trader, Mobile Applications, ActForex
Overall Rating:
4.1

/ 5
(Based on

15

User Reviews)
Markets.com Video Review:
When reviewing an online Forex broker, first impressions count immensely. It is for this reason that many Forex brokers invest substantial time and effort to ensure that their clients goes away with a positive user experience with their trading platforms. Forex brokers who fail in this department are usually 'bucket shops' that can be more interested in scamming their clients or in taking the first deposit and not retaining the client. As a provider of online infrastructures for trading in financial instruments, Markets.com's website is well designed and is user friendly as well as intuitive. In addition, what separates Markets.com's trading platform from the rest of the pack is the ability for a trader to select between dynamic (floating) or fixed spreads. This Forex broker leaves this critical step to the trader to decide.
Trading Platforms
When it comes to flexibility, Markets.com tops the scale with their offerings of 8 unique platforms:
1. Meta Trader 4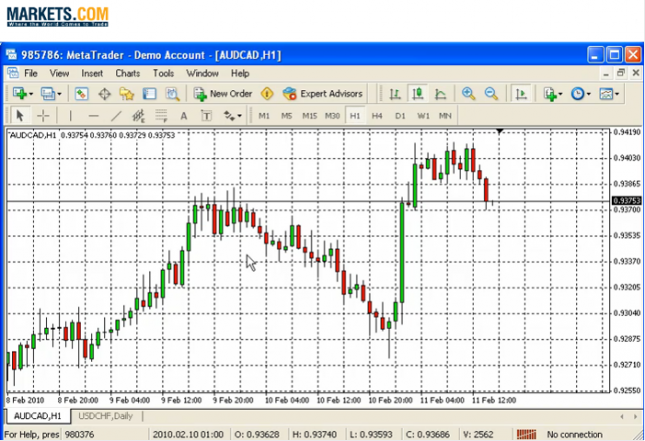 This is the Forex industry's most popular software. With this powerful platform, traders can take advantage of the various sophisticated tools to execute their trades. In addition, Meta Trader 4 offers traders the ability to custom tailored their Expert Advisors (EA) to this platform.
2. MarketTrader
This downloadable, Windows based trading platform offers a powerful set of sophisticated trading tools that is easy to install and use.
3. Market WebTrader
The Market WebTrader allows traders to gain access to the Forex market with a wide array of trading tools using any computer at hand. No software download is required in order to access the Market WebTrader trading platform.
4. Market Java Trader
With Market Java Trader, there is no requirement to download or install any software since the trading platform is web based. All the features found on the MarketTrader are also available with the Market Java Trader.
5. Market Mobile Trader
Using the Market Mobile Trader, traders have genuine mobility since they can now trade through their mobile phones. The Market Mobile Trader is a mobile friendly web application that is accessible through any browser that is able to support HTML 5.
6. Market WAP Trader
Not everyone possesses the latest model of mobile phones. However, with Market WAP Trader, you can still trade with a dated mobile phone as long as it supports WAP applications.
7. Market iTrader
With Market iTrader, iPhone users now can also trade the Forex market with their Apple iPhone.
8. Market AutoTrader
Through the Market Autotrader, traders now have the ability to peruse strategies proven to work. Once the strategy has been selected, the Market Autotrader will automatically emulate it as part of your trading strategy. 
Types of Trading Accounts
With Markets.com, traders have 3 types of account which they can trade from:
Mini Account
Standard Account
VIP Account
With a mini account, traders receive a welcome bonus of a maximum of $250. An initial deposit of at least $100 is needed to open a mini account. With a standard account, traders need to make an initial deposit of at least $2500. The welcome bonus for a standard account is also considerably higher with a maximum of $2000. VIP account traders are required to make an initial deposit of $20,000. This type of account also gets to receive free news update as well as free FX signals.
Commissions and Spreads
Markets.com fixed spreads starts from as low as 3 pips for the major currency. However, with Markets.com, traders also have the option to trade with floating spreads. This is done by simply requesting the Account Manager to switch from a fixed spread status (default) to a floating spread status.
Customer Service
With regards to customer service, Markets.com also stands out with the way they approach this. Multiple language support is available and they offer 25 local phone numbers for their clients.

They also channel email support into several compartmentalized departments: Customer Support, Customer Relations, Finance, General Inquires, Marketing, Trading Desk, Compliance Department.
The above mentioned are in addition to live chat and fax support. As for their education center, Markets.com also separate the tutorials out for novices and professional. The various Forex topics are comprehensively covered in a very simple and concise manner making it easy to grasp the key points.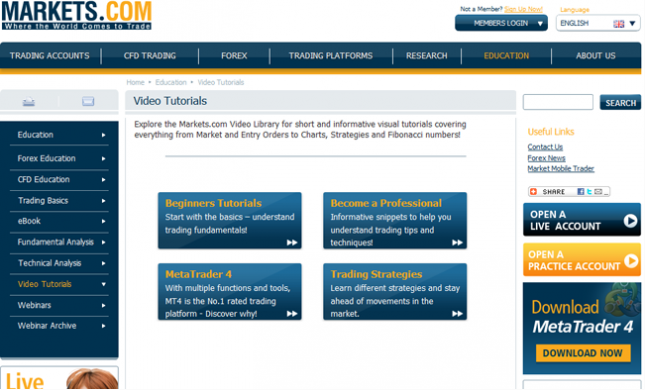 Reliability
In terms of reliability, Markets.com adopt various technical safeguards to ensure the safety of their clients' money. In addition to firewalls, Markets.com also uses SSL technology to safeguard the confidentiality of their clients' account details.
Not only are the technical safeguards in place, Markets.com also goes several steps further in ensuring that the regulatory safeguards are in place by subjecting themselves to the strict requirements imposed by the FSA (UK) and CYSec (Cyprus) in line with the standards for the European Union (EU).
Pros:
To recap, Markets.com offers several distinct plus points over the majority of Forex brokers in the industry by:
Requiring low initial deposit of just $100
Regulated by the FSA in the UK & CySec in Cyprus
Offering several versatile trading platforms
Offering High welcome bonus up to $2,000
Having a practice account option
Cons:
Although several funding options are available, it is surprising that Markets.com does not provide any funding option for Paypal.
Conclusion
Without a doubt by being properly regulated by the FSA and Cysec, Markets.com has managed to settle the main question of legitimacy. This is something which many online Forex brokers fail to achieve. Without being properly regulated, many traders are wary of depositing their hard earned funds with a broker based solely on the broker's claims of being honest. With Markets.com, none of these issues arise as there are regulatory safeguards in place to ensure the safety of the trader's money.