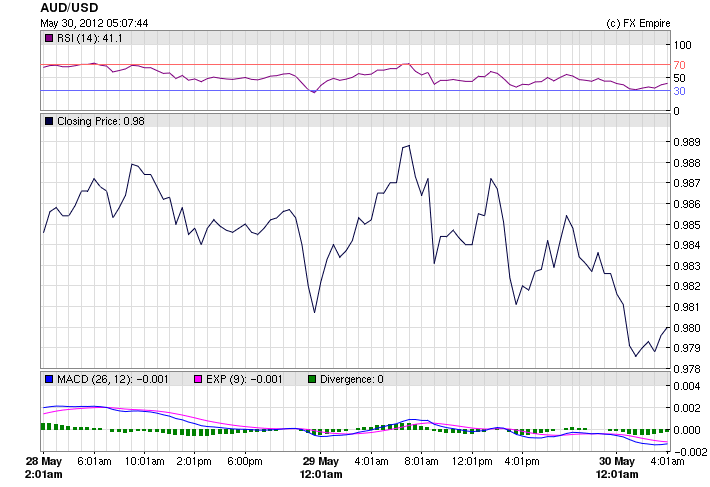 Analysis and Recommendation:
The AUD/USD is trading at 0.9795. Australia's recent eco data has been overall negative, adding today with a disappointing retail sales number, economists had forecast an increase of 0.2% and the actual was the reverse at -.02%. The Aussie continues to suffer, due to the slowdown in China and Japan. It is difficult for the local economy to survive and grow when its major trading partners are not.
Compound this with the risk aversion, safe haven theme of the markets pushing the yen and the greenback to elevated highs. The commodity currency has no way to mount a defense.
Yesterday, as investors turned their focus to Spain after a fairly optimistic day, the USD soared, the euro plummeted to below 1.25 and gold dropped. All of the USD crosses suffered.
FxEmpire provides in-depth analysis for each currency and commodity we review. Fundamental analysis is provided in three components. We provide a detailed monthly analysis and forecast at the beginning of each month. Then we provide more up to the data analysis and information in our weekly reports.
Economic Data May 29 - 30, 2012 actual v. forecast
| | | | | | | | | | | | | |
| --- | --- | --- | --- | --- | --- | --- | --- | --- | --- | --- | --- | --- |
| Date |   | Currency |   |   | Event | Actual |   | Forecast |   | Previous |   |   |
|   |   | GBP |   |   | CBI Distributive Trades Survey  | 21 |   | -7  |   | -6  |   |   |
|   |   | EUR |   |   | German CPI (MoM)  | -0.2% |   | -0.1%  |   | 0.2%  |   |   |
|   |   | EUR |   |   | German CPI (YoY)  | 1.9% |   | 2.0%  |   | 2.1%  |   |   |
|   |   | USD |   |   | CB Consumer Confidence  | 64.9 |   | 70.0  |   | 68.7  |   |   |
|   |   | NZD |   |   | Building Consents | -7.2% |   | -10.0%  |   | 19.8%  |   |   |
| May 30  |   | AUD |   |   | Construction Work Done | 5.5% |   | 3.0%  |   | -3.4%  |   |   |
|   |   | AUD |   |   | Retail Sales | -0.2% |   | 0.2%  |   | 1.1%  |   |   |
Upcoming Economic Events that affect the AUD, NZD, JPY and USD
Date

Time

Currency

 

Previous

May 31

1:00

NZD

35.8

1:30

AUD

7.4%

1:30

AUD

-0.3%

1:30

AUD

0.4%

1:30

JPY

1.3%

12:15

USD

119K

12:30

USD

2.2%

12:30

USD

370K

13:45

USD

56.2

15:00

USD

0.9M

23:50

JPY

7.6%

Jun 1

12:30

USD

115K

12:30

USD

8.1%

12:30

USD

0.2%

12:30

USD

0.3%

14:00

USD

54.8