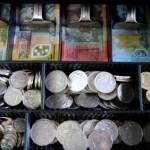 Analysis and Recommendation :
The AUD/USD is trading at 1.0236 climbing a few pips after the release of the unemployment numbers. Unemployment in Australia lifted to a 29-month high in September, more than analyst expectations, according to data from the Australian Bureau of Statistics. According to the data, the total number of jobs in Australia increased by 14,500, or 0.1 per cent, to 11,511,900 in the month. Analysts had expected the figures to show a total rise of 5,000 jobs in the month. However, the rise in jobs was offset by an increase in the total number of unemployed individuals, which jumped by 6.2 per cent to 662,700. The result sees the unemployment rate jump to 5.4 per cent, from 5.1 per cent in August. Analysts had expected the rate to rise to 5.2 per cent.
Traders seem to only be focusing on the creation of jobs as the Australian dollar has rallied after key employment data showed more than 14,000 jobs were added to the economy in September.
FxEmpire provides in-depth analysis for each currency and commodity we review. Fundamental analysis is provided in three components. We provide a detailed monthly analysis and forecast at the beginning of each month. Then we provide more up to the data analysis and information in our weekly reports.
Economic Data October 11, 2012 actual v. forecast
| | | | | | | | | | | |
| --- | --- | --- | --- | --- | --- | --- | --- | --- | --- | --- |
| Date |   | Currency |   |   | Event | Actual |   | Forecast |   | Previous |
| Oct. 11 |   | JPY |   |   | Core Machinery Orders (MoM)  | -3.3% |   | -2.5%  |   | 4.6%  |
|   |   | JPY |   |   | Bank Lending (YoY)  | 1.0% |   |   |   | 0.9%  |
|   |   | AUD |   |   | MI Inflation Expectations  | 2.6% |   |   |   | 2.4%  |
|   |   | AUD |   |   | Employment Change  | 14.5K |   | 3.8K  |   | -9.1K  |
|   |   | AUD |   |   | Unemployment Rate  | 5.4% |   | 5.3%  |   | 5.1%  |
|   |   | KRW |   |   | South Korean Interest Rate Decision  | 2.75% |   | 2.75%  |   | 3.00%  |
|   |   | MYR |   |   | Malaysian Industrial Production (YoY)  | -0.7% |   | -2.0%  |   | 2.9%  |
|   |   | JPY |   |   | Household Confidence  | 40.1 |   | 41.2  |   | 40.5  |
Upcoming Economic Events that affect the AUD, NZD, JPY and USD
| | | | | | |
| --- | --- | --- | --- | --- | --- |
| Date | Time | Currency | Event | Forecast | Previous |
| Oct. 12 | 00:50 | JPY | | 0.5%  | -0.8%  |
|   | 13:30 | USD | | 0.2%  | 0.2%  |
|   | 13:30 | USD | | 0.8%  | 1.7%  |
|   | 14:55 | USD | | 77.9  | 78.3  |
Government Bond Auction
Date Time Country 
Oct 12 09:30 Germany 
Oct 12 10:00 Belgium