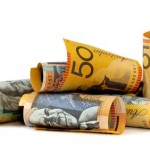 Analysis and Recommendation:
The AUD/USD  followed the rest of its neighbors in the region to climb to 1.0272. Market participants focus on a stronger headline jobs number despite a generally mixed employment report.    While the headline 14.5k gain beat expectations of 5.0k, an increase in the participation rate drove a rise in the unemployment rate to 5.4% from 5.1%.
It's the fourth day of gains for AUD/USD but it has been a struggle, unlike recent rallies that have been fast a powerful. The upshot is that today's rally broke through minor resistance at 1.0276 and back above the 100-day moving avg.
The Aussie has benefited from positive signs out of China with infrastructure announcements being announced or brought forward and there have been constructive indications on monetary policy from the central bank so, there is a positive international backdrop for the Aussie. The key event for the Australian dollar over the weekend would be the release of Chinese trade figures tomorrow.
FxEmpire provides in-depth analysis for each currency and commodity we review. Fundamental analysis is provided in three components. We provide a detailed monthly analysis and forecast at the beginning of each month. Then we provide more up to the data analysis and information in our weekly reports.
Economic Data October 12, 2012 actual v. forecast
| | | | | | | | | | | |
| --- | --- | --- | --- | --- | --- | --- | --- | --- | --- | --- |
| Date |   | Currency |   |   | Event | Actual | Forecast | Previous |   |   |
| Oct. 12 | | PEN | | | Peruvian Interest Rate Decision  | 4.25% | 4.25% | 4.25%  | |   |
|   | | JPY | | | CGPI (YoY)  | -1.4% | -1.4% | -1.9%  |   |   |
|   | | JPY | | | Tertiary Industry Activity Index (MoM)  | 0.4% | 0.5% | -1.9%  |   |   |
|   | | JPY | | | M2 Money Stock (YoY)  | 2.4% | 2.4% | 2.4%  |   |   |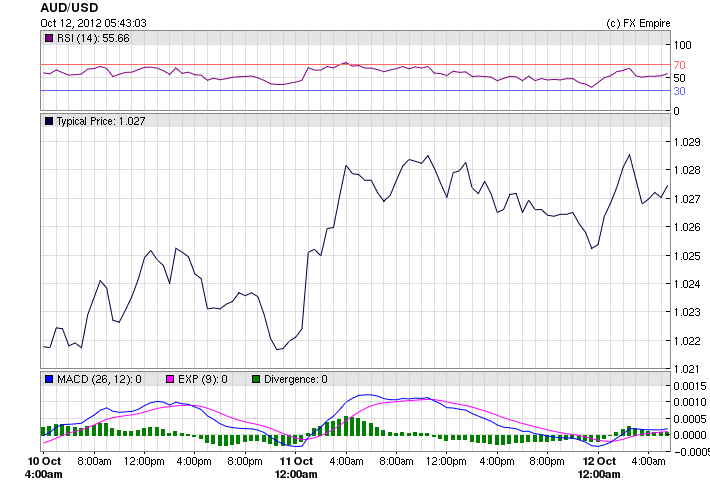 Upcoming Economic Events that affect the AUD, NZD, JPY and USD
| | | | | | |
| --- | --- | --- | --- | --- | --- |
| Date | Time | Currency | Event | Forecast | Previous |
| Oct. 15 | 01:30 | AUD | |   | -1.0%  |
|   | 05:30 | JPY | |   | -1.3%  |
|   | 22:45 | NZD | | 0.6%  | 0.3% |
Government Bond Auction
Date Time Country 
Oct 15 09:10 Slovakia 
Oct 15 10:00 Norway 
Oct 16 08:30 Spain 
Oct 16 09:10 Greece 
Oct 16 09:30 Belgium 
Oct 17 09:10 Sweden 
Oct 17 09:30 Germany 
Oct 17 09:30 Portugal 
Oct 17 10:00 Norway 
Oct 17 14:30 Sweden