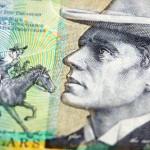 Analysis and Recommendation:
The AUD/USD is trading in early the early Monday session at 1.0223.The Aussie deflated to the morning's low as it took its cue from the euro. The release of Australian housing finance data and Chinese inflation data failed to spark a dramatic move, as they mostly all met market expectations.
The number of home loans granted to owner-occupiers in August rose by the fastest pace since November, reflecting the impact of the Reserve Bank of Australia's cash rate cuts in the current easing cycle. The number of home loans rose 1.8% month-on-month in August after a revised 0.7% fall in July (revised from -1.0% reported earlier), data from the Australian Bureau of Statistics showed. The outcome was close to MNI's median consensus, which was a 1.7% increase.
China's consumer price index rose 1.9% y/y in September, decelerating from Augusts' 2.0% and matching the rate of inflation expected by economists. The 3.6% y/y drop in headline producer prices last month was also in line with the median of a survey of economic forecasts conducted by MNI, though indicated a pick-up over Augusts' 3.5% drop.
Also over the weekend, China surprised markets with some positive eco data. ( see chart below )
FxEmpire provides in-depth analysis for each currency and commodity we review. Fundamental analysis is provided in three components. We provide a detailed monthly analysis and forecast at the beginning of each month. Then we provide more up to the data analysis and information in our weekly reports.
Economic Data October 15, 2012 actual v. forecast
Date

 

Currency

 

 

Event

Actual

Forecast

Previous

 

 

 

Oct. 13

 

CNY

 

 

Chinese Trade Balance 

27.70B

20.40B 

26.66B 

 

 

 

 

 

CNY

 

 

Chinese M2 Money Stock

14.8%

13.6% 

13.5% 

 

 

 

Date

 

Currency

 

 

Event

Actual

Forecast

Previous

 

 

Oct. 15

 

GBP

 

 

Rightmove House Price In

3.5%

 

-0.6% 

 

 

 

 

AUD

 

 

Home Loans (MoM) 

1.8%

1.4% 

-0.7% 

 
 

 

 

AUD

 

 

New Motor Vehicle Sales (M

4.7%

 

4.3% 

 
 

 

 

CNY

 

 

Chinese CPI (YoY) 

1.9%

1.9% 

2.0% 

 

 

 

 

CNY

 

 

Chinese PPI (YoY) 

-3.6%

-3.6% 

-3.5% 

 

 

 

 

CNY

 

 

Chinese CPI (MoM) 

0.3%

0.4% 

0.6% 

 

 

 

 

CNY

 

 

Chinese FDI 

 

 

-3.40% 

 

 

 

 

JPY

 

 

Industrial Production (MoM) 

-1.6%

-1.3% 

-1.3% 

 

 

 

 

SGD

 

 

Singaporean Retail Sales

3.2%

0.6% 

-2.9%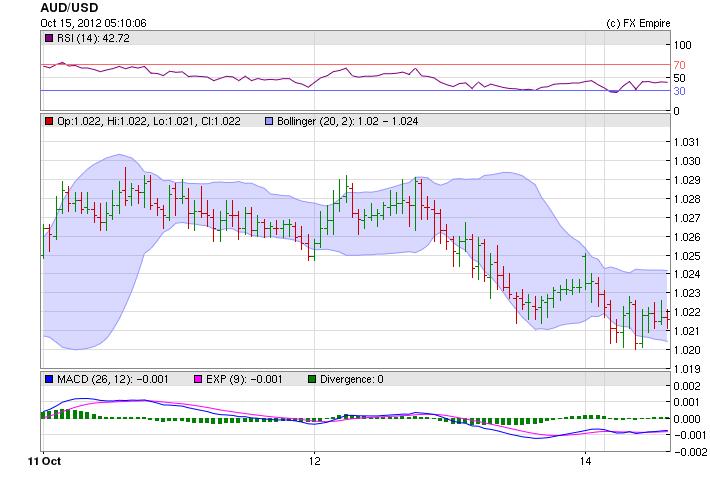 Upcoming Economic Events that affect the AUD, NZD, JPY and USD
| | | | | | |
| --- | --- | --- | --- | --- | --- |
| Date | Time | Currency | Event | Forecast | Previous |
|  Oct. 16 | 13:30 | USD | | 0.2%  | 0.1%  |
|   | 13:30 | USD | | 0.4%  | 0.6%  |
|   | 13:30 | USD | | 1.8%  | 1.7%  |
|   | 13:30 | USD | | 2.0%  | 1.9%  |
|   | 14:00 | USD | |   | 67.0B  |
|   | 14:15 | USD | | 0.2%  | -1.2%  |
Government Bond Auction
Date Time Country 
Oct 16 08:30 Spain 
Oct 16 09:10 Greece 
Oct 16 09:30 Belgium 
Oct 17 09:10 Sweden 
Oct 17 09:30 Germany 
Oct 17 09:30 Portugal 
Oct 17 10:00 Norway 
Oct 17 14:30 Sweden 
Oct 18 08:30 Spain 
Oct 18 08:50 France 
Oct 18 09:30 UK 
Oct 18 09:50 France 
Oct 18 14:30 Sweden 
Oct 18 15:00 US 
Oct 18 17:00 US