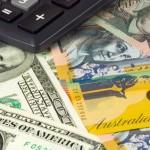 Analysis and Recommendation:
The AUD/USD is trading at 1.0315 as it added 40 pips along with most of the commodity currencies as traders looked for more risk assets. Once again the focus is back on the RBA and rate cuts. At its last meeting the RBA surprised markets and cut the key lending rate by 50bps.
 The Aussie dollar has risen in accordance with other currency movements, as the greenback fell following news about Spain's credit rating overnight.
Part of that selloff is due to some good news about Spain. That was partly due to Moody's decision not to cut the country's credit rating. The market had been anticipating a downgrade to Spain's BAA3 status, but it remained solid after the ratings agency conducted a review of the country's credit score.
There were also reports overnight that Spain could apply for bailout funds in the near term, with two German MPs saying that Germany would agree to an application for a precautionary credit line from the European Stability Mechanism (ESM).
US housing numbers and Chinese gross domestic product (GDP) would be the next data of significance for the markets. US housing starts and permits are due to be released on Wednesday (US time), while Chinese GDP will come out on Thursday.
FxEmpire provides in-depth analysis for each currency and commodity we review. Fundamental analysis is provided in three components. We provide a detailed monthly analysis and forecast at the beginning of each month. Then we provide more up to the data analysis and information in our weekly reports.
Economic Data October 17, 2012 actual v. forecast
| | | | | | | | | | |
| --- | --- | --- | --- | --- | --- | --- | --- | --- | --- |
| Date |   | Currency |   |   | Event | Actual |   |   | Previous |
| Oct. 17 |   | AUD |   |   | MI Leading Index (MoM)  | 0.5% |   |   | 0.3%  |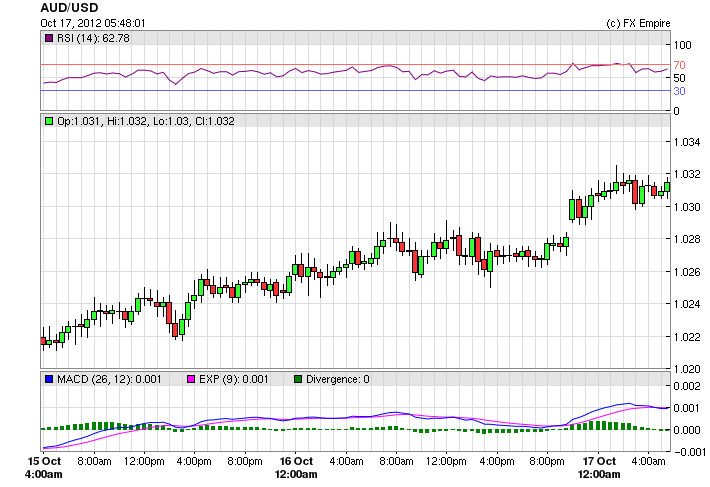 Upcoming Economic Events that affect the AUD, NZD, JPY and USD
| | | | | | |
| --- | --- | --- | --- | --- | --- |
| Date | Time | Currency | Event | Forecast | Previous |
| Oct. 18 | 01:30 | AUD | |   | -2.00  |
|   | 03:00 | CNY | | 20.2%  | 20.2%  |
|   | 03:00 | CNY | | 7.4%  | 7.6%  |
|   | 03:00 | CNY | | 9.0%  | 8.9%  |
|   | 03:00 | CNY | | 13.2%  | 13.2%  |
Government Bond Auction
Date Time Country 
Oct 18 08:30 Spain           
Oct 18 08:50 France 
Oct 18 09:30 UK 
Oct 18 09:50 France 
Oct 18 14:30 Sweden 
Oct 18 15:00 US 
Oct 18 17:00 US