Analysis and Recommendation:
The AUD/USD is fairly flat today as a strong day on Thursday. The pair is currently at 1.0365. The Aussie dollar was also looked set to finish the trading week boasting gains of over 1 percent versus the greenback.
The market's immediate attention is on the outcome of a summit of euro zone leaders. A French source told Reuters a deal had been agreed on a legal framework for a banking union which would allow the direct recapitalization of banks early next year.
The text of draft conclusions of the summit said European Union leaders have agreed to complete the legal work on setting up a single bank supervisor for financial institutions in the euro zone by the end of the year. Implementation of the plan would be gradual over 2013.
FxEmpire provides in-depth analysis for each currency and commodity we review. Fundamental analysis is provided in three components. We provide a detailed monthly analysis and forecast at the beginning of each month. Then we provide more up to the data analysis and information in our weekly reports.
Economic Data October 19, 2012 actual v. forecast
| | | | | | | | | | | | | |
| --- | --- | --- | --- | --- | --- | --- | --- | --- | --- | --- | --- | --- |
| Date |   | Currency |   |   | Event | Actual |   | Forecast |   | Previous |   |   |
| Oct. 19 |   | NZD |   |   | Credit Card Spending (YoY)  | 1.5% |   |   |   | 1.9%  |   |   |
|   |   | CNY |   |   | Chinese FDI  | -3.80% |   |   |   | -3.40%  |   |   |
|   |   | JPY |   |   | All Industries Activity Index (MoM)  | 0.1% |   | 0.2%  |   | -0.6%  |   |   |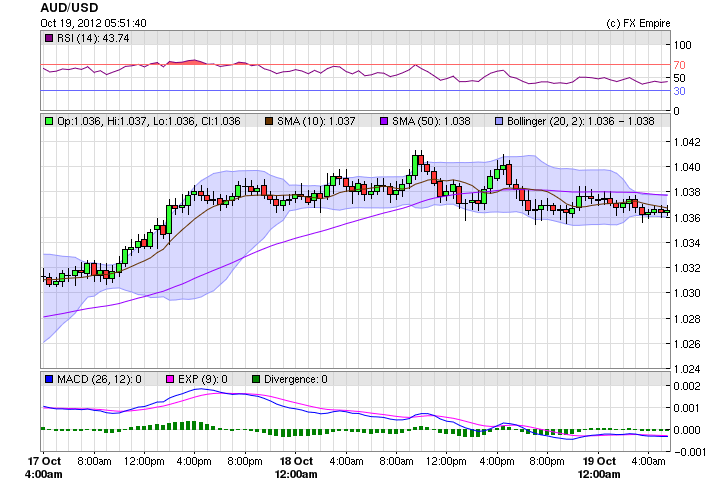 Upcoming Economic Events that affect the AUD, NZD, JPY and USD
| | | | | | |
| --- | --- | --- | --- | --- | --- |
| Date | Time | Currency | Event | Forecast | Previous |
| Oct. 24 | 01:30 | AUD | |   | 0.5%  |
|   | 01:30 | AUD | |   | 0.5%  |
|   | 21:00 | NZD | |   | 2.50% |
Government Bond Auction
Date Time Country 
Oct 22 09:10 Norway 
Oct 23 08:30 Spain 
Oct 23 14:30 UK 
Oct 23 17:00 US 
Oct 24 09:10 Sweden 
Oct 24 09:30 Germany 
Oct 24 14:30 Sweden 
Oct 24 15:30 Italy  
Oct 24 16:30 US 
Oct 25 00:30 Japan 
Oct 25 09:10 Sweden 
Oct 25 15:30 Italy  
Oct 25 17:00 US 
Oct 26 09:10 Italy