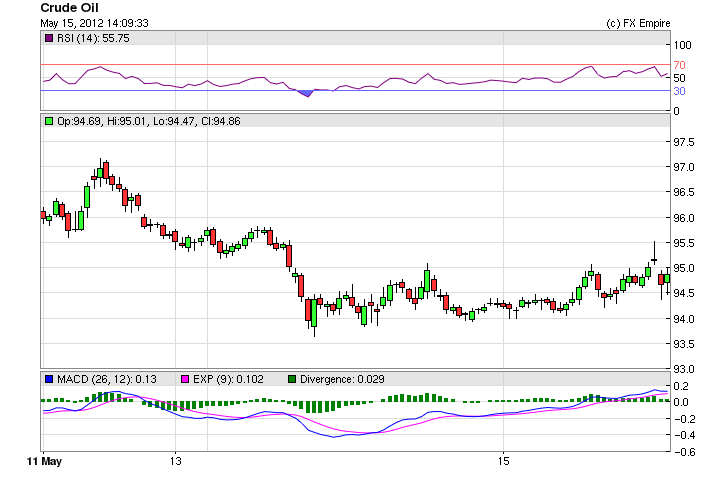 Analysis and Recommendations:
Crude Oil is trading at 94.53 down 0.25 in today's session. U.S. crude prices dropped towards $94 a barrel on Tuesday, pressured by concerns that Europe would slip into a worse-than-expected recession. NYMEX crude for June slipped 63 cents to $94.15 a barrel by, after falling more than a dollar the previous session.  The euro fell to a nearly four-month low against the dollar on Monday on fears Greece could exit the euro and worries that weak industrial data signaled that Europe was heading for recession.
High oil prices are threatening the global economic recovery, the Executive Director of the International Energy Agency Maria van der Hoeven said in a report.
Crude oil pared the earlier losses and was seen rebounding though it continued to hover near the five month low levels in Nymex. However, expectation of higher build up in crude oil inventories may keep the gains under check. 
FxEmpire provides in-depth analysis for each currency and commodity we review. Fundamental analysis is provided in three components. We provide a detailed monthly analysis and forecast at the beginning of each month. Then we provide more up to the data analysis and information in our weekly reports, which cover the current week and are published by Sunday before the new week begins.
Economic Reports May 15, 2012 actual v. forecast
| | | | | | | | | | | | | |
| --- | --- | --- | --- | --- | --- | --- | --- | --- | --- | --- | --- | --- |
|   | EUR |   |   |   | French CPI (MoM)  | 0.1% |   | 0.3%  |   | 0.8%  |   |   |
|   | EUR |   |   |   | French GDP (QoQ)  | 0.0% |   | 0.0%  |   | 0.1%  |   |   |
|   | EUR |   |   |   | German GDP (QoQ)  | 0.5% |   | 0.1%  |   | -0.2%  |   |   |
|   | EUR |   |   |   | German GDP (YoY)  | 1.7% |   | 0.8%  |   | 1.5%  |   |   |
|   | EUR |   |   |   | French Non-Farm Payrolls (QoQ)  | 0.1% |   | -0.2%  |   | -0.1%  |   |   |
|   | GBP |   |   |   | Trade Balance  | -8.6B |   | -8.4B  |   | -8.6B  |   |   |
|   | EUR |   |   |   | GDP (QoQ)  | 0.0% |   | -0.2%  |   | -0.3%  |   |   |
|   | EUR |   |   |   | German ZEW Economic Sentiment  | 10.8 |   | 19.0  |   | 23.4  |   |   |
|   | EUR |   |   |   | ZEW Economic Sentiment  | -2.4 |   | 11.7  |   | 13.1  |   |   |
|   | USD |   |   |   | Core CPI (MoM)  | 0.2% |   | 0.2%  |   | 0.2%  |   |   |
|   | USD |   |   |   | Core Retail Sales (MoM)  | 0.1% |   | 0.2%  |   | 0.8%  |   |   |
|   | USD |   |   |   | CPI (MoM)  | 0.0% |   | 0.1%  |   | 0.3%  |   |   |
|   | USD |   |   |   | Retail Sales (MoM)  | 0.1% |   | 0.2%  |   | 0.7%  |   |   |
|   | USD |   |   |   | NY Empire State MFG Index  | 17.1 |   | 8.5  |   | 6.6  |   |   |
|   | USD |   |   |   | CPI (YoY)  | 2.3% |   | 2.3%  |   | 2.7%  |   |   |
|   | USD |   |   |   | Core CPI (YoY)  | 2.3% |   | 2.3%  |   | 2.3%  |   |   |
|   | USD |   |   |   | TIC Net Long-Term Transactions  | 36.2B |   | 19.4B  |   | 10.1B  |   |   |
Upcoming Economic Events that affect the CHF, EUR, GBP and USD
| | | | | | | | | | | | | | |
| --- | --- | --- | --- | --- | --- | --- | --- | --- | --- | --- | --- | --- | --- |
| May 16  | 09:30 |   | GBP |   |   | |   |   | 1.0%  |   | 1.1%  |   |   |
|   | 09:30 |   | GBP |   |   | |   |   | 5.0K  |   | 3.6K  |   |   |
|   | 10:00 |   | EUR |   |   | |   |   | 2.6%  |   | 2.6%  |   |   |
|   | 10:00 |   | EUR |   |   | |   |   | 1.5%  |   | 1.6%  |   |   |
|   | 10:30 |   | GBP |   |   | |   |   |   |   |   |   |   |
|   | 10:30 |   | GBP |   |   | |   |   |   |   |   |   |   |
|   | 10:30 |   | EUR |   |   | |   |   |   |   | 1.770%  |   |   |
|   | 11:00 |   | EUR |   |   | |   |   |   |   | 14.00%  |   |   |
|   | 13:30 |   | USD |   |   | |   |   | 0.730M  |   | 0.764M  |   |   |
|   | 13:30 |   | USD |   |   | |   |   | 0.680M  |   | 0.654M  |   |   |
|   | 14:15 |   | USD |   |   | |   |   | 0.6%  |   | 0.0%  |   |   |
|   | 15:00 |   | EUR |   |   | |   |   |   |   |   |   |   |
|   | 19:00 |   | USD |   |   | |   |   |   |   |   |   |   |
|  May 17 | 13:30 |   | USD |   |   | |   |   | 365K  |   | 367K  |   |   |
|   | 13:30 |   | USD |   |   | |   |   | 3235K  |   | 3229K  |   |   |
|   | 15:00 |   | USD |   |   | |   |   | 10.0  |   | 8.5  |   |   |
WEEKLY
This Week in Petroleum
Release Schedule: Wednesday @ 1:00 p.m. EST (schedule)

Gasoline and Diesel Fuel Update
Release Schedule: Monday between 4:00 and 5:00 p.m. EST (schedule)

Weekly Petroleum Status Report
Release Schedule: The wpsrsummary.pdf, overview.pdf, and Tables 1-14 in CSV and XLS formats, are released to the Web site after 10:30 a.m. (Eastern Time) on Wednesday. All other PDF and HTML files are released to the Web site after 1:00 p.m. (Eastern Time) on Wednesday. Appendix D is produced during the winter heating season, which extends from October through March of each year. For some weeks which include holidays, releases are delayed by one day. (schedule)