Analysis and Recommendations:
Crude Oil moved between gains and losses today, trading at 92.25 as global growth worries, geopolitical tensions in the Middle East and higher than expected inventories left speculators uncertain. Prices seem to be supported by the tension between Syria and Turkey.
In an interview today, IEA Executive Director Maria van der Hoeven is quoted as saying "The oil market is at a crossroads,"  she continues to say "On each and every front - technology, geopolitics, the economy – potentially game-changing developments are taking place, she says according to a press release from the International Energy Agency (IEA).
IEA released its annual Medium-Term Oil Market Report (MTOMR) today.
The report's projection of a return to higher OPEC spare production capacity will be welcome news amid rising supply and demand risks, Maria van der Hoeven added. 
The report states that today's weak economic environment has reduced expectations of oil demand growth for the medium term, yet the reallocation of demand by region and key product, which has been underway for the last 15 to 20 years, is expected to continue.
On the supply side, most of the growth will come from the Americas, buoyed by the transformative power of advanced extractive technologies applied to light, tight oil deposits in the US and the Canadian oil sands that has exceeded earlier expectations.
FxEmpire provides in-depth analysis for each currency and commodity we review. Fundamental analysis is provided in three components. We provide a detailed monthly analysis and forecast at the beginning of each month. Then we provide more up to the data analysis and information in our weekly reports.
Economic Data October 12, 2012 actual v. forecast
| | | | | | | | | | | | | |
| --- | --- | --- | --- | --- | --- | --- | --- | --- | --- | --- | --- | --- |
| Date |   | Currency |   |   | Event | Actual |   | Forecast |   | Previous |   |   |
| Oct. 12 |   | JPY |   |   | Tertiary Industry Activity Index (MoM)  | 0.4% |   | 0.5%  |   | -1.9%  |   |   |
|   |   | INR |   |   | Indian Industrial Production (YoY)  | 2.7% |   | 1.1%  |   | -0.2%  |   |   |
|   |   | EUR |   |   | Industrial Production (MoM)  | 0.6% |   | -0.4%  |   | 0.6%  |   |   |
|   |   | USD |   |   | Core PPI (MoM)  | 0.0% |   | 0.2%  |   | 0.2%  |   |   |
|   |   | USD |   |   | PPI (MoM)  | 1.1% |   | 0.7%  |   | 1.7%  |   |   |
|   |   | USD |   |   | PPI (YoY)  | 2.1% |   | 1.8%  |   | 2.0%  |   |   |
|   |   | USD |   |   | Core PPI (YoY)  | 2.3% |   | 2.5%  |   | 2.5%  |   |   |
|   |   | USD |   |   | Michigan Consumer Sentiment  | 83.1 |   | 78.0  |   | 78.3  |   |   |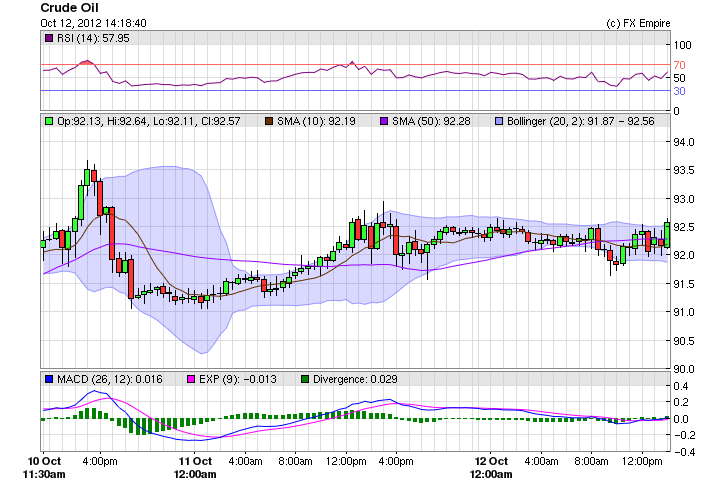 WEEKLY
This Week in Petroleum
Release Schedule: Wednesday @ 1:00 p.m. EST (schedule)

Gasoline and Diesel Fuel Update
Release Schedule: Monday between 4:00 and 5:00 p.m. EST (schedule)

Weekly Petroleum Status Report
Release Schedule: The wpsrsummary.pdf, overview.pdf, and Tables 1-14 in CSV and XLS formats, are released to the Web site after 10:30 a.m. (Eastern Time) on Wednesday. All other PDF and HTML files are released to the Web site after 1:00 p.m. (Eastern Time) on Wednesday. Appendix D is produced during the winter heating season, which extends from October through March of each year. For some weeks which include holidays, releases are delayed by one day. (schedule)
Upcoming Economic Events that affect the CHF, EUR, GBP and USD
| | | | | |
| --- | --- | --- | --- | --- |
| Date | Time | Currency | Event | Previous |
| Oct. 15  | 08:15 | CHF | | 0.5% |
Government Bond Auction
Date Time Country 
Oct 15 09:10 Slovakia 
Oct 15 10:00 Norway 
Oct 16 08:30 Spain 
Oct 16 09:10 Greece 
Oct 16 09:30 Belgium 
Oct 17 09:10 Sweden 
Oct 17 09:30 Germany 
Oct 17 09:30 Portugal 
Oct 17 10:00 Norway 
Oct 17 14:30 Sweden 
Oct 18 08:30 Spain 
Oct 18 08:50 France 
Oct 18 09:30 UK 
Oct 18 09:50 France 
Oct 18 14:30 Sweden 
Oct 18 15:00 US 
Oct 18 17:00 US