Analysis and Recommendations:
Crude Oil tumbled following most to the commodities down today, to trade at 91.61 off by 0.68 cents. Oil was down after the International Energy Agency (IEA) cut its global crude demand growth forecast for this year and next and data showed rising US stockpiles, analysts said. Crude prices were hit by the IEA reducing its forecast for global demand in 2012 and 2013. Data released last week also showed that crude supplies rose in the US and this seems to be a trend that may continue... while the slow growth will mean muted demand for the black gold continue.
In the US, official data released last week showed crude stockpiles in the world's largest oil consumer rising by 1.7 million barrels in the week ending October 5, far more than analyst projections of an 800,000 barrel increase. Rising inventories indicate weaker energy demand in the world's biggest economy.
Prices remain supported by the tension in the Middle East between Turkey and Syria.
FxEmpire provides in-depth analysis for each currency and commodity we review. Fundamental analysis is provided in three components. We provide a detailed monthly analysis and forecast at the beginning of each month. Then we provide more up to the data analysis and information in our weekly reports.
Economic Data October 15, 2012 actual v. forecast
| | | | | | | | | | | |
| --- | --- | --- | --- | --- | --- | --- | --- | --- | --- | --- |
| Date |   | Currency |   |   | Event | Actual |   | Forecast |   | Previous |
| Oct. 15 |   | GBP |   |   | Rightmove House Price Index (MoM)  | 3.5% |   |   |   | -0.6%  |
|   |   | AUD |   |   | Home Loans (MoM)  | 1.8% |   | 1.4%  |   | -0.7%  |
|   |   | CNY |   |   | Chinese CPI (YoY)  | 1.9% |   | 1.9%  |   | 2.0%  |
|   |   | CNY |   |   | Chinese PPI (YoY)  | -3.6% |   | -3.6%  |   | -3.5%  |
|   |   | CNY |   |   | Chinese CPI (MoM)  | 0.3% |   | 0.4%  |   | 0.6%  |
|   |   | JPY |   |   | Industrial Production (MoM)  | -1.6% |   | -1.3%  |   | -1.3%  |
|   |   | TRY |   |   | Turkish Quarterly Unemployment Rate  | 8.40% |   | 8.20%  |   | 8.00%  |
|   |   | CHF |   |   | PPI (MoM)  | 0.3% |   | 0.2%  |   | 0.5%  |
|   |   | PLN |   |   | Polish CPI (YoY)  | 3.8% |   | 3.9%  |   | 3.8%  |
|   |   | USD |   |   | Core Retail Sales (MoM)  | 1.1% |   | 0.6%  |   | 1.0%  |
|   |   | USD |   |   | Retail Sales (MoM)  | 1.1% |   | 0.8%  |   | 1.2%  |
|   |   | USD |   |   | NY Empire State Manufacturing Index  | -6.2 |   | -4.5  |   | -10.4  |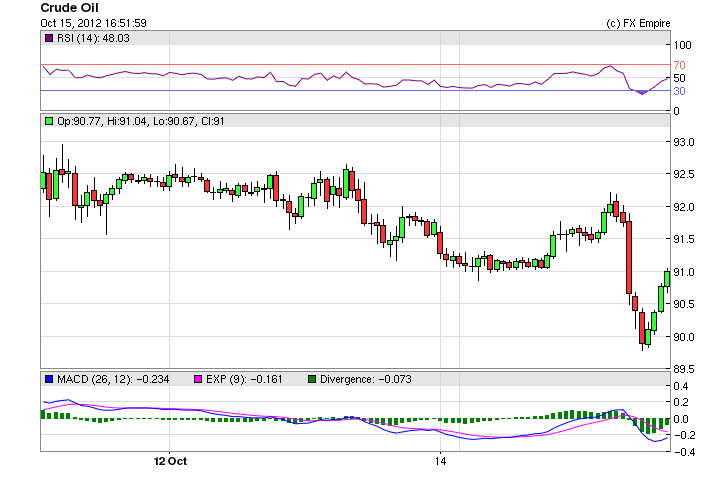 WEEKLY
This Week in Petroleum
Release Schedule: Wednesday @ 1:00 p.m. EST (schedule)
Gasoline and Diesel Fuel Update
Release Schedule: Monday between 4:00 and 5:00 p.m. EST (schedule)
Weekly Petroleum Status Report
Release Schedule: The wpsrsummary.pdf, overview.pdf, and Tables 1-14 in CSV and XLS formats, are released to the Web site after 10:30 a.m. (Eastern Time) on Wednesday. All other PDF and HTML files are released to the Web site after 1:00 p.m. (Eastern Time) on Wednesday. Appendix D is produced during the winter heating season, which extends from October through March of each year. For some weeks which include holidays, releases are delayed by one day. (schedule)
Upcoming Economic Events that affect the CHF, EUR, GBP and USD
| | | | | | |
| --- | --- | --- | --- | --- | --- |
| Date | Time | Currency | Event | Forecast | Previous |
| Oct. 16 | 09:30 | GBP | | 2.2% | 2.5% |
|   | 09:30 | GBP | | -0.1% | 2.0% |
|   | 09:30 | GBP | | 0.4% | 0.5% |
|   | 09:30 | GBP | | -0.8% | 1.4% |
|   | 10:00 | EUR | | 2.7% | 2.7% |
|   | 10:00 | EUR | | -16.0 | -18.2 |
|   | 10:00 | EUR | |   | 1.5% |
|   | 13:30 | USD | | 0.2% | 0.1% |
|   | 13:30 | USD | | 0.4% | 0.6% |
|   | 13:30 | USD | | 1.8% | 1.7% |
|   | 13:30 | USD | | 2.0% | 1.9% |
|   | 14:00 | USD | |   | 67.0B |
|   | 14:15 | USD | | 0.2% | -1.2% |
| Oct. 17 | 09:30 | GBP | |   | 1.5% |
|   | 09:30 | GBP | |   | -15.0K |
| Oct. 18 | 09:30 | GBP | | 0.4% | -0.2% |
|   | 09:30 | GBP | | 2.1% | 2.7% |
Government Bond Auction
Date Time Country 
Oct 16 08:30 Spain 
Oct 16 09:10 Greece 
Oct 16 09:30 Belgium 
Oct 17 09:10 Sweden 
Oct 17 09:30 Germany 
Oct 17 09:30 Portugal 
Oct 17 10:00 Norway 
Oct 17 14:30 Sweden 
Oct 18 08:30 Spain 
Oct 18 08:50 France 
Oct 18 09:30 UK 
Oct 18 09:50 France 
Oct 18 14:30 Sweden 
Oct 18 15:00 US 
Oct 18 17:00 US