Analysis and Recommendations:
Crude Oil dipped slightly today, to trade at 92.29. An increase in new home construction reported Wednesday suggested the US economy was improving and would need more gasoline, diesel and jet fuel in coming months. At the same time, US oil supplies have climbed higher than expected and are above their 5-year average for this time of year.
China's economic news also offered a complicated outlook for oil demand. The slide in the country's growth rate appeared to be slowing, according to data reported yesterday. That could mean Chinese oil demand will pick up. But the data also lowered expectations that China's government will introduce new measures to stimulate the economy. That could keep a lid on demand.
Markets had little reaction to the conclusion of the EU Summit.
FxEmpire provides in-depth analysis for each currency and commodity we review. Fundamental analysis is provided in three components. We provide a detailed monthly analysis and forecast at the beginning of each month. Then we provide more up to the data analysis and information in our weekly reports.
Economic Data October 19, 2012 actual v. forecast
| | | | | | | | | | | | | |
| --- | --- | --- | --- | --- | --- | --- | --- | --- | --- | --- | --- | --- |
| Date |   | Currency |   |   | Event | Actual |   | Forecast |   | Previous |   |   |
| Oct. 19 |   | JPY |   |   | BoJ Governor Shirakawa Speaks  |   |   |   |   |   |   |   |
|   |   | CAD |   |   | Core CPI (MoM)  | 0.2% |   | 0.4%  |   | 0.3%  |   |   |
|   |   | CAD |   |   | CPI (MoM)  | 0.2% |   | 0.3%  |   | 0.2%  |   |   |
|   |   | CAD |   |   | CPI (YoY)  | 1.2% |   | 1.0%  |   | 1.2%  |   |   |
|   |   | USD |   |   | Existing Home Sales  | 4.75M |   | 4.75M  |   | 4.83M  |   |   |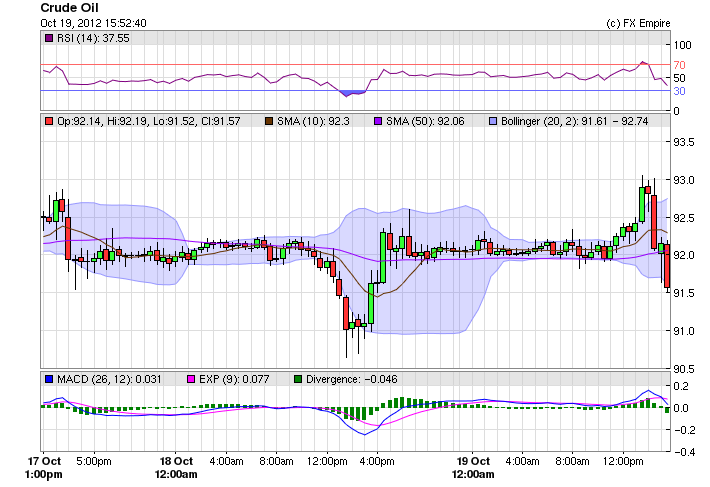 WEEKLY
This Week in Petroleum
Release Schedule: Wednesday @ 1:00 p.m. EST (schedule)

Gasoline and Diesel Fuel Update
Release Schedule: Monday between 4:00 and 5:00 p.m. EST (schedule)

Weekly Petroleum Status Report
Release Schedule: The wpsrsummary.pdf, overview.pdf, and Tables 1-14 in CSV and XLS formats, are released to the Web site after 10:30 a.m. (Eastern Time) on Wednesday. All other PDF and HTML files are released to the Web site after 1:00 p.m. (Eastern Time) on Wednesday. Appendix D is produced during the winter heating season, which extends from October through March of each year. For some weeks which include holidays, releases are delayed by one day. (schedule)
Upcoming Economic Events that affect the CHF, EUR, GBP and USD
| | | | | | |
| --- | --- | --- | --- | --- | --- |
| Date | Time | Currency | Event | Forecast | Previous |
| Oct. 24 | 07:58 | EUR | |   | 42.7  |
|   | 08:28 | EUR | |   | 47.4  |
|   | 09:00 | EUR | | 101.0  | 101.4  |
|   | 09:00 | EUR | |   | 110.3  |
|   | 09:00 | EUR | |   | 93.2  |
|   | 11:00 | GBP | |   | -8  |
Government Bond Auction
Date Time Country 
Oct 22 09:10 Norway 
Oct 23 08:30 Spain 
Oct 23 14:30 UK 
Oct 23 17:00 US 
Oct 24 09:10 Sweden 
Oct 24 09:30 Germany 
Oct 24 14:30 Sweden 
Oct 24 15:30 Italy  
Oct 24 16:30 US 
Oct 25 00:30 Japan 
Oct 25 09:10 Sweden 
Oct 25 15:30 Italy  
Oct 25 17:00 US 
Oct 26 09:10 Italy