Analysis and Recommendations:
Crude Oil is trading at 90.21 almost flat to Friday. Tensions continue to mount in the Middle East but lower demand and high inventories continue to limit prices. However, sharp downside in the prices was cushioned as a result of shut in the Keystone pipeline for three days by TransCanada Corporation which transfers 590,000 barrels of oil a day from Canada to midcontinent, the pipeline is expected to be back on line today. Crude oil prices are expected to trade with a negative bias anticipating reduction in the demand after observing slower growth in Chinese economy and weak data from the US and    Japan. Strength in the DX might also exert downside pressure on the crude oil prices.
 Trouble in the Middle East including Iran's saber-rattling over international sanctions linked to its nuclear programme, Libya's civil war and ongoing violence in Syria have caused volatility in oil prices this year. This month, the IEA forecast global oil demand will grow by half a million barrels a day less than previously estimated until 2016. The International Monetary Fund has slashed its global growth forecast for 2012 to 3.3 percent, down from its July estimate of 3.5 percent.
Tensions in the Middle East are ratcheting a bit higher following fresh violence in Lebanon. Hopes of a truce being implemented in war-torn Syria during this week's Muslim Eid holidays are "slim," the Arab League said on Monday, as heavy fighting rocked Damascus and the northern city of Aleppo.
UN-Arab League peace envoy Lakhdar Brahimi had on Sunday indicated a favorable response to his appeal to both sides of the Syrian conflict to observe a truce during the four-day Eid al-Adha holiday, which begins on Friday. Brahimi has visited several countries with influence in the Syrian conflict over the past week, including Lebanon and Iran, warning that the violence could spread and set the entire oil-rich region ablaze. Such fears were compounded when a massive car bomb exploded on Friday in Beirut, killing three people including a senior police intelligence chief linked to the anti-Damascus camp in Lebanon, General Wissam al-Hassan.
FxEmpire provides in-depth analysis for each currency and commodity we review. Fundamental analysis is provided in three components. We provide a detailed monthly analysis and forecast at the beginning of each month. Then we provide more up to the data analysis and information in our weekly reports.
Economic Data October 22, 2012 actual v. forecast
| | | | | | | | | | | |
| --- | --- | --- | --- | --- | --- | --- | --- | --- | --- | --- |
| Date |   | Currency |   |   | Event | Actual |   | Forecast |   | Previous |
| Oct. 22 |   | JPY |   |   | Trade Balance  | -0.98T |   | -0.74T  |   | -0.46T  |
|   |   | JPY |   |   | BoJ Governor Shirakawa Speaks  |   |   |   |   |   |
|   |   | TWD |   |   | Taiwanese Unemployment Rate  | 4.30% |   | 4.30%  |   | 4.29%  |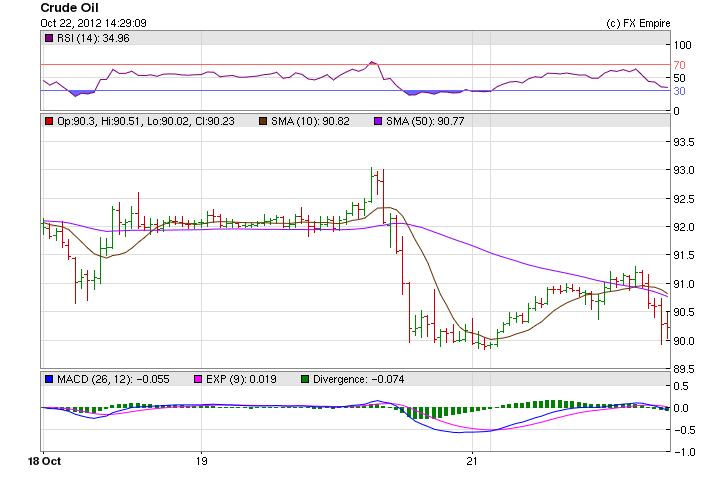 WEEKLY
This Week in Petroleum
Release Schedule: Wednesday @ 1:00 p.m. EST (schedule)
Gasoline and Diesel Fuel Update
Release Schedule: Monday between 4:00 and 5:00 p.m. EST (schedule)
Weekly Petroleum Status Report
Release Schedule: The wpsrsummary.pdf, overview.pdf, and Tables 1-14 in CSV and XLS formats, are released to the Web site after 10:30 a.m. (Eastern Time) on Wednesday. All other PDF and HTML files are released to the Web site after 1:00 p.m. (Eastern Time) on Wednesday. Appendix D is produced during the winter heating season, which extends from October through March of each year. For some weeks which include holidays, releases are delayed by one day. (schedule)
Upcoming Economic Events that affect the CHF, EUR, GBP and USD
| | | | | | |
| --- | --- | --- | --- | --- | --- |
| Date | Time | Currency | Event | Forecast | Previous |
| Oct. 24  | 07:58 | EUR | | 44.0 | 42.7  |
|   | 08:28 | EUR | | 48.0 | 47.4  |
|   | 09:00 | EUR | | 101.6 | 101.4  |
|   | 09:00 | EUR | | 109.7 | 110.3  |
|   | 09:00 | EUR | | 94.3 | 93.2  |
|   | 11:00 | GBP | |   | -8  |
|   | 15:00 | USD | | 385K | 373K |
| Oct.26  | 07:00 | EUR | | 5.9 | 5.9  |
|   | 08:00 | CHF | | 1.67 | 1.67  |
Government Bond Auction
Date Time Country 
Oct 23 08:30 Spain 
Oct 23 14:30 UK 
Oct 23 17:00 US 
Oct 24 09:10 Sweden 
Oct 24 09:30 Germany 
Oct 24 14:30 Sweden 
Oct 24 15:30 Italy  
Oct 24 16:30 US 
Oct 25 00:30 Japan 
Oct 25 09:10 Sweden 
Oct 25 15:30 Italy  
Oct 25 17:00 US 
Oct 26 09:10 Italy