Analysis and Recommendations:
Crude Oil plummeted over 1.00 today after falling on Friday also. Markets in the US are open but traders are off for the Columbus Day holiday, so there was very little action.
Traders and investors are taking their money off the table due to ongoing concerns for global oil demand amid the debt crisis in Europe and a slowing pace in Asia's emerging markets.
The International Monetary Fund has cut its global growth forecasts for this year and 2013 and called on politicians in the eurozone and the US to take "decisive" steps to restore confidence, a German newspaper said on Friday. Citing excerpts from the IMF's World Economic Outlook to be released early next week, the Handelsblatt business daily said that the Washington-based body predicted world economic growth of 3.3 percent in 2012 and 3.6 percent in 2013. In July, the IMF issued forecasts of 3.5 percent and 3.9 percent, respectively.
The German-language paper quoted the report as saying that the "further cooling of growth in the world economy this year and next goes along with a clear increase in downward risks." The forecast depends in particular on "whether decisive political steps are taken in the eurozone and the US to stabilize confidence," the paper quoted the report as saying.
The IMF forecasts a shrinking of the eurozone economy of 0.4 percent this year and a small positive growth of 0.2 percent in 2013. The IMF cut its forecast for China to 8.2 percent, for India to six percent and for Brazil to four percent, according to Handelsblatt.
That said, geopolitical issues have underpinned oil prices somewhat in recent weeks, with some traders betting that disputes between Turkey and Syria, and the escalating tensions over Iran's nuclear ambitions could lead to tighter supplies out of the Middle East.
Finance ministers meeting Monday are expected to consider whether to disburse more bailout funds for Greece. Also up for debate is how to deploy the European Stability Mechanism, the euro zone's new fund for struggling economies.
Traders will also watch German Chancellor Angela Merkel's visit to Athens Tuesday for cues on whether Greece will receive further credit lines.
FxEmpire provides in-depth analysis for each currency and commodity we review. Fundamental analysis is provided in three components. We provide a detailed monthly analysis and forecast at the beginning of each month. Then we provide more up to the data analysis and information in our weekly reports.
Economic Data October 8, 2012 actual v. forecast
| | | | | | | | | | | | | |
| --- | --- | --- | --- | --- | --- | --- | --- | --- | --- | --- | --- | --- |
| Date |   | Currency |   |   | Event | Actual |   | Forecast |   | Previous |   |   |
| Oct. 08 |   | AUD |   |   | RBA Governor Stevens Speaks  |   |   |   |   |   |   |   |
|   |   | CHF |   |   | Unemployment Rate  | 2.9% |   | 3.0%  |   | 2.9%  |   |   |
|   |   | CHF |   |   | CPI (MoM)  | 0.3% |   | 0.3%  |   | 0.0%  |   |   |
|   |   | EUR |   |   | German Industrial Production (MoM)  | -0.5% |   | -0.8%  |   | 1.2%  |   |   |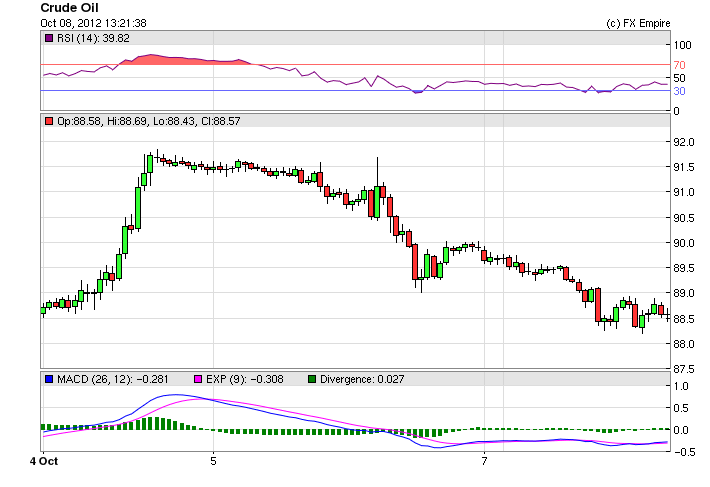 WEEKLY
This Week in Petroleum
Release Schedule: Wednesday @ 1:00 p.m. EST (schedule)

Gasoline and Diesel Fuel Update
Release Schedule: Monday between 4:00 and 5:00 p.m. EST (schedule)

Weekly Petroleum Status Report
Release Schedule: The wpsrsummary.pdf, overview.pdf, and Tables 1-14 in CSV and XLS formats, are released to the Web site after 10:30 a.m. (Eastern Time) on Wednesday. All other PDF and HTML files are released to the Web site after 1:00 p.m. (Eastern Time) on Wednesday. Appendix D is produced during the winter heating season, which extends from October through March of each year. For some weeks which include holidays, releases are delayed by one day. (schedule)
Upcoming Economic Events that affect the CHF, EUR, GBP and USD
| | | | | | |
| --- | --- | --- | --- | --- | --- |
| Date | Time | Currency | Event | Forecast | Previous |
| Oct. 09 | 00:01 | GBP | | -20% | -19% |
|   | 09:30 | GBP | | -0.5% | 2.9% |
|   | 09:30 | GBP | | -0.6% | 3.2% |
|   | 09:30 | GBP | | -8.5B | -7.2B |
|   | 09:30 | GBP | | -1.1% | -0.8% |
|  Oct. 11 | 07:00 | EUR | | 2.0% | 2.0% |
|   | 07:45 | EUR | |   | 0.7% |
| Oct. 12  | 10:00 | EUR | | -0.5% | 0.6% |
Government Bond Auction
Date Time Country 
Oct 09 08:30 Holland 
Oct 09 09:30 UK 
Oct 09 14:30 UK 
Oct 09 17:00 US 
Oct 10 09:10 Italy  
Oct 10 09:10 Sweden 
Oct 10 09:30 Germany 
Oct 10 09:30 Swiss 
Oct 10 14:30 Sweden 
Oct 10 17:00 US 
Oct 11 09:10 Italy  
Oct 11 09:10 Sweden 
Oct 11 09:30 UK 
Oct 11 15:00 US 
Oct 11 17:00 US 
Oct 12 09:30 Germany 
Oct 12 10:00 Belgium