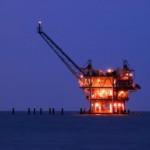 Outlook and Recommendation
Crude Oil closed close to the monthly high at 97.20 climbing over 3.00 last week. U.S. crude oil refinery inputs averaged 14.9 million barrels per day during the week ending March 22, 2013, 364 thousand barrels per day above the previous week's average. Refineries operated at 85.7 percent of their operable capacity last week. Gasoline production increased last week, averaging just less than 8.9 million barrels per day. Distillate fuel production decreased last week, averaging 4.2 million barrels per day.
U.S. crude oil imports averaged about 8.2 million barrels per day last week; up by 841 thousand barrels per day from the previous week. Over the last four weeks, crude oil imports have averaged 7.6 million barrels per day, about 1.2 million barrels per day below the same four-week period last year.
U.S. commercial crude oil inventories (excluding those in the Strategic Petroleum Reserve) increased by 3.3 million barrels from the previous week. At 385.9 million barrels, U.S. crude oil inventories are well above the upper limit of the average range for this time of year. Total commercial petroleum inventories decreased by 1.9 million barrels last week.
WTI was $93.41 per barrel on March 22, 2013, $0.08 below last week's price and $13.02 under a year ago. The spot price for conventional gasoline in the New York Harbor was $2.877 per gallon, $0.069 below last week's price and $0.399 less than last year.
| | | | | |
| --- | --- | --- | --- | --- |
| Max: 97.35 | Minimum: 89.38 | Difference: 7.97 | Average: 93.01 | Rev. %: 5.80 |
Slowly, we've seen a price rise in West Texas Intermediate crude, now approaching $100 a barrel. This rally has come while the global benchmark for crude prices, Brent crude, hasn't really moved much at all, remaining fairly firm at around $109.  A flat price for global crude with a rising price for US crude has been just the opposite of what the fundamentals seem to say, with a dropping supply profile for Brent crudes and a continuing surplus of domestic crude in Cushing, Oklahoma.  
FxEmpire provides in-depth analysis for each currency and commodity we review. Fundamental analysis is provided in three components. We provide a detailed monthly analysis and forecast at the beginning of each month. Then we provide more recent analysis and information in our weekly reports and we provide daily updates and outlooks.
Central Bank - Fed Reserve
Date of next meeting or last meeting: May 01, 2013
Current Rate: 0.00 - 0.25%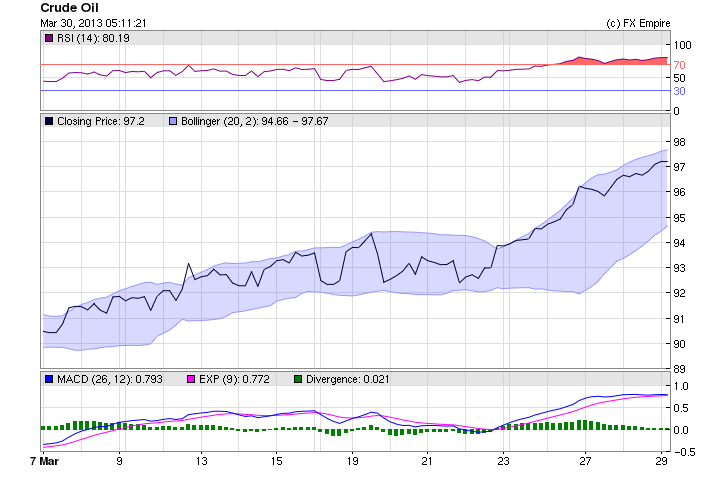 WEEKLY RELEASES
This Week in Petroleum
Gasoline and Diesel Fuel Update
Weekly Petroleum Status Report
Heating Oil & Propane Update 
Weekly Coal Production
Weekly NYMEX Coal Futures
Coal News & Markets
Natural Gas Weekly Update
Weekly Natural Gas Storage Report
Economic events for the month of April affecting EUR, CHF, GBP and USD
| | | | | | |
| --- | --- | --- | --- | --- | --- |
| Date | | Currency | Event  | Forecast | Previous |
| Apr 1 | 9:00 | USD | ISM Manufacturing PMI | 54.2 | 54.2 |
| Apr 2 | 3:30 | GBP | Manufacturing PMI | 48.9 | 47.9 |
| Apr 3 | 3:30 | GBP | Construction PMI | 47.7 | 46.8 |
|   | 7:15 | USD | ADP Non-Farm Employment Change | 203K | 198K |
|   | 9:00 | USD | ISM Non-Manufacturing PMI | 55.9 | 56.0 |
| Apr 4 | 3:30 | GBP | Services PMI | 51.4 | 51.8 |
|   | 6:00 | GBP | Asset Purchase Facility | 375B | 375B |
|   |   | GBP | Official Bank Rate | 0.50% | 0.50% |
|   | 6:45 | EUR | Minimum Bid Rate | 0.75% | 0.75% |
|   |   | USD | Unemployment Claims | 354K | 357K |
| Apr 5 | 2:00 | CHF | Foreign Currency Reserves |   | 430.0B |
|   | 7:30 | USD | Non-Farm Employment Change | 201K | 236K |
|   |   | USD | Trade Balance | -44.6B | -44.4B |
| Apr 8 | 20:30 | CNY | CPI y/y |   | 3.2% |
| Apr 9 | 2:15 | CHF | CPI m/m |   | 0.3% |
|   | 3:30 | GBP | Manufacturing Production m/m |   | -1.5% |
| Apr 12 | 7:30 | USD | Core Retail Sales m/m |   | 1.0% |
|   |   | USD | PPI m/m |   | 0.7% |
|   |   | USD | Retail Sales m/m |   | 1.1% |
|   | 8:55 | USD | Prelim UoM Consumer Sentiment |   | 78.6 |
| Apr 16 | 3:30 | GBP | CPI y/y |   |   |
|   | 7:30 | USD | Building Permits |   |   |
|   |   | USD | Core CPI m/m |   |   |
| Apr 17 | 3:30 | GBP | Claimant Count Change |   |   |
|   | 4:00 | EUR | German ZEW Economic Sentiment |   |   |
| Apr 18 | 3:30 | GBP | Retail Sales m/m |   |   |
|   | 7:30 | USD | Unemployment Claims |   |   |
|   | 9:00 | USD | Philly Fed Manufacturing Index |   |   |
| Apr 22 | 9:00 | USD | Existing Home Sales |   |   |
|   | 20:45 | CNY | HSBC Flash Manufacturing PMI |   |   |
| Apr 23 | 2:00 | EUR | French Flash Manufacturing PMI |   |   |
|   | 2:30 | EUR | German Flash Manufacturing PMI |   |   |
|   | 9:00 | USD | New Home Sales |   |   |
| Apr 24 | 3:00 | EUR | German Ifo Business Climate |   |   |
|   | 7:30 | USD | Core Durable Goods Orders m/m |   |   |
| Apr 25 | 3:30 | GBP | Prelim GDP q/q |   |   |
|   | 7:30 | USD | Unemployment Claims |   |   |
| Apr 26 | 7:30 | USD | Advance GDP q/q |   | 0.4% |
| Apr 29 | 9:00 | USD | Pending Home Sales m/m |   |   |
| Apr 30 | 9:00 | USD | CB Consumer Confidence |   |   |