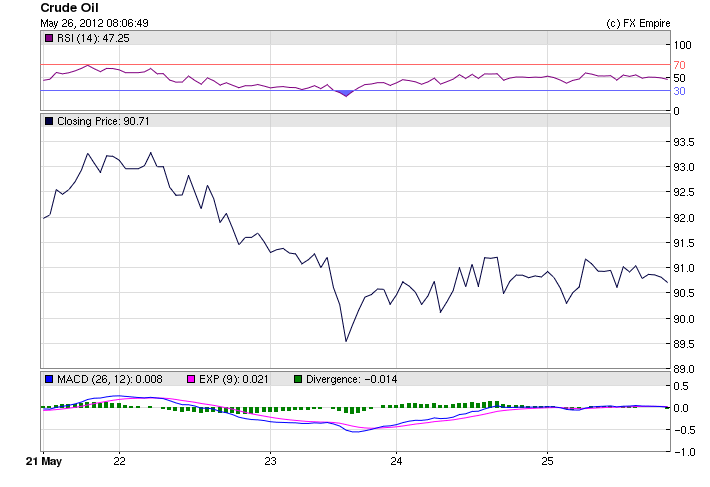 Introduction:  Crude Oil is considered the king of the commodities markets.
The Strategic Petroleum Reserve is the United States' emergency oil stockpile, and it is the largest emergency petroleum supply in the world. The reserve stores about 570 million barrels of crude oil in underground salt caverns at four sites along the Gulf of Mexico. Any dipping into this reserve is going to be big news.
Brent Crude is traded in London as something called Futures contracts, which are priced in US Dollars. Now, all you traders brave enough to run your positions over a period of days or weeks, pay attention
Most commonly traded is the NYMEX where you find West Texas Crude. It is also traded in USD.
Weekly Analysis and Recommendation:
Crude Oil  ended the week at 90.75
This was a very interesting week for the black gold, as negotiations between the world powers and Iran seemed to actually be making headway, as Iran set a proposal on the table and the sides extended the meeting for an additional day and set a future meeting. Signs are that Iran, will not cease enriching uranium, but they will allow inspections of the facility and will on their own accord decide it they should cease production. With the geopolitical situation well in hand, and production remaining high and growth estimates falling as the OECD stated this week, the demand for crude is tumbling along with prices. This weeks EIA inventory exceeded forecasts and put supplies at a 22 year high. Oil has been steadily dropping for two weeks now. This week it is trading close to the low, as shown on the below chart.
| | | | | |
| --- | --- | --- | --- | --- |
| Highest: 93.34 | Lowest: 89.31 | Difference: 4.03 | Average: 91.32 | Change %: -2.65 |
There are more concerns to stay wary than to cheer. We can sense a pause in the commodity super cycle with slowing China, which is a huge importer of commodities, Euro zone crisis amid U.S. recovery is still uncertain. If politicians fail to provide much needed support market will get jittery and people will either sit on cash or look for safe haven buying. Dollar rally is narrating the same story. If dollar continues to rally than commodities may not see upside in the prices. A strong dollar generally drags on commodities priced in the currency. If we get some good economic numbers it may add some cheers in the market, like it happened last week when home sales data was better than expected and metals rose. Economic releases which can move the commodities prices in a significant way are CPI and unemployment change data of Germany, GDP of Switzerland, US and Canada, change in Non-farm Payrolls, unemployment rate, personal consumption expenditure core and ISM manufacturing of US.
FxEmpire provides in-depth analysis for each currency and commodity we review. Fundamental analysis is provided in three components. We provide a detailed monthly analysis and forecast at the beginning of each month. Then we provide more up to the data analysis and information in our weekly reports.
Historical:
High:     114.57 
Low:      74.99
WEEKLY
This Week in Petroleum
Release Schedule: Wednesday @ 1:00 p.m. EST (schedule)
Gasoline and Diesel Fuel Update
Release Schedule: Monday between 4:00 and 5:00 p.m. EST (schedule)
Weekly Petroleum Status Report
Release Schedule: The wpsrsummary.pdf, overview.pdf, and Tables 1-14 in CSV and XLS formats, are released to the Web site after 10:30 a.m. (Eastern Time) on Wednesday. All other PDF and HTML files are released to the Web site after 1:00 p.m. (Eastern Time) on Wednesday. Appendix D is produced during the winter heating season, which extends from October through March of each year. For some weeks which include holidays, releases are delayed by one day. (schedule)
Economic Highlights of the coming week that affect the AUD, JPY, NZD and USD
Date

Currency

 

Previous

May 28

23:30

JPY

3.4%

23:50

JPY

10.3%

May 29

TBD

AUD

-9.4%

13:00

USD

-3.5%

14:00

USD

69.2

22:45

NZD

19.8%

May 30

1:30

AUD

0.9%

1:30

AUD

-4.6%

14:00

USD

4.1%

23:50

JPY

1.3%

May 31

1:00

NZD

35.8

1:30

AUD

7.4%

1:30

AUD

-0.3%

1:30

AUD

0.4%

1:30

JPY

1.3%

12:15

USD

119K

12:30

USD

2.2%

12:30

USD

370K

13:45

USD

56.2

15:00

USD

0.9M

23:50

JPY

7.6%

Jun 1

12:30

USD

115K

12:30

USD

8.1%

12:30

USD

0.2%

12:30

USD

0.3%

14:00

USD

54.8