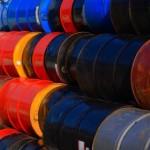 Introduction:   Crude Oil is considered the king of the commodities markets.
The Strategic Petroleum Reserve is the United States' emergency oil stockpile, and it is the largest emergency petroleum supply in the world. The reserve stores about 570 million barrels of crude oil in underground salt caverns at four sites along the Gulf of Mexico. Any dipping into this reserve is going to be big news.
Brent Crude is traded in London as something called Futures contracts, which are priced in US Dollars. Now, all you traders brave enough to run your positions over a period of days or weeks, pay attention
Most commonly traded is the NYMEX where you find West Texas Crude. It is also traded in USD.
Weekly Analysis and Recommendation:
Crude Oil remained weak but was able to regain some momentum, as positive eco data from the US and China helped increase future demands. The pair ended the week above 86.00 adding a bit over a dollar for the week. EIA inventories spooked trader's midweek reporting increased inventory.
Crude futures had tumbled to three-month low levels on Monday as the market fretted over uncertainty over the crucial race between US President Barack Obama and Republican challenger Mitt Romney. The market swung higher on Tuesday, soaring by more than $3 in line with Wall Street gains and the weaker dollar, as Americans headed to the polls.
| | | | | | |
| --- | --- | --- | --- | --- | --- |
| Date | Last | Open | High | Low | Change % |
| Nov 09, 2012 | 86.06 | 85.03 | 86.76 | 84.14 | 1.22% |
| Nov 08, 2012 | 85.03 | 84.68 | 85.70 | 84.26 | 0.40% |
| Nov 07, 2012 | 84.69 | 88.25 | 88.80 | 84.09 | -4.04% |
| Nov 06, 2012 | 88.25 | 85.77 | 89.20 | 85.43 | 2.87% |
| Nov 05, 2012 | 85.79 | 84.78 | 85.89 | 84.36 | 1.19% |
But prices plunged on Wednesday, mirroring global equities, as traders worried about a looming "fiscal cliff" in the United States after Obama's re-election and gloomy EU economic forecasts. Sentiment was also hammered after the European Union lowered its economic forecasts for the eurozone, to a contraction of 0.4 percent this year and miniscule 0.1 percent growth in 2013.
In addition, the market was dented by profit-taking, the strong dollar and rising US crude inventories data that signaled weak demand in the world's biggest oil consuming nation. On Thursday, crude futures eked out slender gains amid bargain-hunting after the sharp sell-off.
However, traders continue to worry that US political gridlock will prevent a compromise to avoid the "fiscal cliff" of automatic tax rises and spending cuts at the end of the year, which could potentially tip the US back into recession.
FxEmpire provides in-depth analysis for each currency and commodity we review. Fundamental analysis is provided in three components. We provide a detailed monthly analysis and forecast at the beginning of each month. Then we provide more recent analysis and information in our weekly reports and we provide daily updates and outlooks.
Major Economic Events for November 5 – 9 actual v. forecast for Euro, GPB, the Franc, and USD
| | | | | | |
| --- | --- | --- | --- | --- | --- |
| Date | Currency | Event | Actual | Forecast | Previous |
| Nov. 05  | EUR | Spanish Unemployment Change  | 128.20K | 90.50K | 79.60K |
|   | GBP | Services PMI  | 50.6 | 52.0 | 52.2 |
|   | USD | ISM Non-Manufacturing Index  | 54.2 | 54.5 | 55.1 |
| Nov. 06  | CHF | SECO Consumer Climate  | -17 | -22 | -17 |
|   | GBP | Halifax House Price Index (MoM)  | -0.7% | 0.3% | -0.4% |
|   | GBP | Industrial Production (MoM)  | -1.7% | -0.6% | -0.5% |
|   | GBP | Manufacturing Production (MoM)  | 0.1% | 0.3% | -1.2% |
|   | GBP | Industrial Production (YoY)  | -2.6% | -1.6% | -1.0% |
|   | EUR | German Factory Orders (MoM)  | -3.3% | -0.5% | -0.8% |
|   | RUB | Russian CPI (MoM)  | 0.5% | 0.7% | 0.6% |
|   | GBP | NIESR GDP Estimate  | 0.5% |   | 0.8% |
| Nov. 07 | CHF | CPI (MoM)  | 0.1% | 0.3% | 0.3% |
|   | EUR | Retail Sales (MoM)  | -0.2% | -0.1% | 0.2% |
|   | EUR | German Industrial Production (MoM)  | -1.8% | -0.5% | -0.4% |
|   | USD | 10-Year Note Auction  | 1.675% |   | 1.700% |
| Nov. 08  | GBP | Interest Rate Decision  | 0.50% | 0.50% | 0.50% |
|   | GBP | BOE QE Total  | 375B | 375B | 375B |
|   | EUR | Interest Rate Decision  | 0.75% | 0.75% | 0.75% |
|   | USD | Trade Balance  | -41.5B | -45.0B | -43.8B |
|   | USD | Initial Jobless Claims  | 355K | 370K | 363K |
|   | USD | Continuing Jobless Claims  | 3127K | 3253K | 3262K |
| Nov. 09  | CNY | Chinese CPI (YoY)  | 1.7% | 1.9% | 1.9% |
|   | CNY | Chinese PPI (YoY)  | -2.8% | -2.7% | -3.6% |
|   | CNY | Chinese CPI (MoM)  | -0.1% | 0.1% | 0.3% |
|   | CNY | Chinese Fixed Asset Investment (YoY)  | 20.7% | 20.6% | 20.5% |
|   | CNY | Chinese Industrial Production (YoY)  | 9.6% | 9.4% | 9.2% |
|   | CNY | Chinese Retail Sales (YoY)  | 14.5% | 14.0% | 14.2% |
|   | EUR | German CPI (MoM)  | 0.0% | 0.0% | 0.0% |
|   | EUR | German CPI (YoY)  | 2.0% | 2.0% | 2.0% |
|   | GBP | Trade Balance  | -8.4B | -8.9B | -10.0B |
|   | USD | Import Price Index (MoM)  | 0.5% | 0.0% | 1.1% |
|   | USD | Michigan Consumer Sentiment  | 84.9 | 83.0 | 82.6 |
Historical: From 2010 to Present
Highest:   114.81 on May 02, 2011
Average: 89.58 over this period
Lowest:   67.17 on May 25, 2010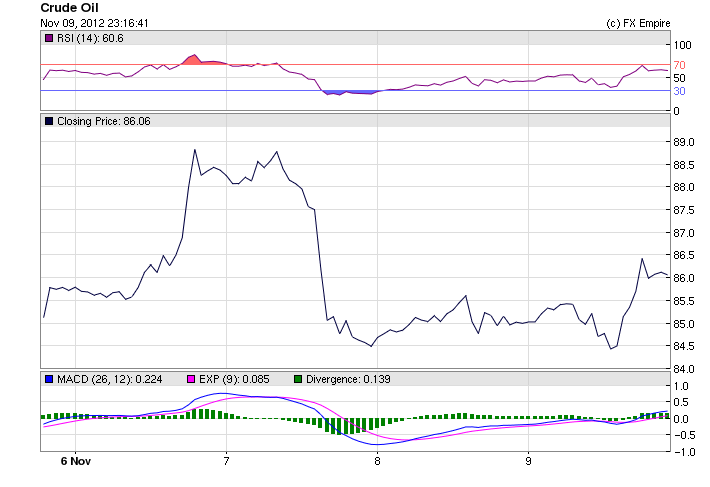 WEEKLY
This Week in Petroleum
Release Schedule: Wednesday @ 1:00 p.m. EST (schedule)

Gasoline and Diesel Fuel Update
Release Schedule: Monday between 4:00 and 5:00 p.m. EST (schedule)

Weekly Petroleum Status Report
Release Schedule: The wpsrsummary.pdf, overview.pdf, and Tables 1-14 in CSV and XLS formats, are released to the Web site after 10:30 a.m. (Eastern Time) on Wednesday. All other PDF and HTML files are released to the Web site after 1:00 p.m. (Eastern Time) on Wednesday. Appendix D is produced during the winter heating season, which extends from October through March of each year. For some weeks which include holidays, releases are delayed by one day. (schedule)
Economic Highlights of the coming week that affect the Euro, GBP, CHF and the USD
| | | | | | |
| --- | --- | --- | --- | --- | --- |
| Date | Time | Currency | Event | Forecast | Previous |
| Nov. 13 | 07:45 | EUR | |   | -0.1% |
|   | 08:15 | CHF | | 0.2% | 0.3% |
|   | 09:30 | GBP | | 2.3% | 2.2% |
|   | 09:30 | GBP | | -0.1% | -0.2% |
|   | 09:30 | GBP | | 0.2% | 0.4% |
|   | 09:30 | GBP | | -0.5% | -1.2% |
|   | 10:00 | EUR | | -9.8 | -11.5 |
|   | 19:00 | USD | | -114.0B | 75.0B |
| Nov. 14 | 07:45 | EUR | |   | -0.3% |
|   | 09:30 | GBP | | 1.9% | 1.7% |
|   | 09:30 | GBP | |   | -4.0K |
|   | 10:00 | EUR | | -1.9% | 0.6% |
|   | 13:30 | USD | | 0.1% |   |
|   | 13:30 | USD | | 0.2% | 1.1% |
|   | 13:30 | USD | | 0.2% | 1.1% |
|   | 13:30 | USD | | -0.2% | 1.1% |
|   | 13:30 | USD | | 2.6% | 2.1% |
|   | 13:30 | USD | | 2.4% | 2.3% |
|  Nov. 15 | 07:00 | EUR | | 0.2% | 0.3% |
|   | 07:00 | EUR | | 0.8% | 0.5% |
|   | 09:30 | GBP | | -0.1% | 0.6% |
|   | 09:30 | GBP | | 1.7% | 2.5% |
|   | 10:00 | EUR | | 2.5% | 2.5% |
|   | 10:00 | EUR | | -0.2% | -0.2% |
|   | 10:00 | EUR | |   | 1.5% |
Government Bond Auction
Date Time Country 
Nov 12 10:10 Slovakia
Nov 12 10:30 Germany
Nov 13 01:30 Japan
Nov 13 09:30 Holland
Nov 13 10:10 Greece
Nov 13 10:10 Italy
Nov 13 10:30 Belgium
Nov 13 15:30 UK
Nov 14 10:10 Italy
Nov 14 10:10 Sweden
Nov 14 10:30 Germany
Nov 14 10:30 Swiss
Nov 14 11:00 Norway
Nov 15 01:30 Japan
Nov 15 09:50 France
Nov 15 10:30 UK
Nov 15 10:50 France
Nov 15 16:00 US