Analysis and Recommendations:
The EUR/GBP closed the week flat at 0.8138.  The pound held close to a four-month low against the euro and inched up against the dollar on Friday helped by better-than- expected UK public borrowing numbers. While the data assuaged immediate worries about the UK's fiscal situation, concerns about further monetary easing by the Bank of England are likely to limit gains in the pound.
Public sector borrowing figures showed the UK's budget deficit widened less than expected, offering some hope that Chancellor George Osborne can meet his budget goals. Before the release some analysts had said weaker numbers would put the focus on the UK's precarious fiscal situation, with its top-notch AAA credit rating under pressure.
FxEmpire provides in-depth analysis for each currency and commodity we review. Fundamental analysis is provided in three components. We provide a detailed monthly analysis and forecast at the beginning of each month. Then we provide more up to the data analysis and information in our weekly reports.
Economic Data October 19, 2012 actual v. forecast
| | | | | | | | | | | | | |
| --- | --- | --- | --- | --- | --- | --- | --- | --- | --- | --- | --- | --- |
| Date |   | Currency |   |   | Event | Actual |   | Forecast |   | Previous |   |   |
| Oct. 19 |   | JPY |   |   | BoJ Governor Shirakawa Speaks  |   |   |   |   |   |   |   |
|   |   | CAD |   |   | Core CPI (MoM)  | 0.2% |   | 0.4%  |   | 0.3%  |   |   |
|   |   | CAD |   |   | CPI (MoM)  | 0.2% |   | 0.3%  |   | 0.2%  |   |   |
|   |   | CAD |   |   | CPI (YoY)  | 1.2% |   | 1.0%  |   | 1.2%  |   |   |
|   |   | USD |   |   | Existing Home Sales  | 4.75M |   | 4.75M  |   | 4.83M  |   |   |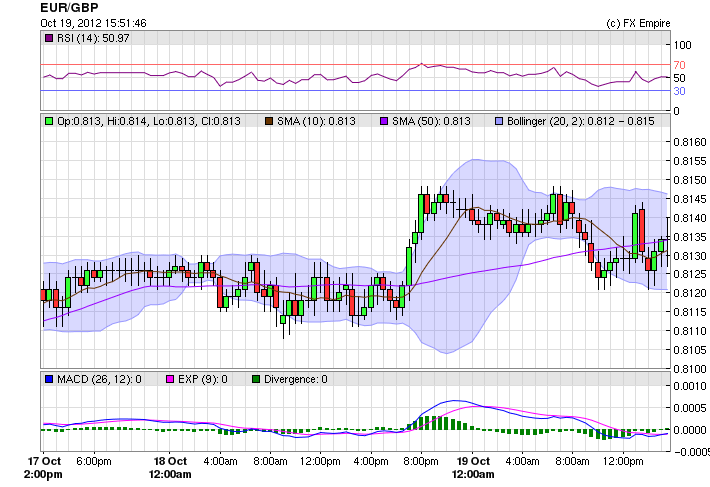 Upcoming Economic Events that affect the CHF, EUR, GBP and USD
| | | | | | |
| --- | --- | --- | --- | --- | --- |
| Date | Time | Currency | Event | Forecast | Previous |
| Oct. 24 | 07:58 | EUR | |   | 42.7  |
|   | 08:28 | EUR | |   | 47.4  |
|   | 09:00 | EUR | | 101.0  | 101.4  |
|   | 09:00 | EUR | |   | 110.3  |
|   | 09:00 | EUR | |   | 93.2  |
|   | 11:00 | GBP | |   | -8  |
Government Bond Auction
Date Time Country 
Oct 22 09:10 Norway 
Oct 23 08:30 Spain 
Oct 23 14:30 UK 
Oct 23 17:00 US 
Oct 24 09:10 Sweden 
Oct 24 09:30 Germany 
Oct 24 14:30 Sweden 
Oct 24 15:30 Italy  
Oct 24 16:30 US 
Oct 25 00:30 Japan 
Oct 25 09:10 Sweden 
Oct 25 15:30 Italy  
Oct 25 17:00 US 
Oct 26 09:10 Italy