Analysis and Recommendations:
The EUR/GBP is trading at 0.8084 with the GBP adding some strength against the weakening euro. The euro traded down against most of its partners on Monday, as worries over the EU debt crisis continue with Ecofin beginning their meetings today with a long agenda including activation of the ESM and Greece and Spain on their schedule.
The euro rose to a three-week high against the British pound on Monday, with sterling coming under broad pressure on expectations of more quantitative easing by the Bank of England and a dour economic outlook for the UK. George Osborne said today that the bulk of savings in his budget would be through cutting government spending. That would add pressure on the Bank of England to ease monetary policy perhaps as early as next month.
FxEmpire provides in-depth analysis for each currency and commodity we review. Fundamental analysis is provided in three components. We provide a detailed monthly analysis and forecast at the beginning of each month. Then we provide more up to the data analysis and information in our weekly reports.
Economic Data October 8, 2012 actual v. forecast
| | | | | | | | | | | | | |
| --- | --- | --- | --- | --- | --- | --- | --- | --- | --- | --- | --- | --- |
| Date |   | Currency |   |   | Event | Actual |   | Forecast |   | Previous |   |   |
| Oct. 08 |   | AUD |   |   | RBA Governor Stevens Speaks  |   |   |   |   |   |   |   |
|   |   | CHF |   |   | Unemployment Rate  | 2.9% |   | 3.0%  |   | 2.9%  |   |   |
|   |   | CHF |   |   | CPI (MoM)  | 0.3% |   | 0.3%  |   | 0.0%  |   |   |
|   |   | EUR |   |   | German Industrial Production (MoM)  | -0.5% |   | -0.8%  |   | 1.2%  |   |   |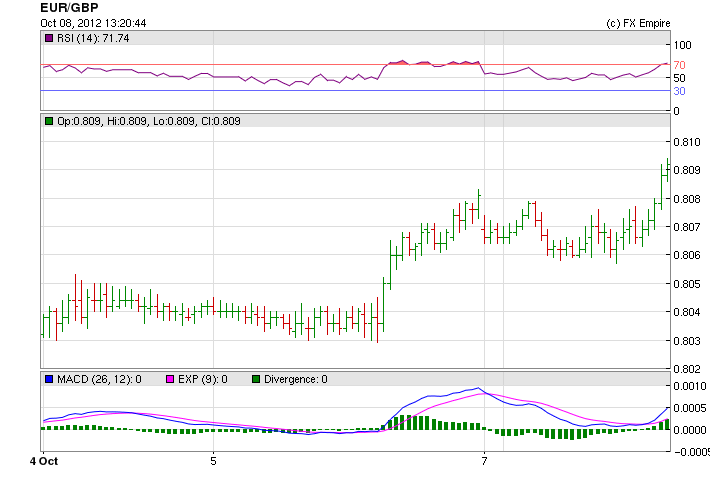 Upcoming Economic Events that affect the CHF, EUR, GBP and USD
| | | | | | |
| --- | --- | --- | --- | --- | --- |
| Date | Time | Currency | Event | Forecast | Previous |
| Oct. 09 | 00:01 | GBP | | -20% | -19% |
|   | 09:30 | GBP | | -0.5% | 2.9% |
|   | 09:30 | GBP | | -0.6% | 3.2% |
|   | 09:30 | GBP | | -8.5B | -7.2B |
|   | 09:30 | GBP | | -1.1% | -0.8% |
|  Oct. 11 | 07:00 | EUR | | 2.0% | 2.0% |
|   | 07:45 | EUR | |   | 0.7% |
| Oct. 12  | 10:00 | EUR | | -0.5% | 0.6% |
Government Bond Auction
Date Time Country 
Oct 09 08:30 Holland 
Oct 09 09:30 UK 
Oct 09 14:30 UK 
Oct 09 17:00 US 
Oct 10 09:10 Italy  
Oct 10 09:10 Sweden 
Oct 10 09:30 Germany 
Oct 10 09:30 Swiss 
Oct 10 14:30 Sweden 
Oct 10 17:00 US 
Oct 11 09:10 Italy  
Oct 11 09:10 Sweden 
Oct 11 09:30 UK 
Oct 11 15:00 US 
Oct 11 17:00 US 
Oct 12 09:30 Germany 
Oct 12 10:00 Belgium