Analysis and Recommendations:
The EUR/JPY is fairly flat in early morning trading, exchanging at 103.71. With little news from the eurozone and light eco data, the pair is pretty stable at this writing. Spain is the main focus of the euro as Moody's downgrade continues to weigh on the euro as well as Prime Minister Rajoy continued delay in requesting bailout assistance from the EU. Yesterday, reports that Spain would not meet its 2012 budget or GDP, upset markets but was not surprising with growing unemployment, austerity measures in place and the ongoing EU debt crisis. Borrowing costs continue to weigh heavily on Spain.
Whereas Japan is facing additional monetary easing by the BoJ at its October 30th meeting, this is limiting movement for the yen. Earlier this week data showed an ever widening trade balance for Japan.
FxEmpire provides in-depth analysis for each currency and commodity we review. Fundamental analysis is provided in three components. We provide a detailed monthly analysis and forecast at the beginning of each month. Then we provide more recent analysis and information in our  weekly reports and we provide daily updates and outlooks
Economic Data October 24, 2012 actual v. forecast
| | | | | | | | | | | | |
| --- | --- | --- | --- | --- | --- | --- | --- | --- | --- | --- | --- |
| Date |   | Currency |   |   | Event | Actual |   | Forecast |   | Previous |   |
| Oct. 24 |   | AUD |   |   | CPI (QoQ)  | 1.4% |   | 1.1%  |   | 0.5%  |   |
|   |   | AUD |   |   | Trimmed Mean CPI (QoQ)  | 0.7% |   | 0.6%  |   | 0.5%  |   |
|   |   | CNY |   |   | Chinese HSBC Manufacturing PMI  | 49.10 |   |   |   | 47.90  |   |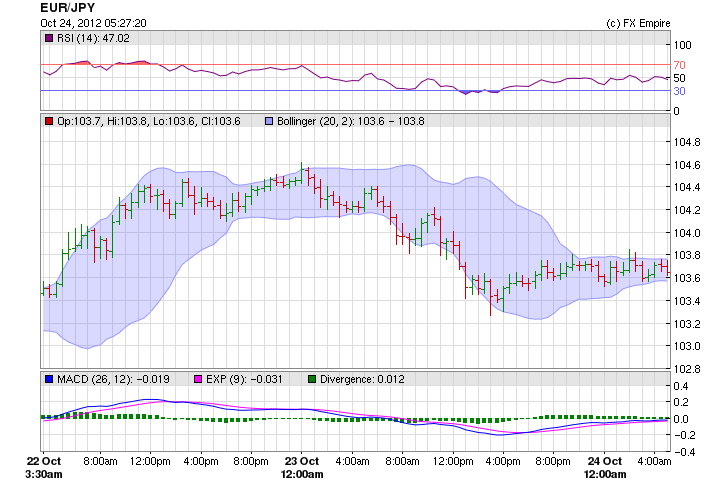 Upcoming Economic Events that affect the AUD, NZD, JPY and USD
| | | | | | |
| --- | --- | --- | --- | --- | --- |
| Date | Time | Currency | Event | Forecast | Previous |
|  Oct. 25 | 13:30 | USD | | 0.8%  | -1.6%  |
|   | 13:30 | USD | | 7.1%  | -13.2%  |
|   | 13:30 | USD | | 370K  | 388K  |
|   | 13:30 | USD | | 3255K  | 3252K  |
|   | 15:00 | USD | | 2.1%  | -2.6%  |
|   | 22:45 | NZD | | -825M  | -789M  |
Government Bond Auction
Date Time Country 
Oct 25 00:30 Japan 
Oct 25 09:10 Sweden 
Oct 25 15:30 Italy  
Oct 25 17:00 US 
Oct 26 09:10 Italy