Analysis and Recommendations:
The EUR/USD climbed over the 1.37 level trading as high as 1.3707 up by 28 points after euro GDP data showed an improvement in the eurozone. Quarter over quarter and Year over Year both beat expectations sending the euro higher. The US dollar remains weak after lackluster data weighed on trader's sentiment. Dollar Index is currently trading at 80.1600 down 0.25% percent from the previous close. Retail sales fell by a seasonally adjusted 0.4% last month, disappointing expectations for a 0.3% increase. Core retail sales, which exclude automobile sales, were unchanged last month, compared to forecasts for a 0.1% increase. The number of people seeking U.S. unemployment benefits rose 8,000 last week to 339,000, evidence that layoffs ticked up.
Official data, published by Europe's statistics agency Eurostat Friday, revealed that the economy of the 18-country group that uses the euro expanded by 0.3 percent over the period compared with the previous quarter -- above analyst forecasts of 0.2 percent. On a country level, the German and French economies grew at a similar pace in the final quarter of 2013, bridging the gap seen in recent quarters between the euro zone's two largest economies, as investment picked up in both regions.
France's economy grew 0.3 percent in the final quarter of 2013, slightly more than the 0.2 percent analysts had expected, after seeing no growth in the third quarter. Germany grew 0.4 percent in the quarter, a faster growth rate than the 0.3 percent growth consensus.
Meanwhile Italy's fourth-quarter gross domestic product (GDP) came in at 0.1 percent on the quarter, meeting expectations, and Spain's growth picked up to 0.3 percent.
One of the themes of the euro zone's recovery - since it exited its longest recession in over 40 years in the second quarter of 2013 - has been a divergence between the performance of the region's economies.
FxEmpire provides in-depth analysis for each currency and commodity we review. Fundamental analysis is provided in three components. We provide a detailed monthly analysis and forecast at the beginning of each month. Then we provide more up to the data analysis and information in our weekly reports.
Economic Data February 14, 2014 actual v. forecast
Cur.

Event

Actual

Forecast

Previous

  CNY

Chinese CPI (MoM)

1.0%

0.7%

0.3%

 

  CNY

Chinese CPI (YoY)

2.5%

2.3%

2.5%

 

  CNY

Chinese PPI (YoY)

-1.6%

-1.7%

-1.4%

 

  EUR

French GDP (QoQ) 

0.3%

0.2%

-0.1%

 

  EUR

German GDP (QoQ) 

0.4%

0.3%

0.3%

 

  EUR

French Non-Farm Payrolls (QoQ) 

0.1%

-0.1%

-0.1%

 

  EUR

GDP (YoY) 

0.5%

0.4%

-0.3%

 

  EUR

GDP (QoQ) 

0.3%

0.2%

0.1%

 

  CAD

Manufacturing Sales (MoM)

 

0.3%

1.0%

 

  USD

Import Price Index (MoM)

 

-0.1%

0.0%

 

  USD

Industrial Production (MoM)

 

0.3%

0.3%

 

  USD

Michigan Consumer Sentiment 

 

80.6

81.2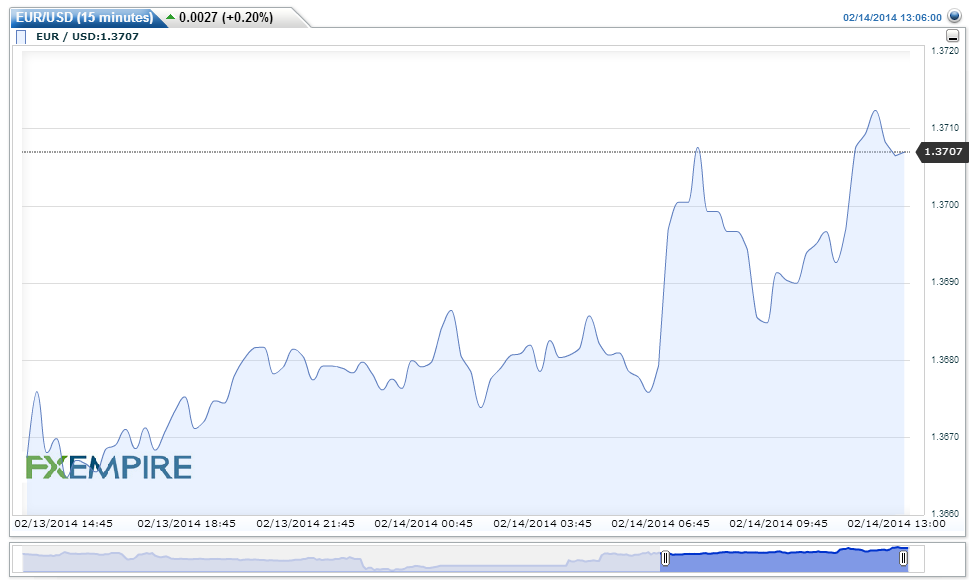 Upcoming Economic Events that affect the EUR, GBP, CAD and USD
| | | | | |
| --- | --- | --- | --- | --- |
|      Date | Time | Cur. | Event | Previous |
| Feb.17 | 10:00 | EUR | Consumer Price Index | -1.8 |
Government Bond Auction
Date Time Country 
Feb 17 10:00 Slovakia
Feb 17 11:00 Belgium
Feb 18 09:30 Spain
Feb 19 10:30 Germany
Feb 19 10:30 Portugal
Feb 20 09:30 Spain
Feb 20 10:03 Sweden
Feb 20 10:30 UK
Feb 20 16:00 US
Feb 20 16:30 Italy
Feb 20 18:00 US
Feb 21 16:30 Italy