Analysis and Recommendations:
The EUR/USD fell today, tumbling to 1.2923 as investors continued to worry about the never ending Greece saga and the craziness in Spain and the EU situation that no one seems to be able to get a handle on it. Most of the global economies are pointing towards the EU as the overall factor weighing down their economy. The IMF revisions in growth show the contagion affects around the globe caused by the ongoing EU dilemma. No matter how much stimulus the government around the globe approve, without a turnaround in Europe, it will be just good money after bad. China will not be able to pull out of its slump unless the EU begins to order goods and the US will not be able to see earning and growth, while the EU sucks down the profits of global companies.
Spain and Greece continue to be thorns in the EU Ministers side.
The euro fell against the dollar after the International Monetary Fund warned the global economic slowdown is worsening.
Spanish bond yields rose after euro zone finance ministers said on Monday that Madrid did not need a bailout yet, adding to uncertainty about when the country will ask for aid, widely seen as inevitable.
Concern about Greece also resurfaced after European Central Bank chief Mario Draghi told the European Parliament Committee that Greece has made progress on reforming its economy, but has more work to do.
Adding to the negative sentiment, the IMF cut its global growth forecasts for the second time since April and warned U.S. and European policymakers that failure to fix their economic ills would prolong the slump
FxEmpire provides in-depth analysis for each currency and commodity we review. Fundamental analysis is provided in three components. We provide a detailed monthly analysis and forecast at the beginning of each month. Then we provide more up to the data analysis and information in our weekly reports
Economic Data October 9, 2012 actual v. forecast
| | | | | | | | | | | | | |
| --- | --- | --- | --- | --- | --- | --- | --- | --- | --- | --- | --- | --- |
| Date |   | Currency |   |   | Event | Actual |   | Forecast |   | Previous |   |   |
| Oct. 09 |   | GBP |   |   | RICS House Price Balance  | -15% |   | -20%  |   | -18%  |   |   |
|   |   | JPY |   |   | Adjusted Current Account  | 0.72T |   | 0.52T  |   | 0.34T  |   |   |
|   |   | AUD |   |   | NAB Business Confidence  | 0 |   |   |   | -3  |   |   |
|   |   | GBP |   |   | Industrial Production (MoM)  | -0.5% |   | -0.5%  |   | 2.8%  |   |   |
|   |   | GBP |   |   | Manufacturing Production (MoM)  | -1.1% |   | -0.6%  |   | 3.1%  |   |   |
|   |   | GBP |   |   | Trade Balance  | -9.8B |   | -8.5B  |   | -7.3B  |   |   |
|   |   | GBP |   |   | Industrial Production (YoY)  | -1.2% |   | -1.1%  |   | -0.8%  |   |   |
|   |   | CAD |   |   | Housing Starts  | 220.2K |   | 208.0K  |   | 225.3K  |   |   |
|   |   | GBP |   |   | NIESR GDP Estimate  | 0.8% |   |   |   | 0.1%  |   |   |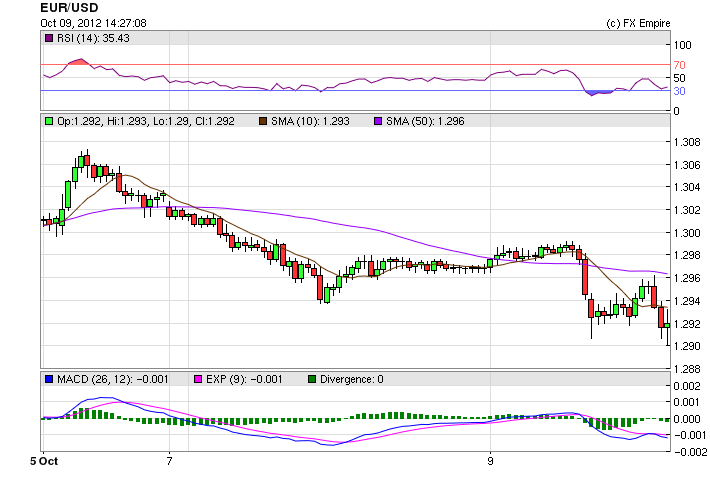 Upcoming Economic Events that affect the CHF, EUR, GBP and USD
| | | | | | |
| --- | --- | --- | --- | --- | --- |
| Date | Time | Currency | Event | Forecast | Previous |
|  Oct. 11 | 07:00 | EUR | | 2.0% | 2.0% |
|   | 07:45 | EUR | |   | 0.7% |
| Oct. 12  | 10:00 | EUR | | -0.5% | 0.6% |
Government Bond Auction
Date Time Country 
Oct 10 09:10 Italy  
Oct 10 09:10 Sweden 
Oct 10 09:30 Germany 
Oct 10 09:30 Swiss 
Oct 10 14:30 Sweden 
Oct 10 17:00 US 
Oct 11 09:10 Italy  
Oct 11 09:10 Sweden 
Oct 11 09:30 UK 
Oct 11 15:00 US 
Oct 11 17:00 US 
Oct 12 09:30 Germany 
Oct 12 10:00 Belgium