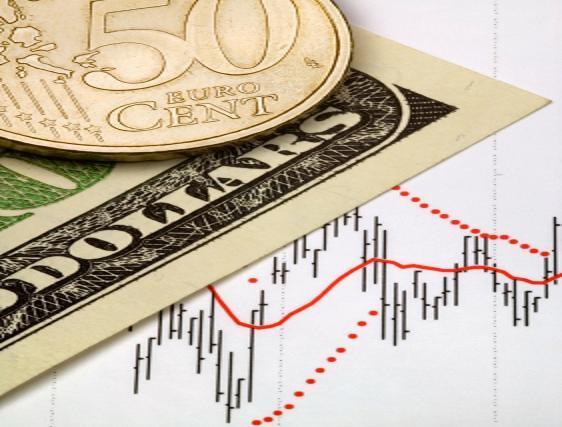 Analysis and Recommendations:
The EUR/USD added back a few pips today to trade at 1.2904. Market mood was seen wobbly as global growth concern continues to weigh on after the International Monetary Fund cut its global growth forecasts to 3.3% compared to 3.5% estimated in July.
The day is thin on major economic indicators from the U.S but talking point is more likely to revolve around the outcome of the meeting between Greek Prime Minister Antonio Samaras and French President François Hollande later in the evening. The meeting is important at this juncture in time as Greece continues to rage under debt crisis and IMF's reiteration that Greece needs to do more to evaluate the implementation of an economic revamp to meet its bailout program. The week on the whole is likely to remain languid in the midst of no major economic releases from the U.S.  However, multiple Euro leaders' meeting across Europe could keep markets on toes. With the job market in the U.S still looking sluggish, market participants would be ardently looking at the weekly jobless claims numbers to take their stance on the current labor situation in the country.
FxEmpire provides in-depth analysis for each currency and commodity we review. Fundamental analysis is provided in three components. We provide a detailed monthly analysis and forecast at the beginning of each month. Then we provide more up to the data analysis and information in our weekly reports
Economic Data October 10, 2012 actual v. forecast
| | | | | | | | | | | |
| --- | --- | --- | --- | --- | --- | --- | --- | --- | --- | --- |
| Date |   | Currency |   |   | Event | Actual |   | Forecast |   | Previous |
| Oct. 10 |   | KRW |   |   | South Korean Unemployment Rate  | 3.1% |   | 3.2%  |   | 3.1%  |
|   |   | AUD |   |   | Westpac Consumer Sentiment  | 1.00% |   |   |   | 1.60%  |
|   |   | KRW |   |   | South Korean M2 Money supply  | 9.20% |   |   |   | 9.00%  |
|   |   | EUR |   |   | German WPI (MoM)  | 1.3% |   | 0.5%  |   | 1.1%  |
|   |   | JPY |   |   | Machine Tool Orders (YoY)  | -3.0% |   |   |   | -2.7%  |
|   |   | EUR |   |   | Finnish Industry Output (MoM)  | -1.40% |   |   |   | 2.00%  |
|   |   | EUR |   |   | French Industrial Production (MoM)  | 1.5% |   | -0.2%  |   | 0.6%  |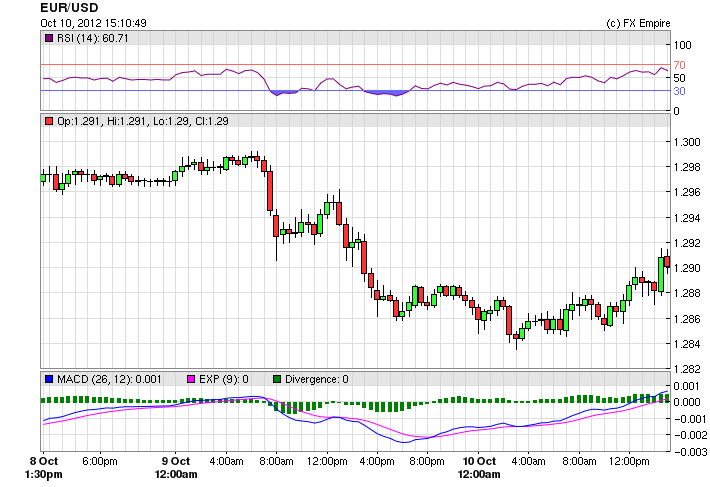 Upcoming Economic Events that affect the CHF, EUR, GBP and USD
| | | | | | |
| --- | --- | --- | --- | --- | --- |
| Date | Time | Currency | Event | Forecast | Previous |
|  Oct. 11 | 07:00 | EUR | | 0.0%  | 0.0%  |
|   | 07:00 | EUR | | 2.0%  | 2.0%  |
|   | 07:45 | EUR | | 0.1%  | 0.7%  |
|   | 13:30 | USD | | 0.7%  | 0.7%  |
|   | 13:30 | USD | | -44.0B  | -42.0B  |
|   | 13:30 | USD | | 370K  | 367K  |
|   | 13:30 | USD | | 3275K  | 3281K  |
|   | 19:00 | USD | | -4.0B  | -191.0B  |
Government Bond Auction
Date Time Country 
Oct 11 09:10 Italy  
Oct 11 09:10 Sweden 
Oct 11 09:30 UK 
Oct 11 15:00 US 
Oct 11 17:00 US 
Oct 12 09:30 Germany 
Oct 12 10:00 Belgium