Analysis and Recommendations:
The EUR/USD remained locked in the 1.29 range trading at 1.2974. Today European industrial production surprised to the upside, increasing by 0.6% m/m in August after Italy (+1.7% m/m) and France (+1.5% m/m) had both reported solid jumps in output when they released their data earlier this week. German industrial output contracted by 0.4% m/m.
The euro continued to move higher throughout the day, but remained well within its recent range, while global equities advanced as eurozone optimism picks up ahead of the weekend. While the timing of a Spanish bailout remains highly uncertain, there is growing consensus that an aid request it is more likely than not after S&P downgraded Spain's rating on Thursday. As such a request would trigger ECB bond buying program and lead to a further reduction in the eurozone bond yields, it could at least a near-term boost to the euro and most risk-sensitive assets.
Meanwhile in the US, a report showed producer prices grew less than expected in September, leaving the Federal Reserve room to continue its USD-weakening QE program
FxEmpire provides in-depth analysis for each currency and commodity we review. Fundamental analysis is provided in three components. We provide a detailed monthly analysis and forecast at the beginning of each month. Then we provide more up to the data analysis and information in our weekly reports
Economic Data October 12, 2012 actual v. forecast
| | | | | | | | | | | | | |
| --- | --- | --- | --- | --- | --- | --- | --- | --- | --- | --- | --- | --- |
| Date |   | Currency |   |   | Event | Actual |   | Forecast |   | Previous |   |   |
| Oct. 12 |   | JPY |   |   | Tertiary Industry Activity Index (MoM)  | 0.4% |   | 0.5%  |   | -1.9%  |   |   |
|   |   | INR |   |   | Indian Industrial Production (YoY)  | 2.7% |   | 1.1%  |   | -0.2%  |   |   |
|   |   | EUR |   |   | Industrial Production (MoM)  | 0.6% |   | -0.4%  |   | 0.6%  |   |   |
|   |   | USD |   |   | Core PPI (MoM)  | 0.0% |   | 0.2%  |   | 0.2%  |   |   |
|   |   | USD |   |   | PPI (MoM)  | 1.1% |   | 0.7%  |   | 1.7%  |   |   |
|   |   | USD |   |   | PPI (YoY)  | 2.1% |   | 1.8%  |   | 2.0%  |   |   |
|   |   | USD |   |   | Core PPI (YoY)  | 2.3% |   | 2.5%  |   | 2.5%  |   |   |
|   |   | USD |   |   | Michigan Consumer Sentiment  | 83.1 |   | 78.0  |   | 78.3  |   |   |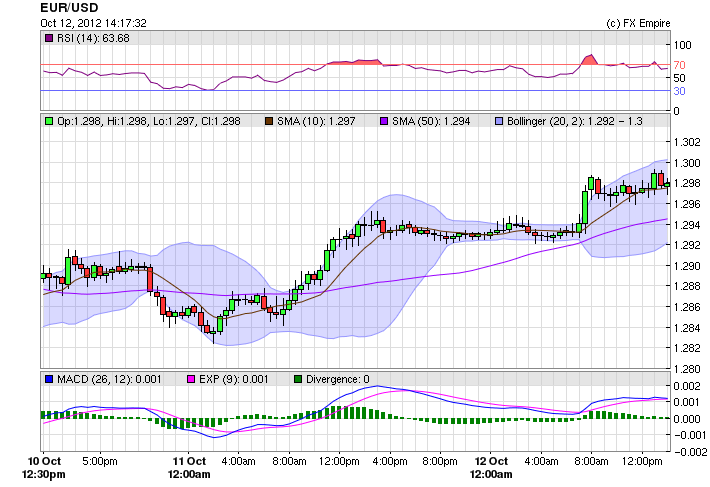 Upcoming Economic Events that affect the CHF, EUR, GBP and USD
| | | | | |
| --- | --- | --- | --- | --- |
| Date | Time | Currency | Event | Previous |
| Oct. 15  | 08:15 | CHF | | 0.5% |
Government Bond Auction
Date Time Country 
Oct 15 09:10 Slovakia 
Oct 15 10:00 Norway 
Oct 16 08:30 Spain 
Oct 16 09:10 Greece 
Oct 16 09:30 Belgium 
Oct 17 09:10 Sweden 
Oct 17 09:30 Germany 
Oct 17 09:30 Portugal 
Oct 17 10:00 Norway 
Oct 17 14:30 Sweden 
Oct 18 08:30 Spain 
Oct 18 08:50 France 
Oct 18 09:30 UK 
Oct 18 09:50 France 
Oct 18 14:30 Sweden 
Oct 18 15:00 US 
Oct 18 17:00 US