Analysis and Recommendations:
The EUR/USD gained some momentum ahead of the EU Summit scheduled for Thursday and Friday. Interviews, press releases, public statements are already starting to hit the news as Finance Ministers and government officials get their names in print. The pair is trading at 1.3043.
European Union economic data showed Euro zone inflation was unchanged in September, at a 2.6% annual rate. The German ZEW economic expectations index rose in September, suggesting less risk for the German economy. The market place is awaiting the latest GDP report from China, due out Thursday. EU officials will also meet in Brussels Thursday to once again discuss the EU debt crisis. The Euro currency did get some support Tuesday on reports Spanish officials may be considering making a formal request to the EU for financial assistance.
FxEmpire provides in-depth analysis for each currency and commodity we review. Fundamental analysis is provided in three components. We provide a detailed monthly analysis and forecast at the beginning of each month. Then we provide more up to the data analysis and information in our weekly reports
Economic Data October 16, 2012 actual v. forecast
| | | | | | | | | | | | | |
| --- | --- | --- | --- | --- | --- | --- | --- | --- | --- | --- | --- | --- |
| Date | Time |   | Currency |   | Importance |   | Event | Actual |   | Forecast |   | Previous |
| Oct. 16 | 01:30 |   | AUD |   |   |   | Monetary Policy Meeting Minutes  |   |   |   |   |   |
|   | 09:30 |   | GBP |   |   |   | Core CPI (YoY)  | 2.1% |   | 2.1% |   | 2.1%  |
|   | 09:30 |   | GBP |   |   |   | CPI (YoY)  | 2.2% |   | 2.2% |   | 2.5%  |
|   | 09:30 |   | GBP |   |   |   | PPI Input (MoM)  | -0.2% |   | -0.1% |   | 1.9%  |
|   | 09:30 |   | GBP |   |   |   | CPI (MoM)  | 0.4% |   | 0.4% |   | 0.5%  |
|   | 09:30 |   | GBP |   |   |   | PPI Input (YoY)  | -1.2% |   | -0.8% |   | 1.1%  |
|   | 10:00 |   | EUR |   |   |   | CPI (YoY)  | 2.6% |   | 2.7% |   | 2.7%  |
|   | 10:00 |   | EUR |   |   |   | German ZEW Economic Sentiment  | -11.5 |   | -15.0 |   | -18.2  |
|   | 10:00 |   | EUR |   |   |   | ZEW Economic Sentiment  | -1.4 |   | -1.1 |   | -3.8  |
|   | 10:00 |   | EUR |   |   |   | Core CPI (YoY)  | 1.5% |   | 1.6% |   | 1.5%  |
|   | 13:30 |   | USD |   |   |   | Core CPI (MoM)  | 0.1% |   | 0.2% |   | 0.1%  |
|   | 13:30 |   | USD |   |   |   | CPI (MoM)  | 0.6% |   | 0.5% |   | 0.6%  |
|   | 13:30 |   | CAD |   |   |   | Foreign Securities Purchases  | 6.90B |   | 8.72B |   | 6.67B  |
|   | 13:30 |   | CAD |   |   |   | Manufacturing Sales (MoM)  | 1.50% |   | 1.00% |   | -0.80%  |
|   | 13:30 |   | USD |   |   |   | CPI (YoY)  | 2.0% |   | 1.9% |   | 1.7%  |
|   | 13:30 |   | USD |   |   |   | Core CPI (YoY)  | 2.0% |   | 2.0% |   | 1.9%  |
|   | 14:00 |   | USD |   |   |   | TIC Net Long-Term Transactions  | 90.0B |   | 45.3B |   | 67.2B  |
|   | 14:15 |   | USD |   |   |   | Industrial Production (MoM)  | 0.4% |   | 0.2%  |   | -1.4%  |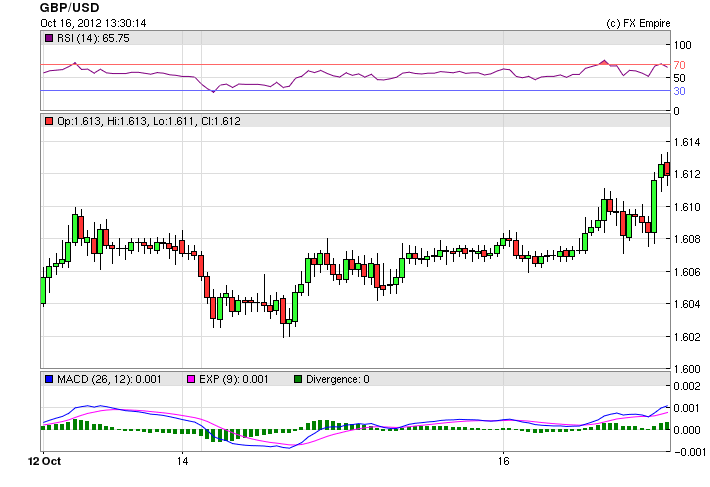 Upcoming Economic Events that affect the CHF, EUR, GBP and USD
| | | | | | |
| --- | --- | --- | --- | --- | --- |
| Date | Time | Currency | Event | Forecast | Previous |
| Oct. 17 | 09:30 | GBP | |   | 1.5% |
|   | 09:30 | GBP | |   | -15.0K |
| Oct. 18 | 09:30 | GBP | | 0.4% | -0.2% |
|   | 09:30 | GBP | | 2.1% | 2.7% |
Government Bond Auction
Date Time Country 
Oct 17 09:10 Sweden 
Oct 17 09:30 Germany 
Oct 17 09:30 Portugal 
Oct 17 10:00 Norway 
Oct 17 14:30 Sweden 
Oct 18 08:30 Spain           
Oct 18 08:50 France 
Oct 18 09:30 UK 
Oct 18 09:50 France 
Oct 18 14:30 Sweden 
Oct 18 15:00 US 
Oct 18 17:00 US