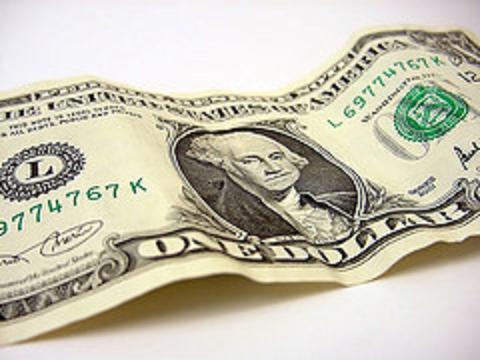 Analysis and Recommendations:
The EUR/USD weakened on lack of action by the EU Summit, to trade at 1.3026. Investors are resigning to the fact headlines about the Spanish bailout in today's EU Summit are very much unlikely. The EU leaders agreed on the Single Supervisory Mechanism (SSM). However, the activation of the SSM was delayed to 2013, keeping the ESM from acting sooner to finance Spanish banks, putting pressure on the sovereign that will have to widen its public debt by 4% to make ends meet.
The markets reacted little to fresh pronouncements coming out of the summit meeting that included efforts to shore up and better coordinate the EU banking sector. At a press conference, Spain's prime minister said he has made no decision and would ask the EU for a bailout, if Spain needs it. Falling Spanish bond yields this week, amid good demand at their debt auctions, hint that Spanish officials may not be in a hurry to seek financial assistance from the EU.
The U.S. dollar index is trading slightly higher Friday on more short covering in a bear market. The U.S. dollar bears still have the overall near-term technical advantage
Chancellor Angela Merkel demanded stronger central powers for the European Union's executive to veto national budgets that breach EU rules, risking a clash with close ally France at a summit of the bloc's leaders yesterday.
Addressing parliament in Berlin hours before the 22nd summit since the start of the eurozone's debt crisis, Merkel also sought to slow the creation a single European banking supervisor, saying quality was more important than speed.
French President Francois Hollande took a very different tack in an interview with six European newspapers, warning that budget discipline alone would not solve the eurozone's problems without doing more to revive growth, and urged faster set-up of a banking union.
Merkel skirted the issue of a possible credit line for Spain, which eurozone officials expect Madrid to request within weeks, but reiterated her desire to keep Greece in the currency area despite its chronic debt problems.
FxEmpire provides in-depth analysis for each currency and commodity we review. Fundamental analysis is provided in three components. We provide a detailed monthly analysis and forecast at the beginning of each month. Then we provide more up to the data analysis and information in our weekly reports
Economic Data October 19, 2012 actual v. forecast
| | | | | | | | | | | | | |
| --- | --- | --- | --- | --- | --- | --- | --- | --- | --- | --- | --- | --- |
| Date |   | Currency |   |   | Event | Actual |   | Forecast |   | Previous |   |   |
| Oct. 19 |   | JPY |   |   | BoJ Governor Shirakawa Speaks  |   |   |   |   |   |   |   |
|   |   | CAD |   |   | Core CPI (MoM)  | 0.2% |   | 0.4%  |   | 0.3%  |   |   |
|   |   | CAD |   |   | CPI (MoM)  | 0.2% |   | 0.3%  |   | 0.2%  |   |   |
|   |   | CAD |   |   | CPI (YoY)  | 1.2% |   | 1.0%  |   | 1.2%  |   |   |
|   |   | USD |   |   | Existing Home Sales  | 4.75M |   | 4.75M  |   | 4.83M  |   |   |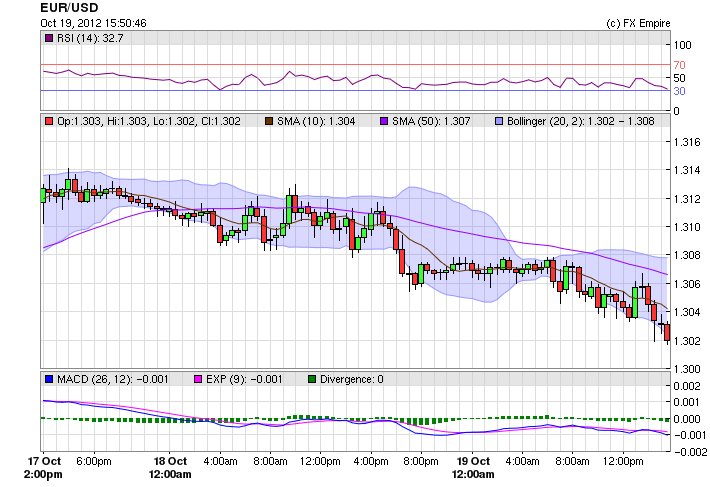 Upcoming Economic Events that affect the CHF, EUR, GBP and USD
| | | | | | |
| --- | --- | --- | --- | --- | --- |
| Date | Time | Currency | Event | Forecast | Previous |
| Oct. 24 | 07:58 | EUR | |   | 42.7  |
|   | 08:28 | EUR | |   | 47.4  |
|   | 09:00 | EUR | | 101.0  | 101.4  |
|   | 09:00 | EUR | |   | 110.3  |
|   | 09:00 | EUR | |   | 93.2  |
|   | 11:00 | GBP | |   | -8  |
Government Bond Auction
Date Time Country 
Oct 22 09:10 Norway 
Oct 23 08:30 Spain 
Oct 23 14:30 UK 
Oct 23 17:00 US 
Oct 24 09:10 Sweden 
Oct 24 09:30 Germany 
Oct 24 14:30 Sweden 
Oct 24 15:30 Italy  
Oct 24 16:30 US 
Oct 25 00:30 Japan 
Oct 25 09:10 Sweden 
Oct 25 15:30 Italy  
Oct 25 17:00 US 
Oct 26 09:10 Italy