Analysis and Recommendations:
The EUR/USD tumbled today, to trade at 1.2962 down 0.4%. At the close of the US session, Moody's downgraded five Spanish regions (including Catalonia) and confirmed five others; however the shift lower in EURUSD came well into the Asian session and likely on the back of EURJPY selling, disappointing European earnings, France's disappointing business confidence (falling to a multiyear low of 85), rumors about who will lead the Fed in January 2013 and upward pressure on Spanish yields for the third session.  The central bank of Spain released its estimate for Q3 GDP at -0.4% q/q, the silver lining in this estimate is that it is above the current consensus and is in line with the drop in Q2; however a failure on the part of PM Rajoy to request aid is beginning to weigh on markets. EUR has traded within a broad range since the FOMC's decision to launch QE3 on September 13.
The FOMC began its two day meeting as traders will wait to see their assessment of the US economy. Also some of the QE introduced last month by the Fed was tied directly to unemployment and with the rate dropping to 7.8% as reported earlier this month, traders are not sure what the Fed might do.
Markets are shedding risk as rumors swirl that Chair Bernanke will not seek another term, yesterday's US Presidential debate suggests President Obama came out ahead, weak earnings report from Europe combined with lower forecasts from the US corporate sector and some focus on geopolitical risks
FxEmpire provides in-depth analysis for each currency and commodity we review. Fundamental analysis is provided in three components. We provide a detailed monthly analysis and forecast at the beginning of each month. Then we provide more up to the data analysis and information in our weekly reports
Economic Data October 23, 2012 actual v. forecast
| | | | | | | | | | | |
| --- | --- | --- | --- | --- | --- | --- | --- | --- | --- | --- |
| Date |   | Currency |   |   | Event | Actual |   | Forecast |   | Previous |
| Oct. 23 |   | PLN |   |   | Polish Unemployment Rate  | 12.40% |   | 12.50% |   | 12.40%  |
|   |   | GBP |   |   | BBA Mortgage Approvals  | 31.2K |   | 30.9K |   | 30.7K  |
|   |   | CAD |   |   | Core Retail Sales (MoM)  | 0.4% |   | 0.2% |   | 0.5%  |
|   |   | CAD |   |   | Retail Sales (MoM)  | 0.3% |   | 0.4% |   | 0.7%  |
|   |   | CAD |   |   | Interest Rate Decision  | 1.00% |   | 1.00% |   | 1.00%  |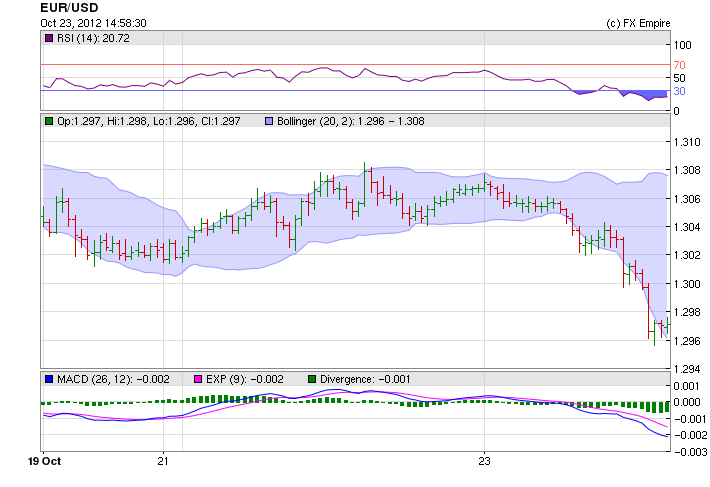 Upcoming Economic Events that affect the CHF, EUR, GBP and USD
| | | | | | |
| --- | --- | --- | --- | --- | --- |
| Date | Time | Currency | Event | Forecast | Previous |
| Oct. 24  | 07:58 | EUR | | 44.0 | 42.7  |
|   | 08:28 | EUR | | 48.0 | 47.4  |
|   | 09:00 | EUR | | 101.6 | 101.4  |
|   | 09:00 | EUR | | 109.7 | 110.3  |
|   | 09:00 | EUR | | 94.3 | 93.2  |
|   | 11:00 | GBP | |   | -8  |
|   | 15:00 | USD | | 385K | 373K |
| Oct.26  | 07:00 | EUR | | 5.9 | 5.9  |
|   | 08:00 | CHF | | 1.67 | 1.67  |
Government Bond Auction
Date Time Country 
Oct 24 09:10 Sweden 
Oct 24 09:30 Germany 
Oct 24 14:30 Sweden 
Oct 24 15:30 Italy  
Oct 24 16:30 US 
Oct 25 00:30 Japan 
Oct 25 09:10 Sweden 
Oct 25 15:30 Italy  
Oct 25 17:00 US 
Oct 26 09:10 Italy