Analysis and Recommendations:
The EUR/USD  declined to trade at 1.2959 today. The greenback turned higher against the euro as rumors circulated about Fitch Ratings downgrading the U.S. The euro turned down to $1.2951 after briefly topping $1.30 and compared with from $1.2971 Wednesday.
A Fitch spokesman declined to comment, according to Dow Jones Newswires. Fitch still rates the U.S. as AAA with a negative outlook, though Fitch analysts previously said that may stay until late 2013, according to Dow Jones.
Earlier, data from the European Central Bank showed broad money supply growth slowed in September while loans to the private-sector fell — not something that indicates the ECB's loose policy is filtering through to borrowers. 
Traders will now watch for an update on US GDP.
FxEmpire provides in-depth analysis for each currency and commodity we review. Fundamental analysis is provided in three components. We provide a detailed monthly analysis and forecast at the beginning of each month. Then we provide more up to the data analysis and information in our weekly reports
Economic Data October 25, 2012 actual v. forecast
| | | | | | | | | | | |
| --- | --- | --- | --- | --- | --- | --- | --- | --- | --- | --- |
| Date |   | Currency |   |   | Event | Actual |   | Forecast |   | Previous |
| Oct. 25 |   | HUF |   |   | Hungarian Retail Sales (YoY)  | -2.40% |   | -2.20%  |   | -2.60%  |
|   |   | SEK |   |   | Swedish Interest Rate Decision  | 1.25% |   | 1.25%  |   | 1.25%  |
|   |   | GBP |   |   | GDP (QoQ)  | 1.0% |   | 0.6%  |   | -0.4%  |
|   |   | GBP |   |   | GDP (YoY)  | 0.0% |   | -0.5%  |   | -0.5%  |
|   |   | BRL |   |   | Brazilian Unemployment Rate  | 5.4% |   | 5.3%  |   | 5.3%  |
|   |   | USD |   |   | Core Durable Goods Orders (MoM)  | 2.0% |   | 0.8%  |   | -2.1%  |
|   |   | USD |   |   | Durable Goods Orders (MoM)  | 9.9% |   | 7.1%  |   | -13.1%  |
|   |   | USD |   |   | Initial Jobless Claims  | 369K |   | 370K  |   | 392K  |
|   |   | USD |   |   | Continuing Jobless Claims  | 3254K |   | 3255K  |   | 3256K  |
|   |   | MXN |   |   | Mexican Trade Balance  | 0.234B |   | -1.318B  |   | -0.979B  |
|   |   | USD |   |   | Pending Home Sales (MoM)  | 0.3% |   | 2.1%  |   | -2.6%  |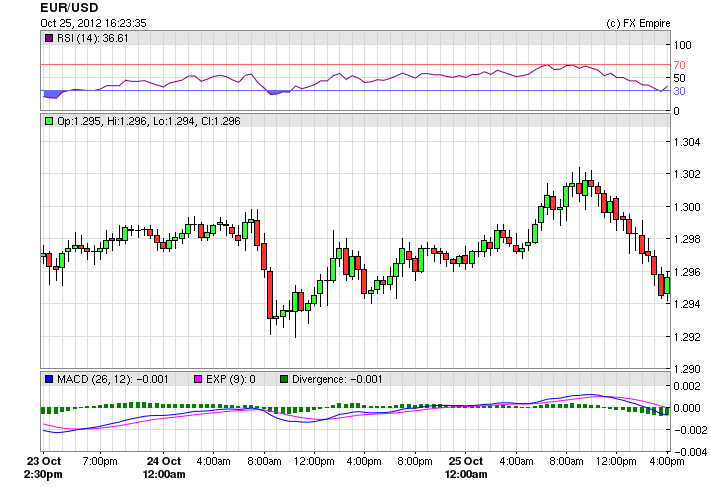 Upcoming Economic Events that affect the CHF, EUR, GBP and USD
| | | | | | |
| --- | --- | --- | --- | --- | --- |
| Date | Time | Currency | Event | Forecast | Previous |
| Oct. 26  | 07:00 | EUR | | 5.9  | 5.9  |
|   | 08:00 | CHF | | 1.63  | 1.67  |
|   | 13:30 | USD | | 1.9%  | 1.3%  |
|   | 14:55 | USD | | 83.0  | 83.1  |
Government Bond Auction
Date Time Country 
Oct 26 09:10 Italy