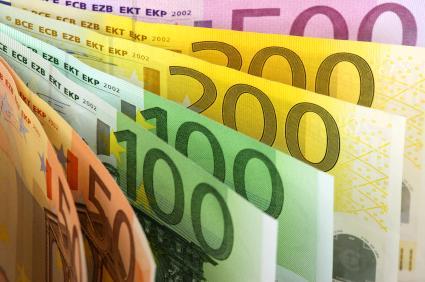 Analysis and Recommendations:
The EUR/USD fell today, trading at 1.2962 as traders worried about global growth and the ongoing EU crisis. US markets are closed for a public holiday today, although exchanges remain open, trading will be very light.
The International Monetary Fund has cut its global growth forecasts for this year and 2013 and called on politicians in the eurozone and the US to take "decisive" steps to restore confidence, a German newspaper said on Friday. Citing excerpts from the IMF's World Economic Outlook to be released early next week, the Handelsblatt business daily said that the Washington-based body predicted world economic growth of 3.3 percent in 2012 and 3.6 percent in 2013.
The German-language paper quoted the report as saying that the "further cooling of growth in the world economy this year and next goes along with a clear increase in downward risks." The forecast depends in particular on "whether decisive political steps are taken in the eurozone and the US to stabilize confidence," the paper quoted the report as saying.
The week ahead is comparatively light in terms of economic data releases while there are certain important events pertaining especially to Euro Zone and sentiments are likely to be centered around these events. To start with, Euro Area finance ministers will be meeting in Luxembourg today and tomorrow and investors will be looking out for cues on Spanish bailout and issues between Greece and troika of IMF, European Commission and ECB. In the meeting, the ministers are expected to launch their 500 billion euro permanent bailout fund to support distresses euro zone nations. ECB's Draghi will be speaking at European Parliament Panel on Tuesday and this event will be highly watched out for his comments as he had earlier announced that the outright monetary transactions program was ready for immediate use. Also, German Chancellor visiting Greece on Tuesday and G7 meeting on Thursday are the other important events. Among the economic data, US trade balance and PPI on Thursday apart from the weekly jobless data will be in focus. Earlier today, the German trade balance released showed an unexpected rise in exports in August while industrial production contracted 0.5 per cent from 1.3 per cent in July
FxEmpire provides in-depth analysis for each currency and commodity we review. Fundamental analysis is provided in three components. We provide a detailed monthly analysis and forecast at the beginning of each month. Then we provide more up to the data analysis and information in our weekly reports
Economic Data October 8, 2012 actual v. forecast
| | | | | | | | | | | | | |
| --- | --- | --- | --- | --- | --- | --- | --- | --- | --- | --- | --- | --- |
| Date |   | Currency |   |   | Event | Actual |   | Forecast |   | Previous |   |   |
| Oct. 08 |   | AUD |   |   | RBA Governor Stevens Speaks  |   |   |   |   |   |   |   |
|   |   | CHF |   |   | Unemployment Rate  | 2.9% |   | 3.0%  |   | 2.9%  |   |   |
|   |   | CHF |   |   | CPI (MoM)  | 0.3% |   | 0.3%  |   | 0.0%  |   |   |
|   |   | EUR |   |   | German Industrial Production (MoM)  | -0.5% |   | -0.8%  |   | 1.2%  |   |   |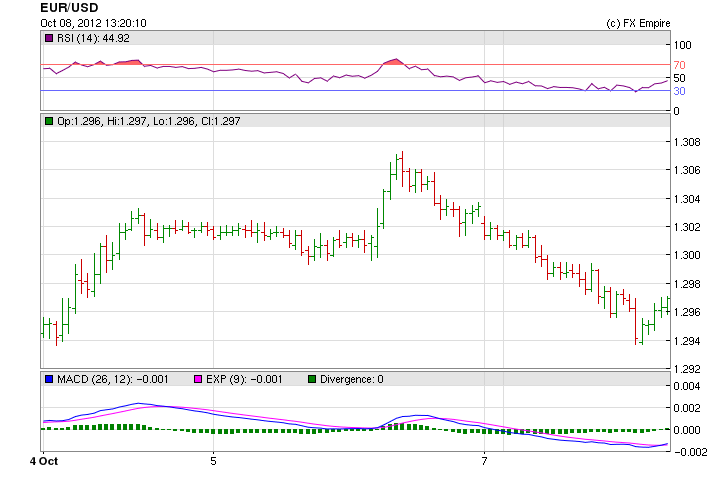 Upcoming Economic Events that affect the CHF, EUR, GBP and USD
| | | | | | |
| --- | --- | --- | --- | --- | --- |
| Date | Time | Currency | Event | Forecast | Previous |
| Oct. 09 | 00:01 | GBP | | -20% | -19% |
|   | 09:30 | GBP | | -0.5% | 2.9% |
|   | 09:30 | GBP | | -0.6% | 3.2% |
|   | 09:30 | GBP | | -8.5B | -7.2B |
|   | 09:30 | GBP | | -1.1% | -0.8% |
|  Oct. 11 | 07:00 | EUR | | 2.0% | 2.0% |
|   | 07:45 | EUR | |   | 0.7% |
| Oct. 12  | 10:00 | EUR | | -0.5% | 0.6% |
Government Bond Auction
Date Time Country 
Oct 09 08:30 Holland 
Oct 09 09:30 UK 
Oct 09 14:30 UK 
Oct 09 17:00 US 
Oct 10 09:10 Italy  
Oct 10 09:10 Sweden 
Oct 10 09:30 Germany 
Oct 10 09:30 Swiss 
Oct 10 14:30 Sweden 
Oct 10 17:00 US 
Oct 11 09:10 Italy  
Oct 11 09:10 Sweden 
Oct 11 09:30 UK 
Oct 11 15:00 US 
Oct 11 17:00 US 
Oct 12 09:30 Germany 
Oct 12 10:00 Belgium