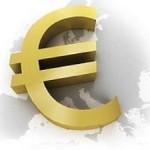 Outlook and Recommendation

The EUR/USD  regained after banks in Cyprus reopened but remains weak heading into April. The euro is trading at 1.2821. An improved US economic outlook, persistent structural weakness in Europe, aggressive central bank intervention, credit risk differentiation within the emerging market universe, and excess global liquidity are key drivers of capital flows in foreign exchange markets. The Cyprus systemic shock heightened financial stress in European markets and placed the EUR and the GBP back on the defensive. The USD has regained strength against all major currencies supported by an improved growth and fiscal consolidation outlook combined with rising European risk. EUR is entering April having lost 7% from its February 1st high of 1.3711 with building downside pressure. Technicals highlight a bearish outlook as traders continue to build short positions (the CFTC reported a net short EUR position of -$7.2 billion as of March 19th). A revaluation of the risks associated with euro zone deposits, softening economic fundamentals and little progress on the banking union and other EMU reforms, leaves EUR vulnerable to further downside.
| | | | | |
| --- | --- | --- | --- | --- |
| Maximum: 1.3158 | Minimum: 1.2752 | Difference: 0.0406 | Average: 1.2963 | Rev. %: -1.83 |
Europe is, once again, on the defensive. The unfolding of systemic risk in the Cyprus banking sector triggered a new phase of heightened financial market volatility and increased investor caution within the euro zone. Accordingly, the euro (EUR) regained a weakening profile over the past two months, which should extend through the remainder of the year. Therefore, analysts  have incorporated a higher degree of downside risk for the single currency and now expect EURUSD to close the year at 1.25. We expect the ECB to prove slow to turn dovish, but that ultimately the combination of the European growth outlook, the complicated road to the next stage in the EMU and relative ECB/Fed policy supports a weakening EUR trend. On the back of prolonged economic softness, weakening lending activity and persistent systemic weakness in the banking sector the euro continues to weaken
FxEmpire provides in-depth analysis for each currency and commodity we review. Fundamental analysis is provided in three components. We provide a detailed monthly analysis and forecast at the beginning of each month. Then we provide more recent analysis and information in our weekly reports and we provide daily updates and outlooks.
Central Bank: FED and ECB
Central Bank - Fed Reserve
Date of next meeting or last meeting: May 01, 2013
Current Rate: 0.00% - 0.25%
Central Bank Name -European Central Bank
Date of next meeting or last meeting: April 04, 2013
Current Rate: 0.75%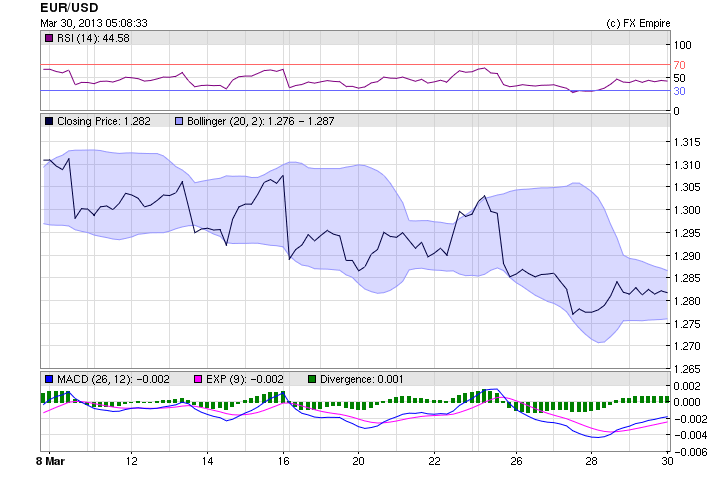 Economic events for the month of April affecting EUR, CHF, GBP and USD
| | | | | | |
| --- | --- | --- | --- | --- | --- |
| Date | | Currency | Event  | Forecast | Previous |
| Apr 1 | 9:00 | USD | ISM Manufacturing PMI | 54.2 | 54.2 |
| Apr 2 | 3:30 | GBP | Manufacturing PMI | 48.9 | 47.9 |
| Apr 3 | 3:30 | GBP | Construction PMI | 47.7 | 46.8 |
|   | 7:15 | USD | ADP Non-Farm Employment Change | 203K | 198K |
|   | 9:00 | USD | ISM Non-Manufacturing PMI | 55.9 | 56.0 |
| Apr 4 | 3:30 | GBP | Services PMI | 51.4 | 51.8 |
|   | 6:00 | GBP | Asset Purchase Facility | 375B | 375B |
|   |   | GBP | Official Bank Rate | 0.50% | 0.50% |
|   | 6:45 | EUR | Minimum Bid Rate | 0.75% | 0.75% |
|   |   | USD | Unemployment Claims | 354K | 357K |
| Apr 5 | 2:00 | CHF | Foreign Currency Reserves |   | 430.0B |
|   | 7:30 | USD | Non-Farm Employment Change | 201K | 236K |
|   |   | USD | Trade Balance | -44.6B | -44.4B |
| Apr 8 | 20:30 | CNY | CPI y/y |   | 3.2% |
| Apr 9 | 2:15 | CHF | CPI m/m |   | 0.3% |
|   | 3:30 | GBP | Manufacturing Production m/m |   | -1.5% |
| Apr 12 | 7:30 | USD | Core Retail Sales m/m |   | 1.0% |
|   |   | USD | PPI m/m |   | 0.7% |
|   |   | USD | Retail Sales m/m |   | 1.1% |
|   | 8:55 | USD | Prelim UoM Consumer Sentiment |   | 78.6 |
| Apr 16 | 3:30 | GBP | CPI y/y |   |   |
|   | 7:30 | USD | Building Permits |   |   |
|   |   | USD | Core CPI m/m |   |   |
| Apr 17 | 3:30 | GBP | Claimant Count Change |   |   |
|   | 4:00 | EUR | German ZEW Economic Sentiment |   |   |
| Apr 18 | 3:30 | GBP | Retail Sales m/m |   |   |
|   | 7:30 | USD | Unemployment Claims |   |   |
|   | 9:00 | USD | Philly Fed Manufacturing Index |   |   |
| Apr 22 | 9:00 | USD | Existing Home Sales |   |   |
|   | 20:45 | CNY | HSBC Flash Manufacturing PMI |   |   |
| Apr 23 | 2:00 | EUR | French Flash Manufacturing PMI |   |   |
|   | 2:30 | EUR | German Flash Manufacturing PMI |   |   |
|   | 9:00 | USD | New Home Sales |   |   |
| Apr 24 | 3:00 | EUR | German Ifo Business Climate |   |   |
|   | 7:30 | USD | Core Durable Goods Orders m/m |   |   |
| Apr 25 | 3:30 | GBP | Prelim GDP q/q |   |   |
|   | 7:30 | USD | Unemployment Claims |   |   |
| Apr 26 | 7:30 | USD | Advance GDP q/q |   | 0.4% |
| Apr 29 | 9:00 | USD | Pending Home Sales m/m |   |   |
| Apr 30 | 9:00 | USD | CB Consumer Confidence |   |   |