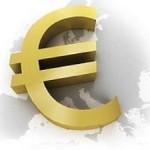 Outlook and Recommendation

The EUR/USD ended the month on a higher note at 1.3168 after tumbling as low as 1.2747 this month. Five years since the onset of the financial crisis, global growth remains fragile, inflation fears have not materialized and new policy tools continue to be tested. The sense of cautious optimism that developed in early 2013 is now giving way to a growing sense of unease. Economic data have deteriorated in the US, China and Europe, and the economic outlook is complicated by strict fiscal policy and challenged political systems in many of the advanced economies. In response, monetary conditions remain loose but are unable to offset the full fiscal burden. Increasingly, the foreign exchange debate has shifted from the impact of G4 monetary policy (the Bank of Japan, the Bank of England, the Federal Reserve and the European Central Bank) on other economies and currencies to the importance of stimulating growth in the major advanced economies through policy initiatives.
| | | | | |
| --- | --- | --- | --- | --- |
| Highest: 1.3201 | Lowest: 1.2747 | Difference: 0.0454 | Average: 1.3034 | Change %: 2.44 |
A surprisingly acute drop in inflation, combined with the continued lack of evidence of an impending recovery in the euro zone, is widely expected to be met with policy action by the European Central Bank (ECB) this month. Inflation sunk to 1.2% y/y in April from 1.7% the month before, marking a 38-month low. The decline was sharper than expected and driven by various factors around the currency union, including lower energy prices, base effects and seasonal issues. Nevertheless, it may prompt a further downgrading of the ECB's inflation projections (currently, the mid-point of the forecast range is 1.6% y/y in 2013 and 1.3% in 2014). With a two-year price outlook that is well under target ("below, but close to, 2%"), the ECB now has ample room to adjust monetary conditions. Speculators should expect a 25 basis point interest rate reduction (to 0.50%) to be complemented by a non-standard policy measure to boost lending activity among small and medium-sized businesses (SME) in the near-term. Given that the monetary transmission mechanism remains impaired, the rate cut is unlikely to do much to materially boost growth
FxEmpire provides in-depth analysis for each currency and commodity we review. Fundamental analysis is provided in three components. We provide a detailed monthly analysis and forecast at the beginning of each month. Then we provide more recent analysis and information in our weekly reports and we provide daily updates and outlooks.
Central Bank: FED and ECB
Central Bank - Fed Reserve
Date of next meeting or last meeting: May 01, 2013
Current Rate: 0.00% - 0.25%
Central Bank Name - European Central Bank
Date of next meeting or last meeting: May 02, 2013
Current Rate: 0.75%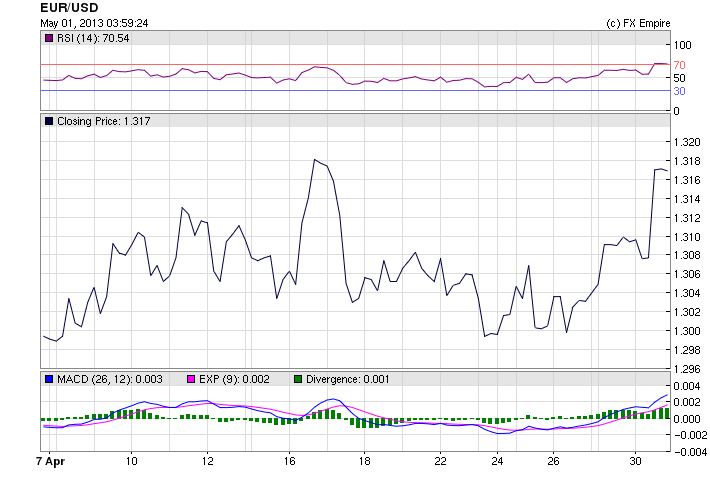 Economic events for the month of February affecting EUR, CHF, GBP and USD
| | | | | | |
| --- | --- | --- | --- | --- | --- |
| Date | Time | Currency | Event  | Forecast | Previous |
| May 1 | 3:30 | GBP | Manufacturing PMI | 48.6 | 48.3 |
|   | 7:15 | USD | ADP Non-Farm Employment Change | 153K | 158K |
|   | 9:00 | USD | ISM Manufacturing PMI | 51.1 | 51.3 |
| May 2 | 3:30 | GBP | Construction PMI | 48.1 | 47.2 |
|   | 6:45 | EUR | Minimum Bid Rate | 0.50% | 0.75% |
|   | 6:45 | USD | Trade Balance | -42.1B | -43.0B |
|   | 6:45 | USD | Unemployment Claims | 345K | 339K |
| May 3 | 3:30 | GBP | Services PMI | 52.5 | 52.4 |
|   | 7:30 | USD | Non-Farm Employment Change | 155K | 88K |
|   | 7:30 | USD | Unemployment Rate | 7.6% | 7.6% |
|   | 9:00 | USD | ISM Non-Manufacturing PMI | 54.1 | 54.4 |
| May 7 | 2:00 | CHF | Foreign Currency Reserves |   | 438.3B |
| May 8 | 2:15 | CHF | CPI m/m |   | 0.2% |
|   | 20:30 | CNY | CPI y/y |   | 2.1% |
| May 9 | 3:30 | GBP | Manufacturing Production m/m |   | 0.8% |
|   | 6:00 | GBP | Asset Purchase Facility | 375B | 375B |
|   | 6:00 | GBP | Official Bank Rate | 0.50% | 0.50% |
| May 13 | 7:30 | USD | Core Retail Sales m/m |   | -0.4% |
|   | 7:30 | USD | Retail Sales m/m |   | -0.4% |
| May 14 | 4:00 | EUR | German ZEW Economic Sentiment |   | 36.3 |
| May 15 | 3:30 | GBP | Claimant Count Change |   | -7.0K |
|   | 3:30 | GBP | BOE Inflation Report |   |   |
|   | 7:30 | USD | PPI m/m |   | -0.6% |
| May 16 | 7:30 | USD | Building Permits |   | 0.90M |
|   | 7:30 | USD | Core CPI m/m |   | 0.1% |
|   | 7:30 | USD | Unemployment Claims |   |   |
|   | 9:00 | USD | Philly Fed Manufacturing Index |   | 1.3 |
| May 17 | 8:55 | USD | Prelim UoM Consumer Sentiment |   | 76.4 |
| May 21 | 3:30 | GBP | CPI y/y |   |   |
| May 22 | 9:00 | USD | Existing Home Sales |   |   |
| May 23 | 2:00 | EUR | French Flash Manufacturing PMI |   |   |
|   | 2:30 | EUR | German Flash Manufacturing PMI |   |   |
|   | 3:30 | GBP | Retail Sales m/m |   |   |
|   | 4:30 | GBP | Second Estimate GDP q/q |   |   |
|   | 7:30 | USD | Unemployment Claims |   |   |
|   | 9:00 | USD | New Home Sales |   |   |
| May 24 | 3:00 | EUR | German Ifo Business Climate |   |   |
|   | 7:30 | USD | Core Durable Goods Orders m/m |   |   |
| May 28 | 9:00 | USD | CB Consumer Confidence |   |   |
| May 30 | 7:30 | USD | Prelim GDP q/q |   |   |
|   | 7:30 | USD | Unemployment Claims |   |   |
|   | 9:00 | USD | Pending Home Sales m/m |   |   |
| May 31 | 20:00 | CNY | Manufacturing PMI |   |   |