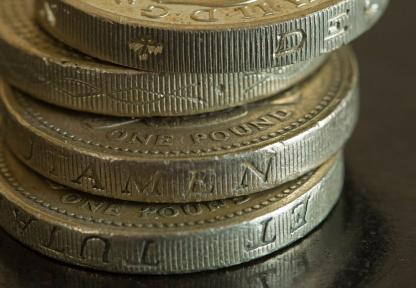 Analysis and Recommendations:
The GBP/USD claimed back a few points today to trade at 1.6023, as sovereign investors bought the pound after three straight days of losses had pushed it to a one-month low against the dollar. However, gains were likely to be fleeting as a weak UK economy and the prospect of even more fiscal tightening will pile pressure on the Bank of England to print more cash under its quantitative easing programme next month. That will undermine the pound in the near term, traders said.
 The fiscal and monetary fundamentals suggest the pound will stay under pressure even if there is an economic recovery. The International Monetary Fund slashed its forecasts this week to show the UK economy will shrink overall this year.  Economists' forecasts for the UK have worsened steadily this year and the third quarter is expected to show only very modest growth.
FxEmpire provides in-depth analysis for each currency and commodity we review. Fundamental analysis is provided in three components. We provide a detailed monthly analysis and forecast at the beginning of each month. Then we provide more up to the data analysis and information in our weekly reports.
Economic Data October 10, 2012 actual v. forecast
| | | | | | | | | | | |
| --- | --- | --- | --- | --- | --- | --- | --- | --- | --- | --- |
| Date |   | Currency |   |   | Event | Actual |   | Forecast |   | Previous |
| Oct. 10 |   | KRW |   |   | South Korean Unemployment Rate  | 3.1% |   | 3.2%  |   | 3.1%  |
|   |   | AUD |   |   | Westpac Consumer Sentiment  | 1.00% |   |   |   | 1.60%  |
|   |   | KRW |   |   | South Korean M2 Money supply  | 9.20% |   |   |   | 9.00%  |
|   |   | EUR |   |   | German WPI (MoM)  | 1.3% |   | 0.5%  |   | 1.1%  |
|   |   | JPY |   |   | Machine Tool Orders (YoY)  | -3.0% |   |   |   | -2.7%  |
|   |   | EUR |   |   | Finnish Industry Output (MoM)  | -1.40% |   |   |   | 2.00%  |
|   |   | EUR |   |   | French Industrial Production (MoM)  | 1.5% |   | -0.2%  |   | 0.6%  |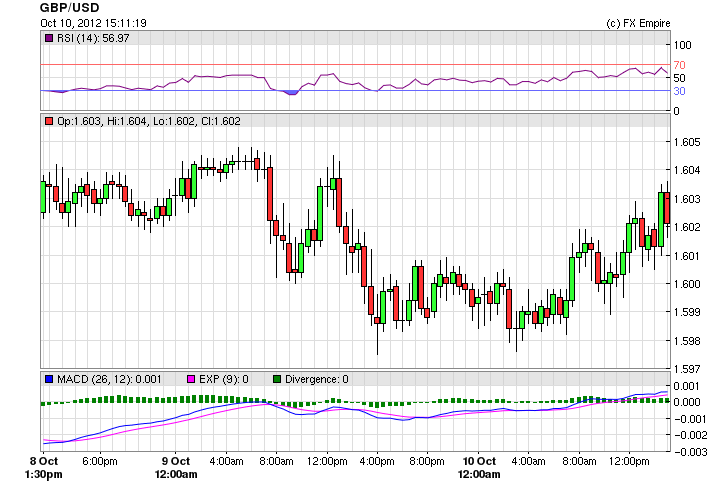 Upcoming Economic Events that affect the CHF, EUR, GBP and USD
| | | | | | |
| --- | --- | --- | --- | --- | --- |
| Date | Time | Currency | Event | Forecast | Previous |
|  Oct. 11 | 07:00 | EUR | | 0.0%  | 0.0%  |
|   | 07:00 | EUR | | 2.0%  | 2.0%  |
|   | 07:45 | EUR | | 0.1%  | 0.7%  |
|   | 13:30 | USD | | 0.7%  | 0.7%  |
|   | 13:30 | USD | | -44.0B  | -42.0B  |
|   | 13:30 | USD | | 370K  | 367K  |
|   | 13:30 | USD | | 3275K  | 3281K  |
|   | 19:00 | USD | | -4.0B  | -191.0B  |
Government Bond Auction
Date Time Country 
Oct 11 09:10 Italy  
Oct 11 09:10 Sweden 
Oct 11 09:30 UK 
Oct 11 15:00 US 
Oct 11 17:00 US 
Oct 12 09:30 Germany 
Oct 12 10:00 Belgium