Analysis and Recommendations:
The GBP/USD climbed a few pips today, to trade at 1.6076. According to the Office for National Statistics the British economy got a mild boost from the money spent by overseas visitors to the country during the Olympic/Paralympics games, possibly helping it avoid a recession. It reported that the average amount of money spent by Olympics-visitors was £1,290 per person, almost twice as much as the average £650 spent by other visitors.
Earlier, the Bank of England (BoE) Governor, Mervyn King, once again stoked hopes of a fresh round of stimulus by indicating that central banks should be flexible with inflation targets, signalling that the BoE might adopt fresh easing measures despite the underlying threat of inflation staying above the central bank's target rate for a prolonged period. However, MPC member, Martin Weale, stated that another round of QE may not be 'compatible' with the BoE's inflation target.
FxEmpire provides in-depth analysis for each currency and commodity we review. Fundamental analysis is provided in three components. We provide a detailed monthly analysis and forecast at the beginning of each month. Then we provide more up to the data analysis and information in our weekly reports.
Economic Data October 12, 2012 actual v. forecast
| | | | | | | | | | | | | |
| --- | --- | --- | --- | --- | --- | --- | --- | --- | --- | --- | --- | --- |
| Date |   | Currency |   |   | Event | Actual |   | Forecast |   | Previous |   |   |
| Oct. 12 |   | JPY |   |   | Tertiary Industry Activity Index (MoM)  | 0.4% |   | 0.5%  |   | -1.9%  |   |   |
|   |   | INR |   |   | Indian Industrial Production (YoY)  | 2.7% |   | 1.1%  |   | -0.2%  |   |   |
|   |   | EUR |   |   | Industrial Production (MoM)  | 0.6% |   | -0.4%  |   | 0.6%  |   |   |
|   |   | USD |   |   | Core PPI (MoM)  | 0.0% |   | 0.2%  |   | 0.2%  |   |   |
|   |   | USD |   |   | PPI (MoM)  | 1.1% |   | 0.7%  |   | 1.7%  |   |   |
|   |   | USD |   |   | PPI (YoY)  | 2.1% |   | 1.8%  |   | 2.0%  |   |   |
|   |   | USD |   |   | Core PPI (YoY)  | 2.3% |   | 2.5%  |   | 2.5%  |   |   |
|   |   | USD |   |   | Michigan Consumer Sentiment  | 83.1 |   | 78.0  |   | 78.3  |   |   |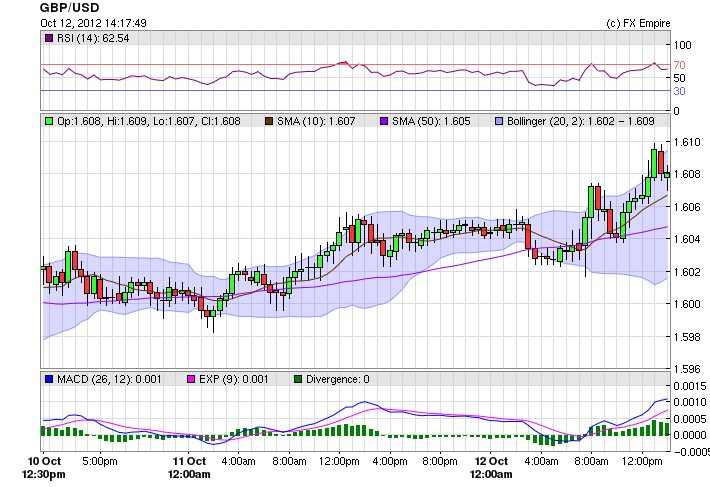 Upcoming Economic Events that affect the CHF, EUR, GBP and USD
| | | | | |
| --- | --- | --- | --- | --- |
| Date | Time | Currency | Event | Previous |
| Oct. 15  | 08:15 | CHF | | 0.5% |
Government Bond Auction
Date Time Country 
Oct 15 09:10 Slovakia 
Oct 15 10:00 Norway 
Oct 16 08:30 Spain 
Oct 16 09:10 Greece 
Oct 16 09:30 Belgium 
Oct 17 09:10 Sweden 
Oct 17 09:30 Germany 
Oct 17 09:30 Portugal 
Oct 17 10:00 Norway 
Oct 17 14:30 Sweden 
Oct 18 08:30 Spain 
Oct 18 08:50 France 
Oct 18 09:30 UK 
Oct 18 09:50 France 
Oct 18 14:30 Sweden 
Oct 18 15:00 US 
Oct 18 17:00 US