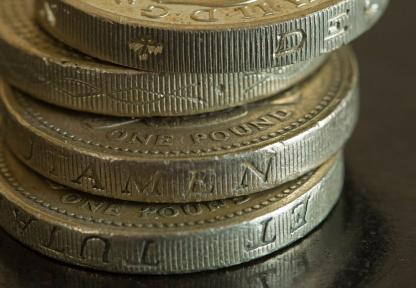 Analysis and Recommendations:
The GBP/USD is trading at 1.6154 adding 43pips in today's session, after markets were surprised by positive jobs data. Data showed the number of Britons claiming unemployment benefit fell unexpectedly while employment hit a record high. This raised the possibility that the economy may have staged a reasonable recovery in the third quarter after three consecutive quarters of contraction. The first estimate of third quarter gross domestic product is due next week.
Retail sales data on Thursday and public borrowing on Friday will give further clues as to the broader health of the UK economy and on the prospects for a further bout of QE in November.
QE is usually negative for the pound as it increases the supply of the currency.
Most economists have been expecting the central bank to opt for more QE in November, though these forecasts may have been tempered by Wednesday's jobs data and BoE minutes.
In the US markets were pleasantly surprised by a strong print of housing starts and building permits, well above forecast.
The greenback tumbled as traders look for more risk, giving room for the pound to climb.
FxEmpire provides in-depth analysis for each currency and commodity we review. Fundamental analysis is provided in three components. We provide a detailed monthly analysis and forecast at the beginning of each month. Then we provide more up to the data analysis and information in our weekly reports.
Economic Data October 17, 2012 actual v. forecast
| | | | | | | | | | | | | |
| --- | --- | --- | --- | --- | --- | --- | --- | --- | --- | --- | --- | --- |
| Date |   | Currency |   |   | Event | Actual |   | Forecast |   | Previous |   |   |
| Oct. 17 |   | GBP |   |   | Average Earnings Index +Bonus  | 1.7% |   | 1.6%  |   | 1.6%  |   |   |
|   |   | GBP |   |   | Claimant Count Change  | -4.0K |   | -1.0K  |   | -14.2K  |   |   |
|   |   | USD |   |   | Building Permits  | 0.894M |   | 0.810M  |   | 0.801M  |   |   |
|   |   | USD |   |   | Housing Starts  | 0.872M |   | 0.770M  |   | 0.758M  |   |   |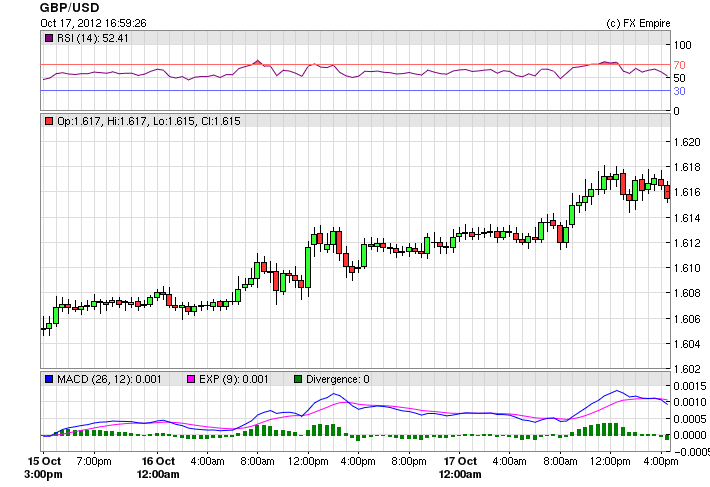 Upcoming Economic Events that affect the CHF, EUR, GBP and USD
| | | | | | |
| --- | --- | --- | --- | --- | --- |
| Date | Time | Currency | Event | Forecast | Previous |
| Oct. 18 | 09:30 | GBP | | 0.4% | -0.2% |
|   | 09:30 | GBP | | 2.1% | 2.7% |
Government Bond Auction
Date Time Country 
Oct 18 08:30 Spain           
Oct 18 08:50 France 
Oct 18 09:30 UK 
Oct 18 09:50 France 
Oct 18 14:30 Sweden 
Oct 18 15:00 US 
Oct 18 17:00 US