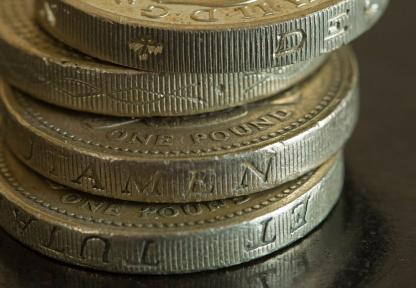 Analysis and Recommendations:
The GBP/USD is a bit stronger trading at 1.6044 ahead of tomorrow's GDP read. The focus for the pound is on the GDP release. The pound is looking a little bit vulnerable at these levels. It wouldn't surprise traders if GDP came out below consensus and then the pound could fall.
Yesterday, BOE governor Mervyn King said: "At this stage, it is difficult to know whether some of the recent more positive signs will persist. Should those signs fade; the Monetary Policy Committee does stand ready to inject more money into the economy."
In late trading the US dollar is gaining some additional momentum after new home sales report above forecast, as traders wait for the statement from the FOMC, which is not expected to contain any unexpected information.
FxEmpire provides in-depth analysis for each currency and commodity we review. Fundamental analysis is provided in three components. We provide a detailed monthly analysis and forecast at the beginning of each month. Then we provide more up to the data analysis and information in our weekly reports.
Economic Data October 24, 2012 actual v. forecast
| | | | | | | | | | | |
| --- | --- | --- | --- | --- | --- | --- | --- | --- | --- | --- |
| Date |   | Currency |   |   | Event | Actual |   | Forecast |   | Previous |
| Oct. 24 |   | AUD |   |   | CPI (QoQ)  | 1.4% |   | 1.1% |   | 0.5%  |
|   |   | AUD |   |   | Trimmed Mean CPI (QoQ)  | 0.7% |   | 0.6% |   | 0.5%  |
|   |   | CNY |   |   | Chinese HSBC Manufacturing PMI  | 49.10 |   |   |   | 47.90  |
|   |   | EUR |   |   | French Manufacturing PMI  | 43.5 |   | 44.0 |   | 42.7  |
|   |   | EUR |   |   | German Manufacturing PMI  | 45.7 |   | 48.0 |   | 47.4  |
|   |   | EUR |   |   | German Ifo Business Climate Index  | 100.0 |   | 101.5 |   | 101.4  |
|   |   | EUR |   |   | Manufacturing PMI  | 45.3 |   | 46.6 |   | 46.1  |
|   |   | EUR |   |   | German Current Assessment  | 107.3 |   | 109.8 |   | 110.3  |
|   |   | EUR |   |   | German Business Expectations  | 93.2 |   | 93.7 |   | 93.2  |
|   |   | ZAR |   |   | South African CPI (MoM)  | 0.90% |   | 0.60% |   | 0.20%  |
|   |   | EUR |   |   | German 10-Year Bund Auction  | 1.560% |   |   |   | 1.520%  |
|   |   | GBP |   |   | CBI Industrial Trends Orders  | -23 |   | -6 |   | -8  |
|   |   | USD |   |   | New Home Sales  | 389K |   | 385K |   | 373K  |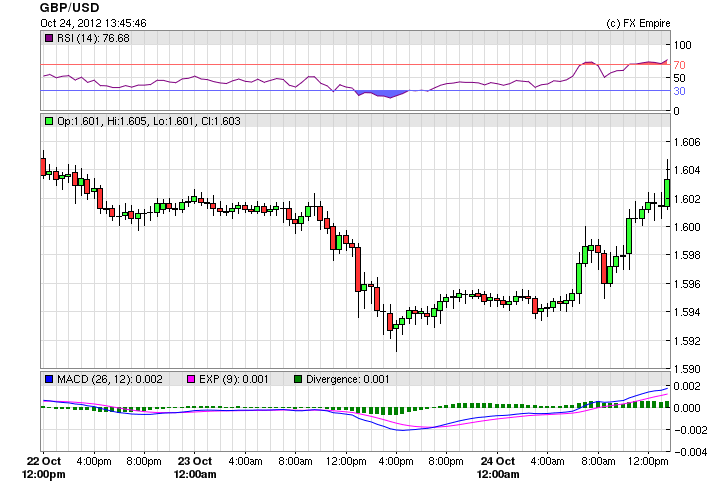 Upcoming Economic Events that affect the CHF, EUR, GBP and USD
| | | | | | |
| --- | --- | --- | --- | --- | --- |
| Date | Time | Currency | Event | Forecast | Previous |
|  Oct. 25 | 09:30 | GBP | | 0.6%  | -0.4%  |
|   | 13:30 | USD | | 0.8%  | -1.6%  |
|   | 13:30 | USD | | 7.1%  | -13.2%  |
|   | 13:30 | USD | | 370K  | 388K  |
|   | 13:30 | USD | | 3255K  | 3252K  |
|   | 15:00 | USD | | 2.1%  | -2.6%  |
Government Bond Auction
Date Time Country 
Oct 25 00:30 Japan 
Oct 25 09:10 Sweden 
Oct 25 15:30 Italy  
Oct 25 17:00 US 
Oct 26 09:10 Italy