Analysis and Recommendations:
The GBP/USD climbed to 1.6203 breaking above the psychological price at 1.62. While GBP remains below recent highs near 1.6300, yesterday's retracement helped it move back toward levels of congestion around 1.6200.  GBP is likely to trade in line with broader market sentiment in the absence of domestic data, as markets look to US employment. Industrial production data and trade figures are set for release early next week, and the medium term focus remains on the economic outlook driving BoE policymakers' tone ahead of the coming expiry of QE.
The much expected nonfarm payroll report gave a conflicted print with new jobs hitting expectations but unemployment dropping to 7.8% when an increase to 8.2% was expected. Very confusing to say the least.
FxEmpire provides in-depth analysis for each currency and commodity we review. Fundamental analysis is provided in three components. We provide a detailed monthly analysis and forecast at the beginning of each month. Then we provide more up to the data analysis and information in our weekly reports.
Economic Data October 5, 2012 actual v. forecast
| | | | | | | | | | | |
| --- | --- | --- | --- | --- | --- | --- | --- | --- | --- | --- |
| Date |   | Currency |   |   | Event | Actual |   | Forecast |   | Previous |
| Oct. 05 |   | JPY |   |   | Interest Rate Decision  | 0.10% |   | 0.10%  |   | 0.10%  |
|   |   | JPY |   |   | BoJ Press Conference  |   |   |   |   |   |
|   |   | EUR |   |   | GDP (QoQ)  | -0.2% |   | -0.2%  |   | -0.2%  |
|   |   | EUR |   |   | German Factory Orders (MoM)  | -1.3% |   | -0.5%  |   | 0.3%  |
|   |   | BRL |   |   | Brazilian CPI (YoY)  | 5.28% |   | 5.27%  |   | 5.24%  |
|   |   | USD |   |   | Average Hourly Earnings (MoM)  | 0.3% |   | 0.2%  |   | 0.0%  |
|   |   | CAD |   |   | Building Permits (MoM)  | 7.9% |   | -1.0%  |   | -2.8%  |
|   |   | CAD |   |   | Employment Change  | 52.1K |   | 10.0K  |   | 34.3K  |
|   |   | USD |   |   | Nonfarm Payrolls  | 114K |   | 113K  |   | 142K  |
|   |   | USD |   |   | Unemployment Rate  | 7.8% |   | 8.2%  |   | 8.1%  |
|   |   | CAD |   |   | Unemployment Rate  | 7.4% |   | 7.0%  |   | 7.3%  |
|   |   | USD |   |   | Average Weekly Hours  | 34.5 |   | 34.4  |   | 34.4  |
|   |   | USD |   |   | Private Nonfarm Payrolls  | 104K |   | 130K  |   | 97K  |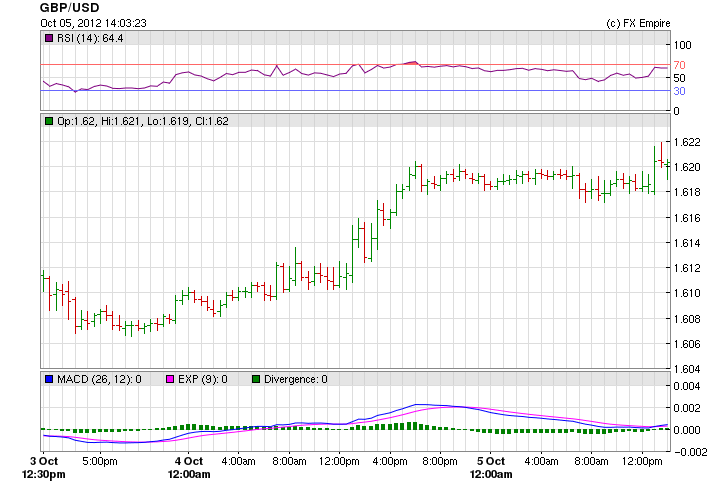 Upcoming Economic Events that affect the CHF, EUR, GBP and USD
| | | | | | |
| --- | --- | --- | --- | --- | --- |
| Date | Time | Currency | Event | Forecast | Previous |
| Oct. 08  | 08:15 | CHF | | 0.3% |   |
|   | 11:00 | EUR | | -0.6% | 1.3% |
Government Bond Auction
Date Time Country 
Oct 08 09:10 Norway 
Oct 08 15:30 Italy  
Oct 09 08:30 Holland 
Oct 09 09:30 UK 
Oct 09 14:30 UK 
Oct 09 17:00 US 
Oct 10 09:10 Italy  
Oct 10 09:10 Sweden 
Oct 10 09:30 Germany 
Oct 10 09:30 Swiss 
Oct 10 14:30 Sweden 
Oct 10 17:00 US