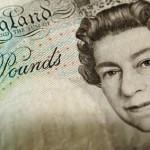 Analysis and Recommendations:
The GBP/USD is trading at 1.6036 down for the day, following most of the global currencies as the US added strength. US and Canadian markets are closed for local holidays. There is little in the way of news flow or data. There is not UK data, but George Osborne did make some press statements today saying that the bulk of savings in his budget would be through cutting government spending. That would add pressure on the Bank of England to ease monetary policy perhaps as early as next month.
The pound hit a one-month low against the dollar on Monday as perceived riskier currencies came under pressure and with a dour UK economic outlook likely to keep it subdued in the near term.
The dollar index was higher after a surprise drop in the U.S. unemployment rate on Friday soothed concerns about the economy, driving investors to reassess the potential scale and duration of the latest round of asset purchases (QE3) by the Federal Reserve.
By contrast, data released last week suggested the UK economy grew only marginally in the third quarter with the construction sector still contracting and the dominant services sector growing much more slowly than anticipated.
FxEmpire provides in-depth analysis for each currency and commodity we review. Fundamental analysis is provided in three components. We provide a detailed monthly analysis and forecast at the beginning of each month. Then we provide more up to the data analysis and information in our weekly reports.
Economic Data October 8, 2012 actual v. forecast
| | | | | | | | | | | | | |
| --- | --- | --- | --- | --- | --- | --- | --- | --- | --- | --- | --- | --- |
| Date |   | Currency |   |   | Event | Actual |   | Forecast |   | Previous |   |   |
| Oct. 08 |   | AUD |   |   | RBA Governor Stevens Speaks  |   |   |   |   |   |   |   |
|   |   | CHF |   |   | Unemployment Rate  | 2.9% |   | 3.0%  |   | 2.9%  |   |   |
|   |   | CHF |   |   | CPI (MoM)  | 0.3% |   | 0.3%  |   | 0.0%  |   |   |
|   |   | EUR |   |   | German Industrial Production (MoM)  | -0.5% |   | -0.8%  |   | 1.2%  |   |   |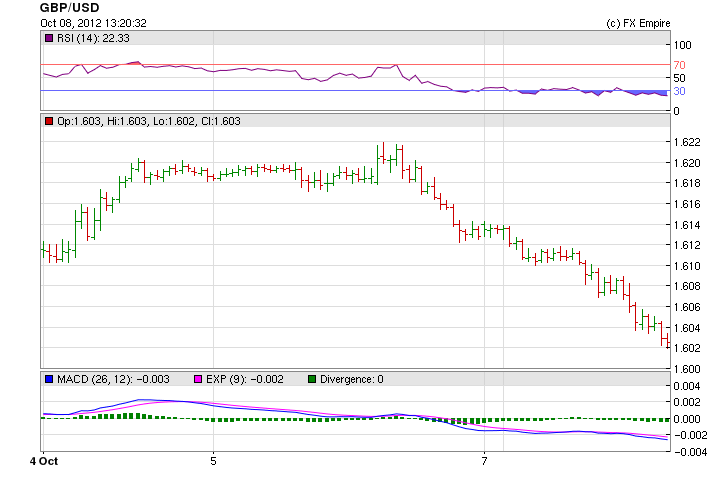 Upcoming Economic Events that affect the CHF, EUR, GBP and USD
| | | | | | |
| --- | --- | --- | --- | --- | --- |
| Date | Time | Currency | Event | Forecast | Previous |
| Oct. 09 | 00:01 | GBP | | -20% | -19% |
|   | 09:30 | GBP | | -0.5% | 2.9% |
|   | 09:30 | GBP | | -0.6% | 3.2% |
|   | 09:30 | GBP | | -8.5B | -7.2B |
|   | 09:30 | GBP | | -1.1% | -0.8% |
|  Oct. 11 | 07:00 | EUR | | 2.0% | 2.0% |
|   | 07:45 | EUR | |   | 0.7% |
| Oct. 12  | 10:00 | EUR | | -0.5% | 0.6% |
Government Bond Auction
Date Time Country 
Oct 09 08:30 Holland 
Oct 09 09:30 UK 
Oct 09 14:30 UK 
Oct 09 17:00 US 
Oct 10 09:10 Italy  
Oct 10 09:10 Sweden 
Oct 10 09:30 Germany 
Oct 10 09:30 Swiss 
Oct 10 14:30 Sweden 
Oct 10 17:00 US 
Oct 11 09:10 Italy  
Oct 11 09:10 Sweden 
Oct 11 09:30 UK 
Oct 11 15:00 US 
Oct 11 17:00 US 
Oct 12 09:30 Germany 
Oct 12 10:00 Belgium