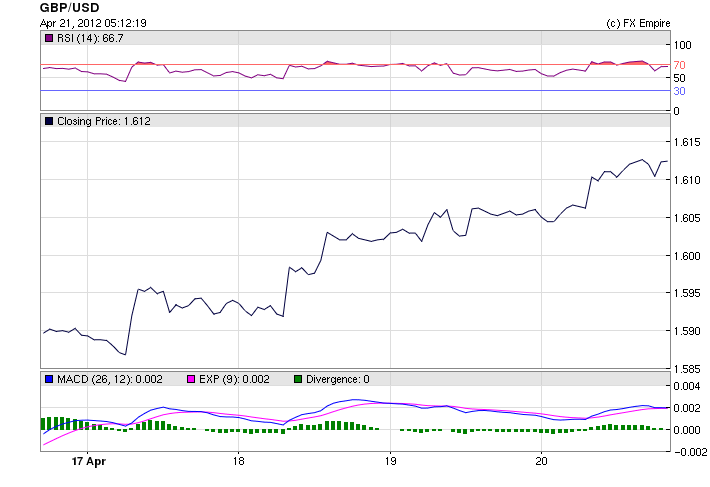 Introduction:  While the ranges are wider (and so should stops be), the lines are rather distinctive, especially towards the borders of the long term wide range. This pair makes for good trades, with the new austerity program implemented in the UK, the GBP is moving more on Fundamentals now.
The interest rate differential between the Bank of England(BoE) and the Federal Reserve
High yield and attractive growth in the UK drives GBP/USD higher
Analysis and Recommendation:
The GBP/USD at powered up this week to trade at 1.6123 and tipped the numbers at 1.6150
Economic data from UK indicated that, the country's retail sales  rose by 1.8 percent in March compared to previous decline of 0.8 percent in February.UK retail sales for March came in stronger than anticipated, expanding by 1.8% m/m including auto fuel sales and 1.5% if auto fuel sales are stripped out of the number. That is much stronger than had been forecast particularly in terms of the core ex-auto fuel number. While fuel sales were up by a very robust 4.6%, they still only account for 0.3% of the 1.8% gain. The strong retail sales number has positive implications for UK GDP as retail sales had been tracking negatively for the quarter (+0.4% m/m in January, -0.8% in February). While one  implication of the unusually high retail sales growth is that some amount of spending normally done is April was brought forward to March due to very warm weather (particularly spending at garden centers), in the final analysis, consumption for Q1 – which looked like it might drag on overall growth – now looks like it will be fairly positive.  Despite the solid print, however, pound sterling only put in a middle of the pack performance against the USD overnight.
Members of the Bank of England's Monetary Policy Committee voted 8-1 to hold the size of its asset-purchase program, the centerpiece of its quantitative-easing strategy, at 325 billion pounds ($519.3 billion) at their monthly policy meeting.
The pace of inflation in Great Britain accelerated to 3.5% in March from 3.4% the previous month, the U.K. Office for National Statistics reported. On a monthly basis, inflation rose 0.3%. Economists had forecast a 0.3% monthly rise
The unemployment rate in the U.K. for the three-month period ending February 2012 came in at 8.3%, down from a prior reading of 8.4%, the Office for National Statistics reported on Wednesday.
British retail sales volumes grew at their fastest pace since January 2011 last month, posting a 1.8% monthly rise in March and a 3.3% rise compared to the same month last year, the U.K. Office for National Statistics reported Friday. 
Construction employment should continue to stabilize as those workers finishing jobs have opportunities for new ones Although U.S. builders start work on new homes at a sharply slower March pace, construction permits jump to their highest level in 3 1/2 years, data showed. Builders began construction on new U.S. homes at a slower pace in March, but permits jumped to the highest level since September 2008, the Commerce Department reported Tuesday. Housing starts fell 5.8% last month to an annual rate of 654,000.
Rising layoffs, falling home sales and slowing manufacturing activity are sparking fears that the economic recovery is headed for a springtime stall for the third year in a row.
There isn't much in the way of eurozone eco this week, except for the United Kingdom. On Monday, house price data for March is due in the United Kingdom. In the UK, first-quarter gross domestic product data will dominate news.  April consumer confidence data is due in the United Kingdom.
Historical:
Highest: 1.681 USD on 17 Nov 2009.
Average: 1.5807 USD over this period
Economic Events
Economic Highlights of the coming week that affect the Euro, GBP, and Franc
| | | | | | | | |
| --- | --- | --- | --- | --- | --- | --- | --- |
|  EUR |   | Industrial New Orders (MoM) |   | -0.5% | -2.3% |   | |
|  USD |   | New Home Sales |   | 320K | 313K |   | |
|  USD |   | CB Consumer Confidence |   | 70.3 | 70.8 |   | |
|  GBP |   | GDP (YoY) |   | 0.3% | 0.5% |   | |
|  GBP |   | CBI Industrial Trends Orders |   | -20 | -8 |   | |
|  USD |   | Durable Goods Orders (MoM) |   | -1.5% | 2.4% |   | |
|  USD |   | Core Durable Goods Orders (MoM) |   | 0.5% | 1.8% |   | |
|  USD |   | Interest Rate Decision |   |   |   |   | |
|  GBP |   | Nationwide Consumer Confidence |   |   | 44 |   | |
|  GBP |   | CBI Distributive Trades Survey |   | -4 |   |   | |
|  CHF |   | KOF Leading Indicators |   | 0.26 | 0.08 |   | |