Analysis and Recommendations:
Gold added $7.70 to trade at 1258.90 as global data disappointed traders today. US Gold futures continued the early recovery on bargain buying, ahead of the ADP employment data scheduled to release later Wednesday. The U.S is to release the ADP report on private sector job creation, which leads the government's highly-anticipated non-farm payrolls report by two days, while the ISM is to publish a report service sector activity. The closure of Chinese markets for the Lunar New Year holiday weighed on volumes while markets were also cautious ahead of a key U.S. jobs report on Friday which was hurting buying interest. Gold prices are trading higher by 0.3 percent today on the back of sharp recovery in the SPDR Gold Holdings. Also, weakness in the DX acted as a positive factor. However, mixed global market sentiments capped sharp gains. In the Indian markets, gold prices gained around 0.3 percent. Concerns about the fragility of stock markets after a recent heavy sell-off has piqued some investment interest in gold, with the world's largest bullion-backed exchange-traded fund, the SPDR Gold Trust, reporting a 3.9-tonne inflow on Tuesday. Investors are likely to stick to the sidelines ahead of US non-farm payrolls data for January on Friday, widely seen as a barometer for the health of the world's largest economy.
Analysts, however, expect gold to gain in the near term as worries persist over global economic growth and capital flight from emerging markets following the U.S. Federal Reserve's move to taper its stimulus.
"The risk-aversion attitude in the market in quite significant and gold should benefit from that in the short term," said Mark To, head of research at Hong Kong's Wing Fung Financial Group.To also said he does not expect U.S. data and earnings to be strong enough to alleviate fears of economic growth. Gold has gained 4 percent so far this year after a 28 percent drop in 2013. Bullion is often considered an alternative investment option to risky assets such as stocks. Investor sentiment as measured by inflows into gold-backed funds seemed to be optimistic.
FxEmpire provides in-depth analysis for each currency and commodity we review. Fundamental analysis is provided in three components. We provide a detailed monthly analysis and forecast at the beginning of each month. Then we provide more up to the data analysis and information in our weekly reports.
Economic Data February 5, 2014 actual v. forecast
| | | | | | | | | | | | | |
| --- | --- | --- | --- | --- | --- | --- | --- | --- | --- | --- | --- | --- |
| Date |   | Currency |   |   | Event | Actual |   | Forecast |   | Previous |   |   |
| Feb. 05 |   | EUR |   |   | Spanish Services PMI  | 54.9 |   | 54.8  |   | 54.2  |   |   |
|   |   | EUR |   |   | Italian Services PMI  | 49.4 |   | 48.6  |   | 47.9  |   |   |
|   |   | EUR |   |   | French Services PMI  | 48.9 |   | 48.6  |   | 48.6  |   |   |
|   |   | EUR |   |   | German Services PMI  | 53.1 |   | 53.6  |   | 53.6  |   |   |
|   |   | EUR |   |   | Services PMI  | 51.6 |   | 51.9  |   | 51.9  |   |   |
|   |   | GBP |   |   | Services PMI  | 58.3 |   | 59.0  |   | 58.8  |   |   |
|   |   | EUR |   |   | Retail Sales (MoM)  | -1.6% |   | -0.5%  |   | 0.9%  |   |   |
|   |   | EUR |   |   | Retail Sales (YoY)  | -1.0% |   | 1.5%  |   | 1.3%  |   |   |
|   |   | PLN |   |   | Polish Interest Rate Decision  | 2.50% |   | 2.50%  |   | 2.50%  |   |   |
|   |   | RUB |   |   | Russian CPI (MoM)  | 0.6% |   | 0.7%  |   | 0.5%  |   |   |
|   |   | USD |   |   | ADP Nonfarm Employment Change  | 175K |   | 180K  |   | 227K  |   |   |
|   |   | CAD |   |   | Building Permits (MoM)  |   |   | 2.0%  |   | -6.7%  |   |   |
|   |   | USD |   |   | ISM Non-Mfg PMI  |   |   | 53.7  |   | 53.0  |   |   |
|   |   | USD |   |   | ISM Non-Mfg Employment  |   |   |   |   | 55.8  |   |   |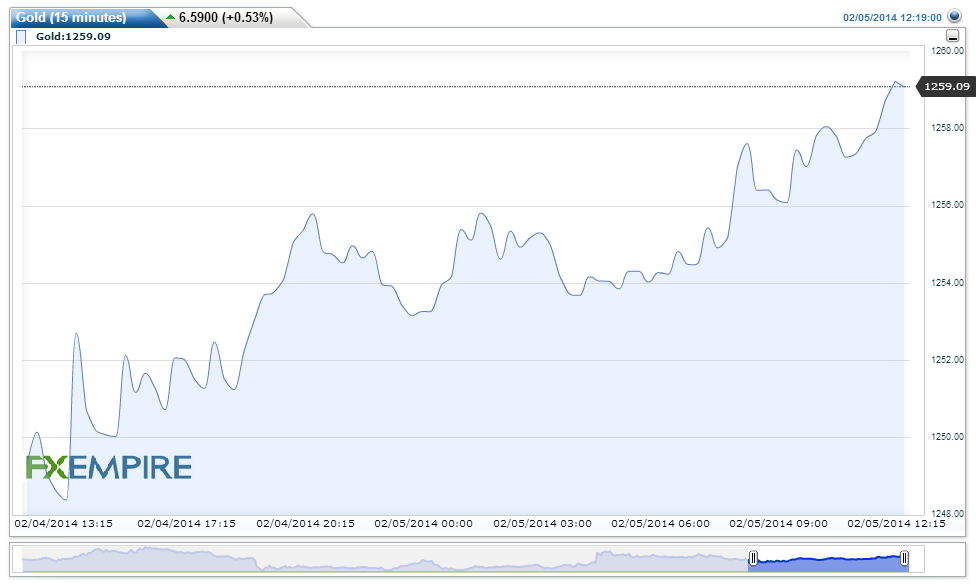 Upcoming Economic Events that affect the EUR, GBP and USD
| | | | | | |
| --- | --- | --- | --- | --- | --- |
| Date | Time | Currency | Event | Forecast | Previous |
| Feb. 06 | 11:00 | EUR | | 0.4% | 2.1% |
|   | 12:00 | GBP | | 0.50% | 0.50% |
|   | 12:00 | GBP | |   | 375B |
|   | 12:45 | EUR | | 0.25% | 0.25% |
|   | 13:30 | USD | | 2.5% | 3.0% |
|   | 13:30 | USD | | -36.10B | -34.30B |
|   | 13:30 | USD | | -0.5% | -1.4% |
Government Bond Auction
Date Time Country 
Feb 06 09:30 Spain
Feb 06 10:03 Sweden
Feb 07 10:03 Sweden
Feb 07 16:30 Italy