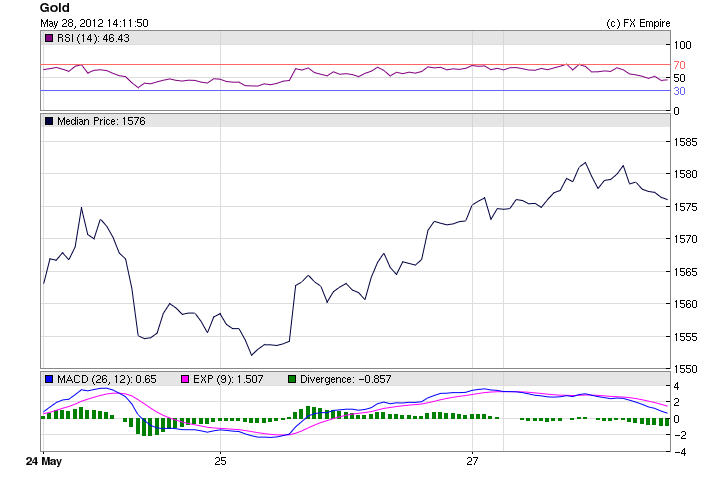 Analysis and Recommendations:
Gold is trading at 1577.05, moving up in early trading after reports and polls showed strong support in Greece for the party endorsing the EU and the euro. Major European and US markets are closed on account of holiday today. European equities traded on a positive note after Greece's opinion polls eased the concern of the country's exit from the Eurozone.
Spot gold prices gained around 0.4 percent today on the back of weakness in the US Dollar Index (DX). The yellow metal touched an intra-day high of around $1584/oz.
By the afternoon session in Europe the DI regained its strength pushing down all commodities and trading partners, as fears grew over banking problems in Spain.
On a day with virtually no eco data and little news flow and market closures, investors were looking for any reason to trade.
The market sentiments are likely to remain subdued in wake of Memorial Day holiday for the U.S markets. However, opinion polls in Greece hinted that the pro-bailout New Democracy party is leading the exit polls, much to the delight of investors. This week will see the release of heavyweight economic data, with the most important ones to look for would be the U.S consumer confidence, manufacturing, GDP and Payrolls data. Any incongruity in these data could have a significant bearing on the commodity price movements. With Chinese economy going through a rough patch, all eyes are glued to the government manufacturing figures schedule for release on Friday. After a series of muddled job numbers off-late from the U.S, financial markets would be anticipating strong assuring numbers from this week's Nonfarm Payrolls data, which is projected to show companies in the U.S adding 150K more jobs in May. Looking ahead, European investor sentiments are prone to set the tone for this week amid political bedlam in Greece and rising debt contagion in the region.
FxEmpire provides in-depth analysis for each currency and commodity we review. Fundamental analysis is provided in three components. We provide a detailed monthly analysis and forecast at the beginning of each month. Then we provide more up to the data analysis and information in our weekly reports.
Upcoming Economic Events that affect the CHF, EUR, GBP and USD
Date

Time

Currency

 

Previous

May 29

All Day

EUR

0.2%

10:00

GBP

-6

13:00

USD

-3.5%

14:00

USD

69.2

May 30

7:00

CHF

0.40

8:00

EUR

3.2%

8:30

GBP

1.4B

14:00

USD

4.1%

23:01

GBP

-31