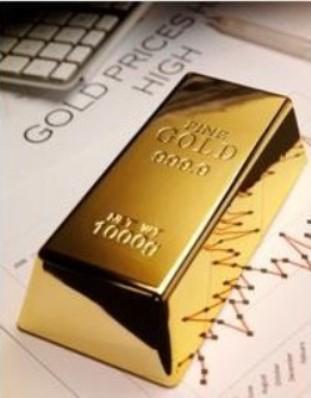 Outlook and Recommendation

Gold closed the month on weakness at 1597.15 after climbing to 1615 on market worries over the eurozone bailout of Cyprus. Next week will be very touchy. Monday will be the first day of a new quarter, and a lot depends on what demand we may have from the funds and their participation.  Right now you have poor economic data from the end of last week, the eurozone in turmoil and low interest rates. All of that would be supportive for gold, but we don't have inflation, so I could see gold being range-bound to a little lower next week
| | | | | |
| --- | --- | --- | --- | --- |
| Maximum: 1615.80 | Minimum: 1560.60 | Difference: 55.20 | Average: 1592.48 | Rev. %: 5.1 |
The ECB and the BoE along with the RBA and the BoJ are all meeting this coming week and could have major implications on gold prices. This added to stress over Italian politics could see some safe haven trading returning to the markets. Cyprus is not done yet either as contagion from the two euros will slowly seep into the eurozone banking system. Value of the euro in Cyprus is no longer the same as free flowing euros in the rest of the eurozone.
Looking  into April, the Commodity Traders Almanac said gold can be vulnerable to selling next month, continuing the seasonal decline that generally begins in January. "April tends to see tax-related selling pressure on gold prices along with other financial markets, specifically the U.S. stock markets, and more predominantly, in the technology sector..." the almanac said.
FxEmpire provides in-depth analysis for each currency and commodity we review. Fundamental analysis is provided in three components. We provide a detailed monthly analysis and forecast at the beginning of each month. Then we provide more recent analysis and information in our weekly reports and we provide daily updates and outlooks.
Central Bank - Fed Reserve
Date of next meeting or last meeting: May 01, 2013
Current Rate: 0.00-0.25%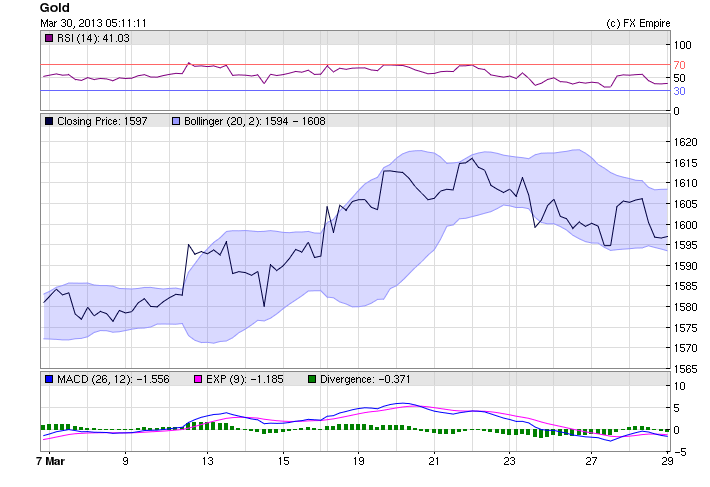 Economic events for the month of April affecting EUR, CHF, GBP and USD
| | | | | | |
| --- | --- | --- | --- | --- | --- |
| Date | | Currency | Event  | Forecast | Previous |
| Apr 1 | 9:00 | USD | ISM Manufacturing PMI | 54.2 | 54.2 |
| Apr 2 | 3:30 | GBP | Manufacturing PMI | 48.9 | 47.9 |
| Apr 3 | 3:30 | GBP | Construction PMI | 47.7 | 46.8 |
|   | 7:15 | USD | ADP Non-Farm Employment Change | 203K | 198K |
|   | 9:00 | USD | ISM Non-Manufacturing PMI | 55.9 | 56.0 |
| Apr 4 | 3:30 | GBP | Services PMI | 51.4 | 51.8 |
|   | 6:00 | GBP | Asset Purchase Facility | 375B | 375B |
|   |   | GBP | Official Bank Rate | 0.50% | 0.50% |
|   | 6:45 | EUR | Minimum Bid Rate | 0.75% | 0.75% |
|   |   | USD | Unemployment Claims | 354K | 357K |
| Apr 5 | 2:00 | CHF | Foreign Currency Reserves |   | 430.0B |
|   | 7:30 | USD | Non-Farm Employment Change | 201K | 236K |
|   |   | USD | Trade Balance | -44.6B | -44.4B |
| Apr 8 | 20:30 | CNY | CPI y/y |   | 3.2% |
| Apr 9 | 2:15 | CHF | CPI m/m |   | 0.3% |
|   | 3:30 | GBP | Manufacturing Production m/m |   | -1.5% |
| Apr 12 | 7:30 | USD | Core Retail Sales m/m |   | 1.0% |
|   |   | USD | PPI m/m |   | 0.7% |
|   |   | USD | Retail Sales m/m |   | 1.1% |
|   | 8:55 | USD | Prelim UoM Consumer Sentiment |   | 78.6 |
| Apr 16 | 3:30 | GBP | CPI y/y |   |   |
|   | 7:30 | USD | Building Permits |   |   |
|   |   | USD | Core CPI m/m |   |   |
| Apr 17 | 3:30 | GBP | Claimant Count Change |   |   |
|   | 4:00 | EUR | German ZEW Economic Sentiment |   |   |
| Apr 18 | 3:30 | GBP | Retail Sales m/m |   |   |
|   | 7:30 | USD | Unemployment Claims |   |   |
|   | 9:00 | USD | Philly Fed Manufacturing Index |   |   |
| Apr 22 | 9:00 | USD | Existing Home Sales |   |   |
|   | 20:45 | CNY | HSBC Flash Manufacturing PMI |   |   |
| Apr 23 | 2:00 | EUR | French Flash Manufacturing PMI |   |   |
|   | 2:30 | EUR | German Flash Manufacturing PMI |   |   |
|   | 9:00 | USD | New Home Sales |   |   |
| Apr 24 | 3:00 | EUR | German Ifo Business Climate |   |   |
|   | 7:30 | USD | Core Durable Goods Orders m/m |   |   |
| Apr 25 | 3:30 | GBP | Prelim GDP q/q |   |   |
|   | 7:30 | USD | Unemployment Claims |   |   |
| Apr 26 | 7:30 | USD | Advance GDP q/q |   | 0.4% |
| Apr 29 | 9:00 | USD | Pending Home Sales m/m |   |   |
| Apr 30 | 9:00 | USD | CB Consumer Confidence |   |   |