Outlook and Recommendation

Gold had an active month hitting a high of 1685.00 to close over 100 dollars below at 1578.70. Gold fell more than 1 percent on Thursday, as gains in U.S. equities and economic optimism sapped safe-haven demand for the precious metal, which ended February with its fifth straight monthly drop, the longest string of monthly declines since 1996. Bullion fell sharply for a second day, after U.S. data showed the economy grew slightly in the fourth quarter while new claims for unemployment dropped last week.  Signs of an improving U.S. economy have sent the Dow Jones industrials and the S&P 500 stock index within striking distance of record highs. Gold fell 5 percent in February and bullion holdings in gold-backed exchange traded funds posted sharp monthly losses. Investors are reassessing where they have their money allocated at, and they are now focusing on the equity markets which have been holding up very firm.
| | | | | |
| --- | --- | --- | --- | --- |
| Highest: 1685.65 | Lowest: 1554.80 | Difference: 130.85 | Average: 1629.87 | Change %: -5.90 |
Hedge funds and money managers increased their net long gold futures and options positions in the week to Feb. 26 after they cut them sharply in the previous period, according to CFTC. Specs raised net longs in gold by 11,861 lots to 54,180. Reflecting the negative sentiment among fund investors, an exodus from the SPDR Gold Trust the world's biggest gold-backed exchange-traded fund, continued for a seventh consecutive session, marking the longest outflow in the fund's history. What we are seeing just now is a lack of love from investors towards gold. Why would you be in a market that doesn't pay any dividends and yield, and is most likely to underperform in an environment where economic indicators are seen improving? Bullion has struggled so far this year after 12 years of rising prices as signs of improving economic conditions in China and the United States. Stabilization in much of Europe has also lured investors away from safe-haven assets.
FxEmpire provides in-depth analysis for each currency and commodity we review. Fundamental analysis is provided in three components. We provide a detailed monthly analysis and forecast at the beginning of each month. Then we provide more recent analysis and information in our weekly reports and we provide daily updates and outlooks.
Central Bank - Fed Reserve
Date of next meeting or last meeting: March 20, 2013
Current Rate: 0.00 - 0.25%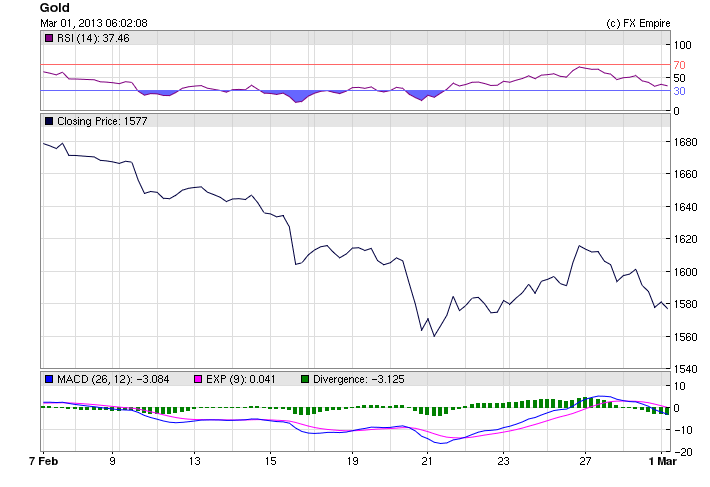 Economic events for the month of February affecting EUR, CHF, GBP and USD
| | | | | | |
| --- | --- | --- | --- | --- | --- |
| Date | | Currency |  Event | Forecast | Previous |
| Mar 1 | 4:30 | GBP | Manufacturing PMI | 51.0 | 50.8 |
|   | 10:00 | USD | ISM Manufacturing PMI | 52.7 | 53.1 |
| Mar 4 | 4:30 | GBP | Construction PMI |   | 48.7 |
| Mar 5 | 4:30 | GBP | Services PMI |   | 51.5 |
|   | 10:00 | USD | ISM Non-Manufacturing PMI |   | 55.2 |
| Mar 6 | 8:15 | USD | ADP Non-Farm Employment Change |   | 192K |
| Mar 7 | 3:00 | CHF | Foreign Currency Reserves |   | 427.0B |
|   | 7:00 | GBP | Asset Purchase Facility | 375B | 375B |
|   |   | GBP | Official Bank Rate | 0.50% | 0.50% |
|   | 7:45 | EUR | Minimum Bid Rate | 0.75% | 0.75% |
|   |   | USD | Trade Balance |   | -38.5B |
|   |   | USD | Unemployment Claims |   | 344K |
|   | 16:30 | USD | Bank Stress Test Results |   |   |
| Mar 8 | 3:15 | CHF | CPI m/m |   | -0.3% |
|   | 8:30 | USD | Non-Farm Employment Change |   | 157K |
|   |   | USD | Unemployment Rate |   | 7.9% |
|   | 20:30 | CNY | CPI y/y |   | 2.0% |
| Mar 12 | 4:30 | GBP | Manufacturing Production m/m |   | 1.6% |
| Mar 13 | 7:30 | USD | Core Retail Sales m/m |   | 0.2% |
|   |   | USD | Retail Sales m/m |   | 0.1% |
| Mar 14 | 3:30 | CHF | Libor Rate | <0.25% | <0.25% |
|   | 7:30 | USD | PPI m/m |   | 0.2% |
|   |   | USD | Unemployment Claims |   |   |
| Mar 15 | 7:30 | USD | Core CPI m/m |   | 0.3% |
|   | 8:55 | USD | Prelim UoM Consumer Sentiment |   |   |
| Mar 19 | 4:30 | GBP | CPI y/y |   |   |
|   |   | GBP | PPI Input m/m |   |   |
|   | 7:30 | USD | Building Permits |   |   |
| Mar 20 | 4:00 | EUR | German ZEW Economic Sentiment |   |   |
|   | 4:30 | GBP | Claimant Count Change |   |   |
|   | 7:30 | GBP | Annual Budget Release |   |   |
| Mar 21 | 4:30 | GBP | Retail Sales m/m |   |   |
|   | 7:30 | USD | Unemployment Claims |   |   |
|   | 9:00 | USD | Existing Home Sales |   |   |
|   |   | USD | Philly Fed Manufacturing Index |   |   |
|   | 20:45 | CNY | HSBC Flash Manufacturing PMI |   |   |
| Mar 22 | 3:30 | EUR | German Flash Manufacturing PMI |   |   |
|   | 4:00 | EUR | German Ifo Business Climate |   |   |
| Mar 26 | 7:30 | USD | Core Durable Goods Orders m/m |   |   |
|   | 9:00 | USD | CB Consumer Confidence |   |   |
|   |   | USD | New Home Sales |   |   |
| Mar 27 | 4:30 | GBP | Current Account |   |   |
|   | 9:00 | USD | Pending Home Sales m/m |   |   |
| Mar 28 | 7:30 | USD | Unemployment Claims |   |   |
| Mar 31 | 20:00 | CNY | Manufacturing PMI |   |   |