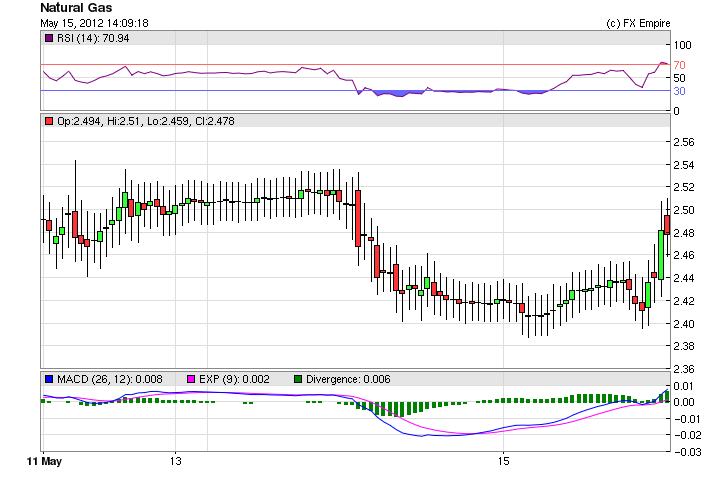 Analysis and Recommendations:
Natural Gas continues to surprise the markets trading up today at 2.464 adding 0.033. Markets seem to believe that many producers are closing down or lowering production. This is more like manipulation to drive up prices. Gas is not financial worthwhile to produce under 3.00 and while there are ample supplies producers are losing money
Warm weather forecasts might also help use up additional supplies. Markets are hoping to see a reduction in inventory this week.
FxEmpire provides in-depth analysis for each currency and commodity we review. Fundamental analysis is provided in three components. We provide a detailed monthly analysis and forecast at the beginning of each month. Then we provide more up to the data analysis and information in our weekly reports, which cover the current week and are published by Sunday before the new week begins.
Economic Reports May 15, 2012 actual v. forecast
| | | | | | | | | | | | | |
| --- | --- | --- | --- | --- | --- | --- | --- | --- | --- | --- | --- | --- |
|   | EUR |   |   |   | French CPI (MoM)  | 0.1% |   | 0.3%  |   | 0.8%  |   |   |
|   | EUR |   |   |   | French GDP (QoQ)  | 0.0% |   | 0.0%  |   | 0.1%  |   |   |
|   | EUR |   |   |   | German GDP (QoQ)  | 0.5% |   | 0.1%  |   | -0.2%  |   |   |
|   | EUR |   |   |   | German GDP (YoY)  | 1.7% |   | 0.8%  |   | 1.5%  |   |   |
|   | EUR |   |   |   | French Non-Farm Payrolls (QoQ)  | 0.1% |   | -0.2%  |   | -0.1%  |   |   |
|   | GBP |   |   |   | Trade Balance  | -8.6B |   | -8.4B  |   | -8.6B  |   |   |
|   | EUR |   |   |   | GDP (QoQ)  | 0.0% |   | -0.2%  |   | -0.3%  |   |   |
|   | EUR |   |   |   | German ZEW Economic Sentiment  | 10.8 |   | 19.0  |   | 23.4  |   |   |
|   | EUR |   |   |   | ZEW Economic Sentiment  | -2.4 |   | 11.7  |   | 13.1  |   |   |
|   | USD |   |   |   | Core CPI (MoM)  | 0.2% |   | 0.2%  |   | 0.2%  |   |   |
|   | USD |   |   |   | Core Retail Sales (MoM)  | 0.1% |   | 0.2%  |   | 0.8%  |   |   |
|   | USD |   |   |   | CPI (MoM)  | 0.0% |   | 0.1%  |   | 0.3%  |   |   |
|   | USD |   |   |   | Retail Sales (MoM)  | 0.1% |   | 0.2%  |   | 0.7%  |   |   |
|   | USD |   |   |   | NY Empire State MFG Index  | 17.1 |   | 8.5  |   | 6.6  |   |   |
|   | USD |   |   |   | CPI (YoY)  | 2.3% |   | 2.3%  |   | 2.7%  |   |   |
|   | USD |   |   |   | Core CPI (YoY)  | 2.3% |   | 2.3%  |   | 2.3%  |   |   |
|   | USD |   |   |   | TIC Net Long-Term Transactions  | 36.2B |   | 19.4B  |   | 10.1B  |   |   |
Upcoming Economic Events that affect the CHF, EUR, GBP and USD
| | | | | | | | | | | | | | |
| --- | --- | --- | --- | --- | --- | --- | --- | --- | --- | --- | --- | --- | --- |
| May 16  | 09:30 |   | GBP |   |   | |   |   | 1.0%  |   | 1.1%  |   |   |
|   | 09:30 |   | GBP |   |   | |   |   | 5.0K  |   | 3.6K  |   |   |
|   | 10:00 |   | EUR |   |   | |   |   | 2.6%  |   | 2.6%  |   |   |
|   | 10:00 |   | EUR |   |   | |   |   | 1.5%  |   | 1.6%  |   |   |
|   | 10:30 |   | GBP |   |   | |   |   |   |   |   |   |   |
|   | 10:30 |   | GBP |   |   | |   |   |   |   |   |   |   |
|   | 10:30 |   | EUR |   |   | |   |   |   |   | 1.770%  |   |   |
|   | 11:00 |   | EUR |   |   | |   |   |   |   | 14.00%  |   |   |
|   | 13:30 |   | USD |   |   | |   |   | 0.730M  |   | 0.764M  |   |   |
|   | 13:30 |   | USD |   |   | |   |   | 0.680M  |   | 0.654M  |   |   |
|   | 14:15 |   | USD |   |   | |   |   | 0.6%  |   | 0.0%  |   |   |
|   | 15:00 |   | EUR |   |   | |   |   |   |   |   |   |   |
|   | 19:00 |   | USD |   |   | |   |   |   |   |   |   |   |
|  May 17 | 13:30 |   | USD |   |   | |   |   | 365K  |   | 367K  |   |   |
|   | 13:30 |   | USD |   |   | |   |   | 3235K  |   | 3229K  |   |   |
|   | 15:00 |   | USD |   |   | |   |   | 10.0  |   | 8.5  |   |   |
WEEKLY