Outlook and Recommendation

Natural Gas  remained in the 4.00 price level after climbing to 4.12 earlier in the week as traders sold off to book profits leaving the commodity to close the month at 4.019. Both spot and futures prices reached 18-month record highs during this report week (Wednesday, March 20 – Wednesday, March 27). The Henry Hub spot price rose from $3.96 per million British thermal units (MMBtu) last Wednesday to $4.08 per MMBtu yesterday, its highest level since September 2011. Price changes were mixed, and mostly small, with the exception of large declines in the Northeast United States.

At the NYMEX, futures contracts made gains similar to the Henry Hub price. The April 2013 NYMEX natural gas contract expired Tuesday, March 26, just under $4 per MMBtu. The latest EIA inventory showed that:

Working gas in storage was 1,781 Bcf as of Friday, March 22, 2013, according to EIA estimates. This represents a net decline of 95 Bcf from the previous week. Stocks were 642 Bcf less than last year at this time and 61 Bcf above the 5-year average of 1,720 Bcf. In the East Region, stocks were 41 Bcf below the 5-year average following net withdrawals of 73 Bcf. Stocks in the Producing Region were 30 Bcf above the 5-year average of 707 Bcf after a net withdrawal of 17 Bcf. Stocks in the West Region were 73 Bcf above the 5-year average after a net drawdown of 5 Bcf. At 1,781 Bcf, total working gas is within the 5-year historical range.
| | | | | |
| --- | --- | --- | --- | --- |
| Maximum: 4,120 | Minimum: 3,408 | Difference: 0.712 | Average: 3,771 | Rev. %: 15.25 |
According to U.S. Energy Information Administration's (EIA) pipeline projects data, nearly 30 billion cubic feet per day (Bcf/d) of natural gas pipeline capacity in the United States is in some stage of proposed or planned development with scheduled completion dates through 2016. These data are based on the latest information available from company and Federal Energy Regulatory Commission (FERC) statements as of December 2012. It includes both new pipelines, and expansions and lateral extensions to existing pipelines. It is uncertain whether all currently planned expansion projects will be completed, although they are more likely to be constructed the further along they are in the approval process.
About 39 percent or 11.5 Bcf/d of the planned capacity projects have received approval from FERC. Currently, only 10 percent of the planned additions are actively under construction, with more than half of those located in the Southwest. Combining all stages of project development, above 40 percent of all planned pipeline projects are located in the Northeast, which accounted for over half of all completed natural gas pipeline projects in 2012. Despite material gains in pipeline capacity additions and shale-driven natural gas production in the United States since 2005, the greater New York metropolitan area and especially New England markets still experience frequent constraints.
FxEmpire provides in-depth analysis for each currency and commodity we review. Fundamental analysis is provided in three components. We provide a detailed monthly analysis and forecast at the beginning of each month. Then we provide more recent analysis and information in our weekly reports and we provide daily updates and outlooks.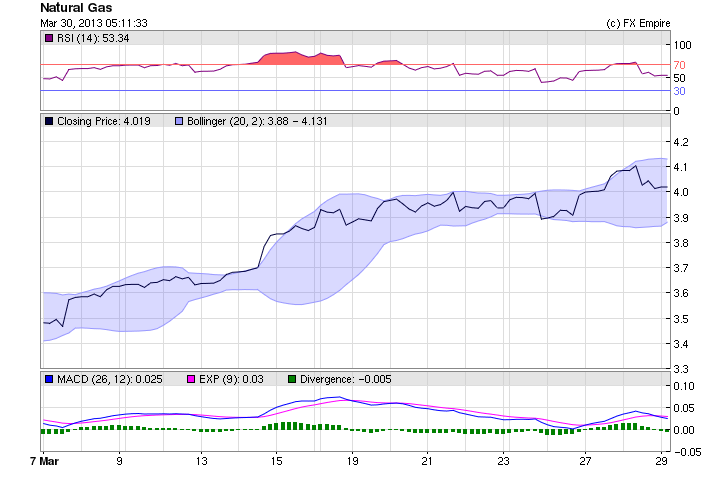 WEEKLY DATA
Gasoline and Diesel Fuel Update
Weekly Petroleum Status Report
Heating Oil & Propane Update (October – March)
Weekly Coal Production
Weekly NYMEX Coal Futures
Weekly Natural Gas Storage Report
Economic events for the month of April affecting EUR, CHF, GBP and USD
| | | | | | |
| --- | --- | --- | --- | --- | --- |
| Date | | Currency | Event  | Forecast | Previous |
| Apr 1 | 9:00 | USD | ISM Manufacturing PMI | 54.2 | 54.2 |
| Apr 2 | 3:30 | GBP | Manufacturing PMI | 48.9 | 47.9 |
| Apr 3 | 3:30 | GBP | Construction PMI | 47.7 | 46.8 |
|   | 7:15 | USD | ADP Non-Farm Employment Change | 203K | 198K |
|   | 9:00 | USD | ISM Non-Manufacturing PMI | 55.9 | 56.0 |
| Apr 4 | 3:30 | GBP | Services PMI | 51.4 | 51.8 |
|   | 6:00 | GBP | Asset Purchase Facility | 375B | 375B |
|   |   | GBP | Official Bank Rate | 0.50% | 0.50% |
|   | 6:45 | EUR | Minimum Bid Rate | 0.75% | 0.75% |
|   |   | USD | Unemployment Claims | 354K | 357K |
| Apr 5 | 2:00 | CHF | Foreign Currency Reserves |   | 430.0B |
|   | 7:30 | USD | Non-Farm Employment Change | 201K | 236K |
|   |   | USD | Trade Balance | -44.6B | -44.4B |
| Apr 8 | 20:30 | CNY | CPI y/y |   | 3.2% |
| Apr 9 | 2:15 | CHF | CPI m/m |   | 0.3% |
|   | 3:30 | GBP | Manufacturing Production m/m |   | -1.5% |
| Apr 12 | 7:30 | USD | Core Retail Sales m/m |   | 1.0% |
|   |   | USD | PPI m/m |   | 0.7% |
|   |   | USD | Retail Sales m/m |   | 1.1% |
|   | 8:55 | USD | Prelim UoM Consumer Sentiment |   | 78.6 |
| Apr 16 | 3:30 | GBP | CPI y/y |   |   |
|   | 7:30 | USD | Building Permits |   |   |
|   |   | USD | Core CPI m/m |   |   |
| Apr 17 | 3:30 | GBP | Claimant Count Change |   |   |
|   | 4:00 | EUR | German ZEW Economic Sentiment |   |   |
| Apr 18 | 3:30 | GBP | Retail Sales m/m |   |   |
|   | 7:30 | USD | Unemployment Claims |   |   |
|   | 9:00 | USD | Philly Fed Manufacturing Index |   |   |
| Apr 22 | 9:00 | USD | Existing Home Sales |   |   |
|   | 20:45 | CNY | HSBC Flash Manufacturing PMI |   |   |
| Apr 23 | 2:00 | EUR | French Flash Manufacturing PMI |   |   |
|   | 2:30 | EUR | German Flash Manufacturing PMI |   |   |
|   | 9:00 | USD | New Home Sales |   |   |
| Apr 24 | 3:00 | EUR | German Ifo Business Climate |   |   |
|   | 7:30 | USD | Core Durable Goods Orders m/m |   |   |
| Apr 25 | 3:30 | GBP | Prelim GDP q/q |   |   |
|   | 7:30 | USD | Unemployment Claims |   |   |
| Apr 26 | 7:30 | USD | Advance GDP q/q |   | 0.4% |
| Apr 29 | 9:00 | USD | Pending Home Sales m/m |   |   |
| Apr 30 | 9:00 | USD | CB Consumer Confidence |   |   |