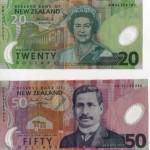 Analysis and Recommendation:
The NZD/USD is trading at 0.8180 gaining in the early Asian session on Monday. The kiwi is waiting for the trade balance report due tomorrow, with expectations of a widening to 825m. Last weeks positive eco data from China continues to support the NZD, as figures released last week shows that China's economy has landed and is now rebounding. The kiwi will benefit from better economic conditions in China or stimulus. There has been little in the way of eco news to help support the New Zealand dollar, except global disappointment in the EU Summit.
The euro gained against the dollar this morning as traders continue to react to the tumble on Wall Street Friday, the weakened USD has allowed the kiwi to gain some momentum.
FxEmpire provides in-depth analysis for each currency and commodity we review. Fundamental analysis is provided in three components. We provide a detailed monthly analysis and forecast at the beginning of each month. Then we provide more up to the data analysis and information in our weekly reports.
Economic Data October 22, 2012 actual v. forecast
| | | | | | | | | | | |
| --- | --- | --- | --- | --- | --- | --- | --- | --- | --- | --- |
| Date |   | Currency |   |   | Event | Actual |   | Forecast |   | Previous |
| Oct. 22 |   | JPY |   |   | Trade Balance  | -0.98T |   | -0.74T  |   | -0.46T  |
|   |   | JPY |   |   | BoJ Governor Shirakawa Speaks  |   |   |   |   |   |
|   |   | TWD |   |   | Taiwanese Unemployment Rate  | 4.30% |   | 4.30%  |   | 4.29%  |
Upcoming Economic Events that affect the AUD, NZD, JPY and USD
| | | | | | |
| --- | --- | --- | --- | --- | --- |
| Date | Time | Currency | Event | Forecast | Previous |
| Oct. 24 | 01:30 | AUD | | 1.1% | 0.5% |
|   | 01:30 | AUD | | 0.6% | 0.5% |
|   | 02:45 | CNY | |   | 47.90 |
|   | 15:00 | USD | | 385K | 373K |
|   | 21:00 | NZD | | 2.50% | 2.50% |
| Oct. 25  | 22:45 | NZD | | -825M | -789M |
| Oct. 26  | 00:30 | JPY | | -0.5% | -0.4% |
Government Bond Auction
Date Time Country 
Oct 23 08:30 Spain 
Oct 23 14:30 UK 
Oct 23 17:00 US 
Oct 24 09:10 Sweden 
Oct 24 09:30 Germany 
Oct 24 14:30 Sweden 
Oct 24 15:30 Italy  
Oct 24 16:30 US 
Oct 25 00:30 Japan 
Oct 25 09:10 Sweden 
Oct 25 15:30 Italy  
Oct 25 17:00 US 
Oct 26 09:10 Italy