Analysis and Recommendations:
Silver is trading at 21.443 gaining 10 cents and is outperforming the entire market today as forex and commodities remained fairly flat with little volume or volatility today. At the beginning of the week silver At the beginning of the week silver took advantage of the weakness in the dollar, together with what appears to be a boost to Chinese industrial growth on the latest data, with a reduction in talk of Fed tapering has led to a mini-surge in the gold price, while silver has done even better living up to its tendency to outperform gold on the up.
Recent reports point to a huge increase in silver demand in India as the government attempts, only partially successfully, to stem gold imports by implementing sharp tax increases on them.  Silver imports thus appear to be rising sharply as there is no such import tariffs applied to them. Meanwhile outflows from silver ETFs which took place when the prices tanked have also staged a really strong recovery, sales of U.S. silver bullion coins have also remained very high indeed and have been at record levels suggesting investor interest in both East and West is running strong again.
FxEmpire provides in-depth analysis for each currency and commodity we review. Fundamental analysis is provided in three components. We provide a detailed monthly analysis and forecast at the beginning of each month. Then we provide more recent analysis and information in our  weekly reports.                                                                                        
Economic Data August 13, 2013 actual v. forecast
| | | | | | | | | | | | | |
| --- | --- | --- | --- | --- | --- | --- | --- | --- | --- | --- | --- | --- |
| Date |   | Currency |   |   | Event | Actual |   | Forecast |   | Previous |   |   |
| Aug. 13 |   | GBP |   |   | RICS House Price Balance  | 36% |   | 25%  |   | 21%  |   |   |
|   |   | JPY |   |   | Monetary Policy Meeting Minutes  |   |   |   |   |   |   |   |
|   |   | JPY |   |   | Core Machinery Orders (YoY)  | 4.9% |   | 2.4%  |   | 16.5%  |   |   |
|   |   | AUD |   |   | NAB Business Confidence  | -3 |   |   |   | 0  |   |   |
|   |   | EUR |   |   | German CPI (MoM)  | 0.5% |   | 0.5%  |   | 0.5%  |   |   |
|   |   | EUR |   |   | German CPI (YoY)  | 1.9% |   | 1.9%  |   | 1.9%  |   |   |
|   |   | HUF |   |   | Hungarian CPI (YoY)  | 1.8% |   | 2.1%  |   | 1.9%  |   |   |
|   |   | EUR |   |   | Spanish CPI (YoY)  | 1.8% |   | 1.8%  |   | 2.1%  |   |   |
|   |   | SEK |   |   | Swedish CPI (YoY)  | 0.1% |   | -0.1%  |   | -0.1%  |   |   |
|   |   | NOK |   |   | Norwegian Core Retail Sales (MoM)  | -0.20% |   | -0.80%  |   | 1.80%  |   |   |
|   |   | GBP |   |   | CPI (YoY)  | 2.8% |   | 2.8%  |   | 2.9%  |   |   |
|   |   | GBP |   |   | PPI Input (MoM)  | 1.1% |   | 1.4%  |   | 0.2%  |   |   |
|   |   | GBP |   |   | CPI (MoM)  | 0.0% |   | 0.1%  |   | -0.2%  |   |   |
|   |   | EUR |   |   | German ZEW Economic Sentiment  | 42.0 |   | 40.0  |   | 36.3  |   |   |
|   |   | EUR |   |   | Industrial Production (MoM)  | 0.7% |   | 0.8%  |   | -0.2%  |   |   |
|   |   | EUR |   |   | ZEW Economic Sentiment  | 44.0 |   | 37.4  |   | 32.8  |   |   |
|   |   | EUR |   |   | Industrial Production (YoY)  | 0.3% |   | 0.2%  |   | -1.3%  |   |   |
|   |   | USD |   |   | Retail Sales (MoM)  |   |   | 0.3%  |   | 0.4%  |   |   |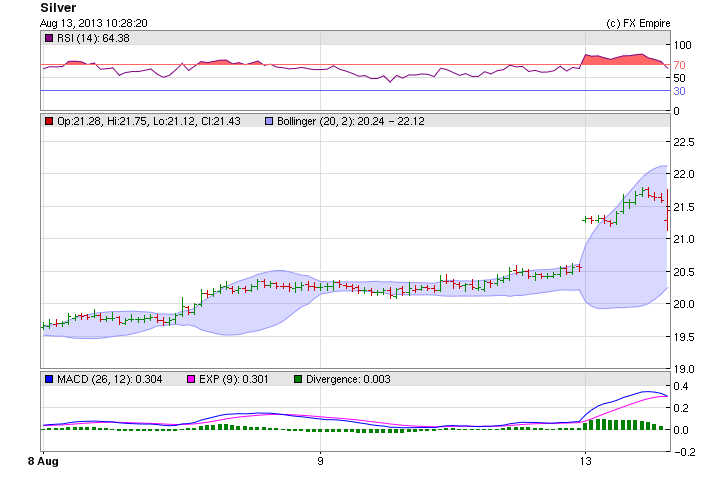 Upcoming Economic Events that affect the CHF, EUR, GBP and USD
| | | | | | |
| --- | --- | --- | --- | --- | --- |
| Date | Time | Currency | Event | Forecast | Previous |
|  Aug. 14 | 06:30 | EUR | | 0.1% | -0.2% |
|   | 07:00 | EUR | | 0.6% | 0.1% |
|   | 07:00 | EUR | | 0.2% | -1.4% |
|   | 07:45 | EUR | |   | 0.2% |
|   | 07:45 | EUR | |   | -0.1% |
|   | 09:30 | GBP | |   | 1.7% |
|   | 09:30 | GBP | |   | -21.2K |
|   | 10:00 | EUR | | 0.1% | -0.2% |
|   | 13:30 | USD | | 0.2% | 0.2% |
|   | 13:30 | USD | | 0.4% | 0.8% |
|   | 13:30 | USD | | 2.4% | 2.5% |
|   | 13:30 | USD | | 1.4% | 1.7% |
Government Bond Auction
Date Time Country 
Aug 14 08:30 Spain
Aug 14 09:30 Germany
Aug 15 09:30 UK
Aug 15 11:00 Norway