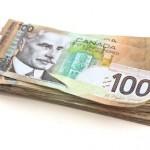 Analysis and Recommendations:
The USD/CAD is flat today trading at 0.9783 equal to last evenings close. Yesterday Canadian dollar fell against a majority of its most-traded peers on concern slowing Chinese growth will hurt demand for commodities such as oil and gold. The loonie fell after China car sales unexpectedly shrank for the first time in eight months while Alcoa Inc. (AA) said the nation's slowing growth will cut global demand for aluminum. Raw materials account for about half of Canada's export revenue. Today there is virtually no news, no data and now excitement in the markets.
FxEmpire provides in-depth analysis for each currency and commodity we review. Fundamental analysis is provided in three components. We provide a detailed monthly analysis and forecast at the beginning of each month. Then we provide more up to the data analysis and information in our weekly reports.
Economic Data October 10, 2012 actual v. forecast
| | | | | | | | | | | |
| --- | --- | --- | --- | --- | --- | --- | --- | --- | --- | --- |
| Date |   | Currency |   |   | Event | Actual |   | Forecast |   | Previous |
| Oct. 10 |   | KRW |   |   | South Korean Unemployment Rate  | 3.1% |   | 3.2%  |   | 3.1%  |
|   |   | AUD |   |   | Westpac Consumer Sentiment  | 1.00% |   |   |   | 1.60%  |
|   |   | KRW |   |   | South Korean M2 Money supply  | 9.20% |   |   |   | 9.00%  |
|   |   | EUR |   |   | German WPI (MoM)  | 1.3% |   | 0.5%  |   | 1.1%  |
|   |   | JPY |   |   | Machine Tool Orders (YoY)  | -3.0% |   |   |   | -2.7%  |
|   |   | EUR |   |   | Finnish Industry Output (MoM)  | -1.40% |   |   |   | 2.00%  |
|   |   | EUR |   |   | French Industrial Production (MoM)  | 1.5% |   | -0.2%  |   | 0.6%  |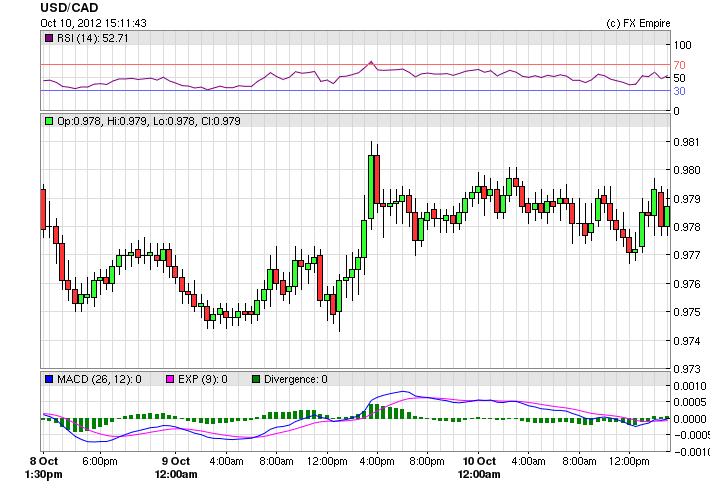 Upcoming Economic Events that affect the CAD and USD
| | | | | | |
| --- | --- | --- | --- | --- | --- |
| Date | Time | Currency | Event | Forecast | Previous |
| Oct. 11  | 13:30 | USD | | 0.7%  | 0.7%  |
|   | 13:30 | CAD | | -2.0B  | -2.3B  |
|   | 13:30 | USD | | -44.0B  | -42.0B  |
|   | 13:30 | USD | | 370K  | 367K  |
|   | 13:30 | USD | | 3275K  | 3281K  |
|   | 19:00 | USD | | -4.0B  | -191.0B  |
Government Bond Auction
Date Time Country 
Oct 11 09:10 Italy  
Oct 11 09:10 Sweden 
Oct 11 09:30 UK 
Oct 11 15:00 US 
Oct 11 17:00 US 
Oct 12 09:30 Germany 
Oct 12 10:00 Belgium