Analysis and Recommendations:
The USD/CAD is trading in early morning at 0.9784 dropping a few pips. The Loonie is stronger, up 0.2% outperforming most of the majors.  Drivers are mixed, given that oil prices remain unchanged as equity futures point to a positive open.  The CAD strength may be the result of a delayed reaction to comments from late Friday afternoon, where Russia's ambassador to Canada indicated that CAD would continue to form a key component of Russia's FX reserves. Recent USDCAD congestion has remained near 0.9800, at the lower end of the range for October.  Market expectations for BoC policy remain steady, pricing in a 20% probability of a rate hike in the next 12 months.
FxEmpire provides in-depth analysis for each currency and commodity we review. Fundamental analysis is provided in three components. We provide a detailed monthly analysis and forecast at the beginning of each month. Then we provide more up to the data analysis and information in our weekly reports.
Economic Data October 15, 2012 actual v. forecast
| | | | | | | | | | | |
| --- | --- | --- | --- | --- | --- | --- | --- | --- | --- | --- |
| Date |   | Currency |   |   | Event | Actual |   | Forecast |   | Previous |
| Oct. 15 |   | GBP |   |   | Rightmove House Price Index (MoM)  | 3.5% |   |   |   | -0.6%  |
|   |   | AUD |   |   | Home Loans (MoM)  | 1.8% |   | 1.4%  |   | -0.7%  |
|   |   | CNY |   |   | Chinese CPI (YoY)  | 1.9% |   | 1.9%  |   | 2.0%  |
|   |   | CNY |   |   | Chinese PPI (YoY)  | -3.6% |   | -3.6%  |   | -3.5%  |
|   |   | CNY |   |   | Chinese CPI (MoM)  | 0.3% |   | 0.4%  |   | 0.6%  |
|   |   | JPY |   |   | Industrial Production (MoM)  | -1.6% |   | -1.3%  |   | -1.3%  |
|   |   | TRY |   |   | Turkish Quarterly Unemployment Rate  | 8.40% |   | 8.20%  |   | 8.00%  |
|   |   | CHF |   |   | PPI (MoM)  | 0.3% |   | 0.2%  |   | 0.5%  |
|   |   | PLN |   |   | Polish CPI (YoY)  | 3.8% |   | 3.9%  |   | 3.8%  |
|   |   | USD |   |   | Core Retail Sales (MoM)  | 1.1% |   | 0.6%  |   | 1.0%  |
|   |   | USD |   |   | Retail Sales (MoM)  | 1.1% |   | 0.8%  |   | 1.2%  |
|   |   | USD |   |   | NY Empire State Manufacturing Index  | -6.2 |   | -4.5  |   | -10.4  |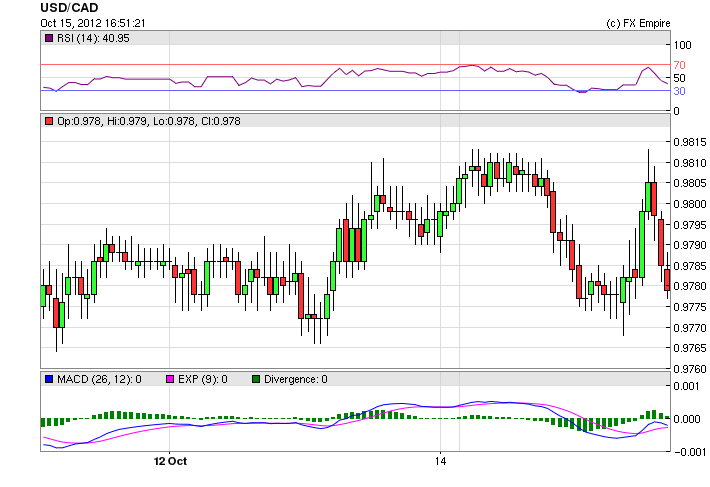 Upcoming Economic Events that affect the CAD and USD
| | | | | | |
| --- | --- | --- | --- | --- | --- |
| Date | Time | Currency | Event | Forecast | Previous |
| Oct. 16  | 13:30 | USD | | 0.2% | 0.1% |
|   | 13:30 | USD | | 0.4% | 0.6% |
|   | 13:30 | CAD | |   | 6.67B |
|   | 13:30 | CAD | |   | -1.50% |
|   | 13:30 | USD | | 1.8% | 1.7% |
|   | 13:30 | USD | | 2.0% | 1.9% |
|   | 14:00 | USD | |   | 67.0B |
|   | 14:15 | USD | | 0.2% | -1.2% |
|  Oct. 18 | 13:30 | CAD | |   | -0.6% |
| Oct. 19 | 13:30 | CAD | |   | 0.3% |
|   | 13:30 | CAD | |   | 0.2% |
|   | 13:30 | CAD | |   | 1.2% |
Government Bond Auction
Date Time Country 
Oct 16 08:30 Spain 
Oct 16 09:10 Greece 
Oct 16 09:30 Belgium 
Oct 17 09:10 Sweden 
Oct 17 09:30 Germany 
Oct 17 09:30 Portugal 
Oct 17 10:00 Norway 
Oct 17 14:30 Sweden 
Oct 18 08:30 Spain 
Oct 18 08:50 France 
Oct 18 09:30 UK 
Oct 18 09:50 France 
Oct 18 14:30 Sweden 
Oct 18 15:00 US 
Oct 18 17:00 US