Analysis and Recommendations:
The USD/CAD is trading at 0.9857 up 0.0049 in early trading. The Canadian dollar weakened the most in almost three months against its U.S. peer after Bank of Canada Governor Mark Carney suggested he may reduce his economic outlook and delay raising policy interest rates.
The loonie fell against almost all of its most-traded peers after Carney's comments yesterday that his quarterly economic forecast next week will reflect a prolonged global recovery. Dalton McGuinty said yesterday he is stepping down as Ontario premier amid controversy over canceled power plants and an inability to implement budget cuts.
Oil, the country's largest export, was little changed at $91.93 a barrel. The Standard & Poor's Index climbed 0.7 percent, the most in a week. The S&P GSCI Index of 24 raw materials gained 0.2 percent.
Canadian factory sales rose three times faster than economists forecast in August on gains in energy and automobiles. Sales climbed 1.5 percent to C$49.5 billion ($50.2 billion), Statistics Canada said today in Ottawa. The percentage gain exceeded all forecasts in a Bloomberg News survey of 22 economists.
FxEmpire provides in-depth analysis for each currency and commodity we review. Fundamental analysis is provided in three components. We provide a detailed monthly analysis and forecast at the beginning of each month. Then we provide more up to the data analysis and information in our weekly reports.
Economic Data October 16, 2012 actual v. forecast
| | | | | | | | | | | | | |
| --- | --- | --- | --- | --- | --- | --- | --- | --- | --- | --- | --- | --- |
| Date | Time |   | Currency |   | Importance |   | Event | Actual |   | Forecast |   | Previous |
| Oct. 16 | 01:30 |   | AUD |   |   |   | Monetary Policy Meeting Minutes  |   |   |   |   |   |
|   | 09:30 |   | GBP |   |   |   | Core CPI (YoY)  | 2.1% |   | 2.1% |   | 2.1%  |
|   | 09:30 |   | GBP |   |   |   | CPI (YoY)  | 2.2% |   | 2.2% |   | 2.5%  |
|   | 09:30 |   | GBP |   |   |   | PPI Input (MoM)  | -0.2% |   | -0.1% |   | 1.9%  |
|   | 09:30 |   | GBP |   |   |   | CPI (MoM)  | 0.4% |   | 0.4% |   | 0.5%  |
|   | 09:30 |   | GBP |   |   |   | PPI Input (YoY)  | -1.2% |   | -0.8% |   | 1.1%  |
|   | 10:00 |   | EUR |   |   |   | CPI (YoY)  | 2.6% |   | 2.7% |   | 2.7%  |
|   | 10:00 |   | EUR |   |   |   | German ZEW Economic Sentiment  | -11.5 |   | -15.0 |   | -18.2  |
|   | 10:00 |   | EUR |   |   |   | ZEW Economic Sentiment  | -1.4 |   | -1.1 |   | -3.8  |
|   | 10:00 |   | EUR |   |   |   | Core CPI (YoY)  | 1.5% |   | 1.6% |   | 1.5%  |
|   | 13:30 |   | USD |   |   |   | Core CPI (MoM)  | 0.1% |   | 0.2% |   | 0.1%  |
|   | 13:30 |   | USD |   |   |   | CPI (MoM)  | 0.6% |   | 0.5% |   | 0.6%  |
|   | 13:30 |   | CAD |   |   |   | Foreign Securities Purchases  | 6.90B |   | 8.72B |   | 6.67B  |
|   | 13:30 |   | CAD |   |   |   | Manufacturing Sales (MoM)  | 1.50% |   | 1.00% |   | -0.80%  |
|   | 13:30 |   | USD |   |   |   | CPI (YoY)  | 2.0% |   | 1.9% |   | 1.7%  |
|   | 13:30 |   | USD |   |   |   | Core CPI (YoY)  | 2.0% |   | 2.0% |   | 1.9%  |
|   | 14:00 |   | USD |   |   |   | TIC Net Long-Term Transactions  | 90.0B |   | 45.3B |   | 67.2B  |
|   | 14:15 |   | USD |   |   |   | Industrial Production (MoM)  | 0.4% |   | 0.2%  |   | -1.4%  |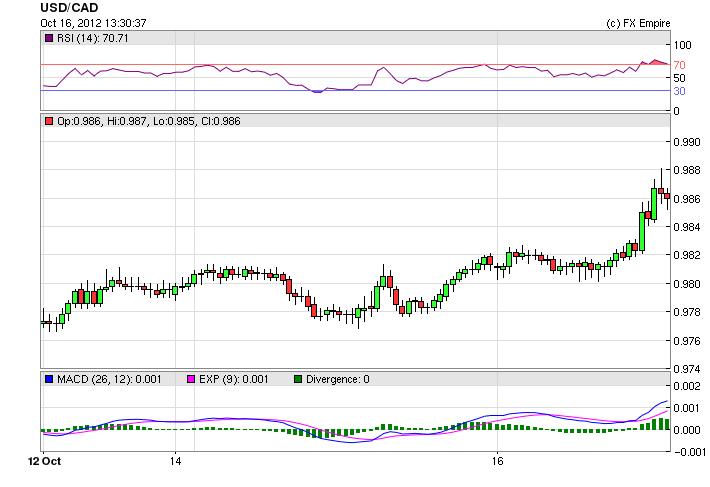 Upcoming Economic Events that affect the CAD and USD
| | | | | | |
| --- | --- | --- | --- | --- | --- |
| Date | Time | Currency | Event | Forecast | Previous |
| Oct. 18 | 13:30 | CAD | |   | -0.6% |
| Oct. 19 | 13:30 | CAD | |   | 0.3% |
|   | 13:30 | CAD | |   | 0.2% |
|   | 13:30 | CAD | |   | 1.2% |
Government Bond Auction
Date Time Country 
Oct 17 09:10 Sweden 
Oct 17 09:30 Germany 
Oct 17 09:30 Portugal 
Oct 17 10:00 Norway 
Oct 17 14:30 Sweden 
Oct 18 08:30 Spain           
Oct 18 08:50 France 
Oct 18 09:30 UK 
Oct 18 09:50 France 
Oct 18 14:30 Sweden 
Oct 18 15:00 US 
Oct 18 17:00 US